The Overthinker
Catch more Zzz's with stress-less picks designed to help put your mind at ease.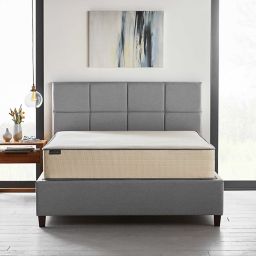 Under The Canopy
NON-MEMBER PRICE
BEYOND+ MEMBER PRICE
$1,019.99 - $1,679.99
Free Shipping on Orders Over $39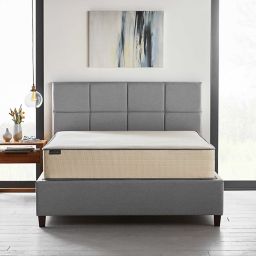 Under The Canopy For Anxious Sleepers
Whether you're someone who suffers from a restless mind as soon as you hit the pillow, or you can't seem to turn off your brain long enough to stay asleep throughout the night, you may be what some people consider an anxious sleeper. Don't worry though, we've all been there. A lot of people don't know this, but sometimes the first step to calming your mind for a peaceful night's sleep is properly preparing your bed with the right essentials. Luckily, with an endless array of bedding for anxious sleepers to choose from, Bed Bath & Beyond is here to take some of the symptoms of stress and anxiety away. The first thing we recommend doing when preparing your bed for a restful sleep is choosing the right blanket, or, the right
weighted blanket
to be exact. Read on to learn more about how weighted blankets for anxiety and other sleep accessories can help your mental health to promote a good night's sleep.
First, let's talk about the benefits of weighted blankets for anxious sleepers. Designed to be heavier than the average comforter due to their internal bead or pellet fill, ranging from 5 to 25 lbs., a weighted blanket, sometimes referred to as a gravity blanket, provides your body with deep pressure stimulation to elicit the wonderful feeling of being held or hugged. This sensation of security while you fall asleep helps to counteract sleep problems like restlessness, worrying, and stress, making them ideal for anxious sleepers. So, ditch your normal duvet and discover how this magic blanket improves your sleep quality! To select the perfect heavy blanket for you, there are three important things you should always consider: your body weight, the size of your bed, and your comfort level. In terms of body weight, the recommendation is that the blanket should weigh about 10% of your body weight to avoid feeling constricted. You should also be mindful of the size of your weighted blanket. We suggest a weighted blanket that is slightly smaller than your bed's dimensions, so the blanket's weight will remain evenly distributed. Lastly, you should consider your comfort level. Select a weight and a material you prefer to sleep under to ensure you feel warm and cozy as you are falling asleep. So, if you always find yourself hibernating under tons of blankets at night to feel secure anyway, a weighted blanket is just what both you and your bed need for a better night's sleep.
Reduce your Restlessness
It's no secret a good night's sleep yields a better day's production. Sweeping away the inevitable symptoms of today's stress before it has even started is a smart and simple way to get ahead! In addition to weighted blankets for anxiety, Bed Bath & Beyond offers a variety of other bedding essentials every anxious sleeper should consider. Sometimes, your mattress itself could be the reason why you can't seem to get comfortable enough to drift off into a restful sleep. If this is the case, check out Bed Bath & Beyond's array of mattress toppers to help reduce bothersome tossing and turning throughout the night. Maybe your pillow isn't satisfying your comfort level? In this case, be sure to peruse our wide selection of pillows to find the perfect one that suits all of your needs as you are falling asleep. We even have pillows that come equipped with lavender spray for an added sense of relaxation. If you're confident that your bed is not to blame for your restlessness, don't fret. Bed Bath & Beyond also has an assortment of accessories like eye-masks, sound machines, and essential oils for
aromatherapy
to promote a calming night's sleep. No matter which way you choose to relax at bedtime, Bed Bath & Beyond's assortment of bedding for anxious sleepers is here to help melt your stress and anxiety away before you fall asleep.