NON-MEMBER PRICE
BEYOND+ MEMBER PRICE
$9.35
Clearance!
Ships free
orders over $39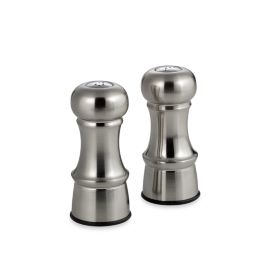 Kitchen
Bed Bath & Beyond offers a wide variety of cookware sets on clearance that incorporate everything you need to make delicious creations for every meal of the day! Whether you're an avid stovetop user who's go-to is a staple set of pots and pans, or someone looking for a the newest, most innovative air fryers and pressure cookers, you'll find just the discount kitchen appliances to get you the taste and aroma you're looking for. Choose your style based on your kitchen's current ambiance; go for a pop of color or sleek stainless steel throughout. Sauce pans, frying pans, sauté pots, and all utensils also come in a variety of stainless steel, aluminum, cast iron or ceramic options. Choose based on the needs of your favorite meals.
Cookware can be a hard category to pinpoint as it has a wide variety of items that fall under its umbrella. The easiest way to think of what cookware you need is to keep in mind what you like to eat most; what will you need to create your favorite dishes? Enjoy a browning on your meats but also know they need to be cooked through in the oven? You'll need a versatile pan that can handle both external and internal heat elements; like cast irons skillets or stainless-steel pans. Durable items like these can not only handle the heat but are also not easily damaged. Maybe your most annoying cooking conundrum is scraping, peeling, or consistently re-applying a layer of butter or oil to your pan. Go for a non-stick pan that helps more delicate food items slide right from pan to plate. With the proper care, affordable stainless-steel, cast iron, and non-stick cookware can last a lifetime!
Kitchen Tools & Accessories
Choose from a selection of knife sets and cooking utensil sets that fit your meal prep. A good selection of kitchen utensils can come in an affordable all-inclusive set. Discount knives like pairing knives, bread knives, chef's knives, and steak knives come conveniently paired with helpful cooking elements like peelers and kitchen shears in one stylish block set. It is important when choosing other cooking tools such as large serving spoons and spatulas that you choose a set that coordinates with your cookware set; for example, non-stick surfaced pans require wood, nylon, plastic or silicon that won't scratch through your pan's non-stick coating. No need to worry; Bed Bath & Beyond is by your side to offer expertise such as this and any other coordination combinations you'll need to make educated cookware choices.