NON-MEMBER PRICE
BEYOND+ MEMBER PRICE
$15.99
Clearance!
Sold In Stores Only
Ships free
orders over $39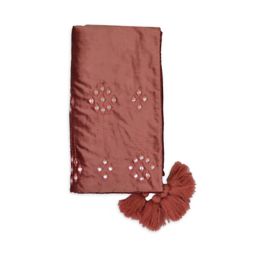 Brown Global Caravan Bedding
The most important key to a good night's sleep is cozy bedding, and now is the time to stock up for a great price. Bed Bath & Beyond's clearance bedding deals on comforters and blankets will help you to upgrade your top of bed at an affordable price. We've all been there, you find that buttery soft sheet set that you can't wait to get home and cozy up in, only to realize it's super expensive. These discounts offer the best value so that you can snuggle up with peace of mind. Solid or print, sateen or microfiber, odd size, or simply pillowcases, the assortment aims to please. Bed linens are available in an array of fabrics, patterns and colors to complete your bedding ensemble. You can even find sheets for your massage table, daybed, campus twin XL, hide-a-bed, and rollaways at an inexpensive price. Plus, with convenient online & in-store Bed Bath & Beyond coupons, you can enjoy a plethora of great offers and values at your convenience.
To really snuggle up and stay warm (or cool), you'll need the perfect clearance comforters, quilt, coverlet, or duvet cover. So, say you have a Queen size bed, be sure to peruse Bed Bath & Beyond's Queen comforter sets on clearance or Queen sheet sets on clearance to add a fashionable flair. Plus, in sizes ranging from twin to California king, there is something to meet everyone's style. Now, you can create a beautiful bed that looks like it belongs in a 5-star hotel with some simple layering. Building your bed has become an art form, and expression of yourself - and now you can do it at a discount. If you have a down comforter, you'll need a trendy duvet cover, which can be swapped seasonally or used for years, but is easy to wash and store. Quilts and coverlets are a more lightweight option that offers flexibility as it can be used under or over your comforter, or as a standalone in warmer months. Of course, there are always comforters (many sold as bedding sets), that cover the bed and set the style for your space. Whichever is the best fit for you, you'll find a wide range of style options and decorative prints, fabrics and textures.
Get Cozy with Bedding Deals
To complete your bedding, don't forget your pillow shams, decorative throw pillows, blankets, and bedding accessories. Blankets and throws are used to add color, texture, and coziness to your bedroom when tossed across the bed. They also add functionality for a chilly night, or when lounging. Available in a variety of fabrics, including cotton, fleece, and wool, these are easy to change from season to season, or to update the style of your space. Pillow shams and decorative throw pillows complete your bedding landscape, offering personal expression and a decorative accent. Available in a variety of shapes and styles, these pillows add style and texture to complete your bedding ensemble. Fear not, while some sale and clearance bed linens may come and go, you don't have to miss out. Sign up for Bed Bath & Beyond coupons and offers to save money and coupon searching time. The savings will be delivered directly to your inbox and you never have to worry about missing a bargain again. Now, you can update your bedroom style as often as you want, and you don't need to feel guilty about it.