$49.99 - $74.99
Was $99.99 - $149.99
Cyber Week Deal!
Exclusively Ours
Free Shipping on Orders Over $39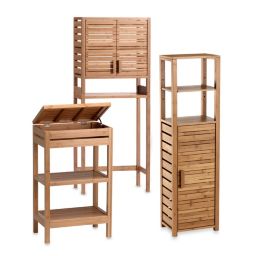 Cyber Monday Bath Deals - Product Type: Space Saver
Bored with your bathroom? While there's not much you can do about the porcelain fixtures, you can dress up even the most mundane bathroom with a new shower curtain or a luxurious set of bath towels. Why wait? Spruce up your place in time for the holidays when you clean up with great bathroom deals on everything from bath ensembles to bath mats. Shop our bath sales for new bath or powder room curtains, guest towels, shower curtain liners, bath storage solutions and more.
Sometimes if you simply clean up the clutter you can make a small bathroom appear large; look at the bath offers on teak bath accessories such as spa benches, towel racks and shower mats and get ideas on how you can create a spa-like environment in your own home. A new shower curtain and matching shower curtain hooks can transform a bathroom in minutes and makes a big difference. Make a splash when you shop our Cyber Monday bathroom deals and celebrate the holidays in style.