Cyber Week Deal!
$10 Gift Card with Every $30 OXO Kitchen Gadget Purchase
Free Shipping on Orders Over $39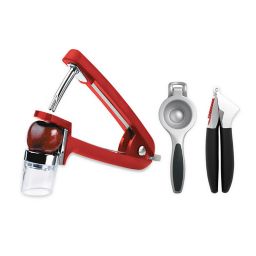 Cyber Monday Kitchen Deals - Product Type: Potato Ricer
Holidays are a time to show off your cooking skills by feeding friends and family tasty meals and tantalizing desserts. Most great conversations start over a meal; we've got the best recipes for kitchen deals designed to make it easy to prepare and serve culinary delights the whole family will enjoy. Specials on Cyber Monday appliances help to make cutting, chopping, blending, pureeing, mixing, frying, baking and cooking faster. So, your time in the kitchen can be more productive, allowing you to be more creative. Impress guests with your culinary skills! Our Cyber Monday appliance deals 2019 are designed to help home cooks achieve professional results and pros to enhance their technical skills. Create enticing appetizers, delicious meals and decadent desserts with Cyber Monday kitchen deals available just in time for the holidays. Give the gift of great food and get the next generation engaged in cooking.