Best Seller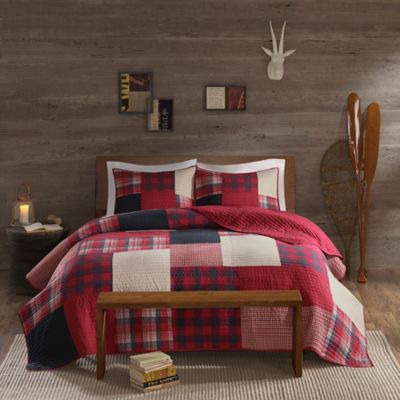 Woolrich
Online Only
In stock
for standard shipping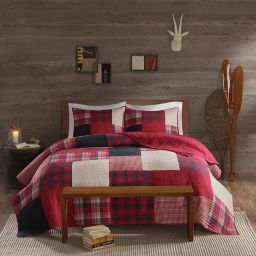 Bolster Pillow & Coverlet Set
The Christmas holiday season brings three things to mind, including family, home-cooked meals, and relaxation. There's nothing better than unwinding at home for a well-earned break from life's daily hassles. But, Christmas eve also means entertaining loved ones and staying on your feet for long hours – afterward, you rightfully look forward to a good night's rest. That is why now is the perfect time to indulge yourself by purchasing a new Christmas bedding sets. From king-size flannel sheet sets to toddler bedding sets, Bed Bath & Beyond has a huge selection of plush Christmas bedding items. Adding a new sheet set is perfect for unwinding after a busy holiday family celebration. But don't forget to buy an ultra-comfy quit for those cold winter nights. Take it to the next level with Christmas themed bedding. A great way to stay in the holiday spirit. Read on to learn more about our inventory.
If you're on a budget, Bed Bath & Beyond is the perfect place to shop. Quickly and affordably spruce up your existing bedding set with the help of Christmas throw pillows. Some pillow collections even give you the option of adding a personalized message to make your holiday experience even more memorable. If you are in the mood to completely overhaul your current bedding collection, try one of our quilt sets. Apart from being a customer favorite in the Christmas quilts category, these sets come equipped with all the bed-coverlet accessories you could ever want. From shams covers to pillowcases, these quilt sets will, for sure, maximize your comfort in style. Choose from the perfect Christmas designs from snowscapes to Christmas trees to bring cheer to the bedroom. Don't miss out on all the fantastic Christmas deals happening right now at Bed Bath & Beyond.
Christmas Blankets
If temperatures drop below freezing levels where you live, including a top-quality Christmas throw blanket to your bedding is a must-have. While you will, no doubt, run into countless brands when searching for a throw blanket that fits in with your style and decor, make it a point to browse the entire section at Bed Bath & Beyond. No need to feel overwhelmed. It is just that we have so many Christmas designs to choose from. Remember, throw blankets are great at keeping the chill away, so grab a few for the whole family to enjoy. Throw blankets can also be used on the couch or in the car. This is the perfect way to add a final touch of Christmas cheer to your home. You can trust that Bed Bath & Beyond will always carry top brands, such as Woolrich®, Levtex Home, Bee & Willow™, and many more. Now is the time to get ready for the holidays!