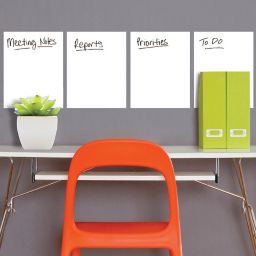 Wallies
Excluded from coupons
Free Shipping on Orders Over $39
Decals & Wallpaper - Product Type: Message Board
Style your space in minutes with vinyl wall decals, wallpaper stickers, adhesive wallpaper, and wall stickers. Bed Bath & Beyond's selection of wallpaper stickers and more provide the perfect décor solution for kids' rooms, dorm rooms, apartments, and any place where you can't (or don't want to) apply paint or wallpaper paste. You can transform a mundane room using a variety of color or black and white wallpapers - or even gild the lily with a swath of gold wallpaper. When decorating is this easy and fun, you'll be transforming your home one room at a time. Before you know it, you'll boast a designer interior, making a stylish impression amongst all your guests. From shapes or designs, to a full wall of pattern, re-peelable wallpaper is a quick and easy way to bring an entirely new look to any room in your home. So, let's learn more about what kinds of options are available for you.
Removable wallpaper decals allow you to decorate a space quickly and easily or even make it more useful. For instance, a removable dry erase memo board, calendar, or message board can be placed on the wall in a home, office, teen's room, or dorm room. Similarly, decal wallpaper and wallpaper stickers are great ways to add a decorative statement to any space without the grueling hours of painting it yourself. Another option is good old adhesive wallpaper, which is easier to apply than standard wallpaper and paste, but would have a long-lasting, professional look to it. This is great for a quick project, or simple makeover. This type of wallpaper is ideal as an accent in an alcove, above a mantle, or even in a powder room for a little wow-factor. What's better,
metal wall art
,
decorative wall shelves
, or
wall tapestries
make the perfect complement for these areas without overpowering them.
How Do Wall Stickers or Decals Work?
Vinyl wall decals are graphics made of thin vinyl - similar to contact paper but thinner. These are made for indoor use and when finished look like they were painted on the wall by an artist. Before applying decals, walls should be clean and dry - freshly painted walls should dry for at least one to two weeks before applying a decal. Although applying wall decals is relatively easy, we recommend following the directions closely to ensure its applied properly. Generally, following these steps are good practice. Be sure the area is clean, dry, and free from dirt by wiping with a damp cloth. Allow to fully dry before application. If there are multiple decals, it is sometimes easier to separate them and ensure they are lying flat with no air bubbles. To begin, remove the backing layer - the adhesive layer is very sticky. Using masking tape, anchor the decal in place - a long strip across the center is helpful in addition to the corners. Using a credit card or squeegee remove all bubbles to stick the decal to the wall. Wait 5-10 minutes after applying before removing the application layer, peel slowly to be sure the decal is affixed to the wall and doesn't lift.