Farberware
Free Shipping on Orders Over $39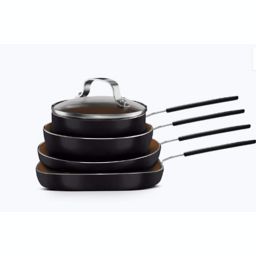 Gotham Steel
NON-MEMBER PRICE
BEYOND+ MEMBER PRICE
$28.79
Free Shipping on Orders Over $39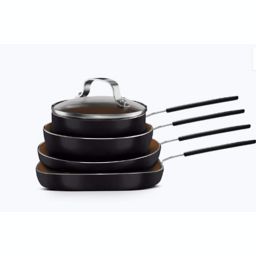 Plastic Cookware Sets
If you are looking to buy your first cookware or to replace your existing cookware, you may want to consider cookware sets, which generally end up as more economical options than purchasing individual pots and pans. Bed Bath & Beyond carries cookware sets in stainless steel, nonstick cookware and a selection of other metals that have various benefits depending on the type of cooking and your price.
All-Clad
and
Calphalon®
are two brands that consistently garner high reviews as the best cookware sets. Calphalon tri-ply and All-Clad tri-ply cookware sets are nearly the same. Both of them are made of 2 layers of professional-grade durable stainless-steel material wrapped around a layer of aluminum to deliver fast, even heating on any heat source. Also, both cookware sets are made of sturdy aluminum that provide even heat without the hot spot on the pans or pots. All-Clad's cookware sets use the best materials such as hard anodized for their non-stick cookware set, to ensure rapid, even heating, and lasting use. All-Clad cookware sets are oven safe as well as safe for induction and broiler. These products can resist up to 600° F.
Calphalon uses stainless steel and hard anodized aluminum on their products, rendering the cookware durable and comfortable to use. Their cookware sets are oven safe and can tolerate up to 450°F. Calphalon cookware's hard anodized aluminum body delivers quick, even heating. Calphalon nonstick cookware sets feature dual-layer nonstick interior cooking surface with a hard-anodized aluminum construction ensuring thermal efficiency and durability. If you are short on storage space, you may want to consider the Calphalon space saving cookware. Cleverly designed with the same diameter, this cookware conveniently stacks and nests on top of each other in any order to save you 30% storage space. Stainless steel cookware is unquestionably beautiful and delivers high performance because it is extremely durable. When stainless steel kitchen pots and pans are wrapped with an inner aluminum core, it provides superior heat conduction.
Stock pots
are usually made of stainless steel or aluminum and are perfect for stocks, soup, boiling pasta, or potatoes, and for steaming or blanching vegetables. Griddles and skillets are also very handy pans to have. Skillets or fry pans are typically included in our cookware sets. We also carry an array of
griddles
and
skillets
in electric or stovetop models constructed of aluminum nonstick, cast iron, hard anodized, non-stick ceramic, or stainless steel.
Nonstick Cookware for Easy & Healthy Cooking
Nonstick cookware has a coating that prevents the food from sticking and is therefore easy to use and clean. Unlike regular cooking pot sets that absorb a lot of oil while cooking, this type of cookware requires less oil resulting in a healthier meal. We offer so many options of nonstick cookware. For example, nonstick aluminum pans feature thermally efficient aluminum construction for rapid, even heating with consistent cooking results and the nonstick helps the food easily slide off. We carry a hard-anodized nonstick cookware set with NeverStick Technology that features an extremely durable, exclusive nonstick coating that is designed to withstand high-heat cooking and aggressive scrubbing. It is metal utensil safe and enables excellent food release day after day without sticking. Another set of nonstick pan sets is constructed of stainless steel and an interior cooking surface that offers superior food release and effortless cleanup. Our granitestone sets boast durable aluminum construction that delivers quick and even heat distribution and triple-layer nonstick cooking surfaces that are reinforced with diamonds to ensure effortless food release and quick, easy cleanup. Nonstick cookware has risen in popularity because food doesn't stick, is less likely to burn, and is not intimidating for amateur cooks. Easier cleanup and healthier cooking options with less oil are an added plus.
Related Searches