Savings Event
Free Shipping on Orders Over $39
Savings Event
Wedding Registry Favorite
Free Shipping on Orders Over $39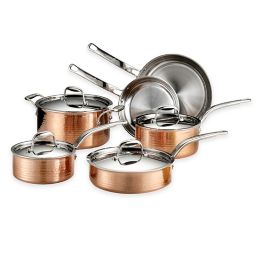 Cookware Sets
The kitchen is the heart of your home; it?s a place where the family gathers and talks, and it?s a place where you prepare your meals. Browse the premium selection of cookware sets from www.bedbathandbeyond.com that will bring exceptional color, culinary detail, and superior functionality to your kitchen?s stovetop.
Whether you?re a culinary pro or an unproven cook, the wide assortment www.bedbathandbeyond.com features deluxe cookware sets that will make even the most elaborate of meal prepping simple and easy. From Dutch ovens to bakers, to frying pans and saucepans, discover precise cooking vessels that will help you prepare everything from pancakes to poultry.

Cookware Sets vs. Open Stock
Buying a set of pots and pans is typically less expensive than buying the pieces separately. But choosing your set can be confusing. What pieces do you need? Should you buy a complete set or individual pieces? Depending upon what you currently own, you may just want to purchase individual pieces ?or ?open stock? instead of a whole set. Also, if your budget is tight and you need to build a set from scratch, you may want to invest in one at a time. You will need an assortment of skillets and pots, a stockpot, and lids. Many times, investing in a whole set is more economical, check out the deals at bedbathandbeyond.com and see what?s best for you and your cooking needs.

Heavy Metals that Can Handle the Heat
Pick up a 10-piece cookware set made of copper, which is an excellent conductor of heat. Copper heats up fast, cools down quickly, and is perfect for cooks looking for advanced temperature control. Copper makes a wonderful addition to any stovetop and is delightful to look at with its polished presentation. Select a cast iron cookware set, which holds heat well and is extremely durable, so you?ll be cooking with this set for a lifetime. Discover an almost endless assortment of aluminum cookware sets, which heats quickly, evenly, and holds heat longer than copper. Uncover an amazing anodized aluminum cookware set, which heats hotter than regular aluminum and won?t crack of chip. Cookware sets come in a variety of colors and finishes; find the right color for your kitchen.

On the Surface
Once you decide what metal is ideal for your cooking needs, choose a cooking surface that works best for you. Stainless steel cooking surfaces are extremely common, seeing as though they are durable, scratch-resistant, and look clean. Experience the convenience of a nonstick cooking surface, which boasts the benefits of quick food release, quick cleanups, and ready-to-cook expediency without having to add oil. Fall in love with an infused cooking surface, which features nonstick properties with even heat retention for better temperature control or porcelain enamel, which conducts heat like cast iron but features a smooth surface for quick cleanups and a wide selection of colors to make your kitchen pop.

Get a Handle on it
Finally, select the right handle for you. Riveted handles are permanent and sturdy but require proper cleanup to prevent food buildup. Try a welded or screwed-on handle, which boasts a smooth interior surface. Experience the innovation of a Cool V handle, which features a rolled, hollowed-out design to disperse heat and stay cool, so you can keep your hands protected while cooking.
Just as carpenters choose tools for their jobs, culinary pros and cooking enthusiasts now choose their cooking vessels to bolster their kitchen artillery. Find the perfect cookware set for your cooking needs and complement your kitchen with the very best that bedbathandbeyond.com has to offer.