Free Shipping on Orders Over $39
Free Shipping on Orders Over $39
Free Shipping on Orders Over $39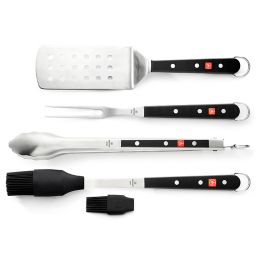 Summer Kitchen Essentials - Product Type: Grilling Tool Set - Price: $51 - $100
Enjoy summertime and all it has to offer – or just make it feel like summer all year round – with our collection of kitchen gadgets and utensils. Browse through dozens and dozens of products that help you take advantage of seasonal food, like grilling skewers and planks, BBQ tools, grills and griddles, and even professional-looking cotton candy machines for extra fun. Sounds like the makings for a great afternoon! Bed Bath & Beyond has all the products you need to make warm weather entertaining a snap.
One of the best things about summer is the frozen drinks. Whether you're looking for a margarita or a slushie, we have tons of kitchen appliances to get the job done. Drink makers that shave ice and blend with your favorite juices and other ingredients for perfect frozen concoctions. Or perhaps snow cones for the kids. We also have beverage makers that use your favorite soft drinks and ice to create cold, sweet treats. Or make your own soda pop at home – your favorite flavors, anytime. And don't forget your cold brew! Our machines let you make delicious, strong cafe-style beverages for you and your friends in the comfort of your own kitchen.
Live easy with our kitchen accessories and utensils
After you've created an amazing meal with our grilling and BBQ tools, show it off on some gorgeous dinnerware and serving boards in a variety of materials and designs. We also have beautiful drinkware and flatware to round out your table. And, if you're looking for the perfect gift for your favorite griller, check out our personalized cutting boards – great for steaks and poultry! Let us help give your get-togethers an extra special touch with stylish beverage dispensers that let guests serve themselves cool drinks whenever they'd like. We have you covered, down to every last detail.