Free Shipping on Orders Over $39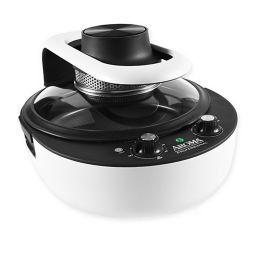 Aroma Air Fryers & Deep Fryers
Do you like fried food, but you don't want to have to go out to eat, or you do not want the calories and fat of traditionally fried food? The frying technology of today has come a long way, and now it's easier than ever to make crispy, delicious meals that won't make you feel guilty. Plus, air fryers and electric skillets help make hazardous frying tasks safer. Bed Bath & Beyond carries a large selection of convenient, easy-to-use
air fryers
,
deep fryers
, and electric skillets. So, let your imagination run free, and achieve the crisp you crave.
Deep frying has traditionally been a messy, even dangerous, process. There's the risk of a slippery mess from spilled oil, smoke and smell from burnt oil, and even a grease fire. But with a high-tech deep fryer from Bed Bath & Beyond, deep frying is made simple, convenient, and safe. Also, depending on your needs, you'll find the perfect size deeper fryer here, from 1 quart to over 6 quarts.Air fryers are especially convenient because there is very little to no oil to deal with. Instead, an air fryer works by evenly heating the food using rapid hot air circulation. Just throw the food in the container and choose your setting, and your food will be ready to enjoy in no time. And in addition to frying, you can also bake, grill, or roast food.
Electric Skillets
Electric skillets provide superior temperature control and they cook food more evenly than a traditional skillet. Plus, electric skillets are easily portable. For example, the
De'Longhi
brand is perfect for feeding the whole family. Use it to evenly cook large dishes or when you need extra heating space when your stove top is too small or occupied.Up your cooking game. Check out the great selection of deep fryers, air fryers, and electric skillets at Bed Bath & Beyond today. Stop by one of our covenant locations or shop online today!