Top Rated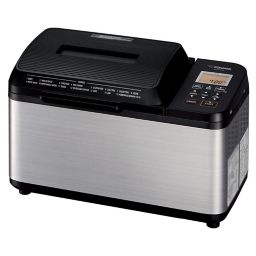 Zojirushi
Free Shipping on Orders Over $39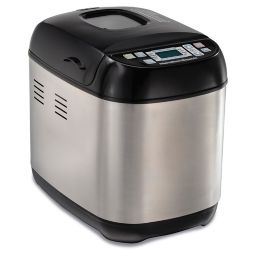 Hamilton Beach
Free Shipping on Orders Over $39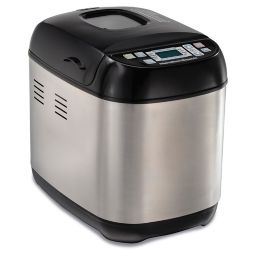 Black Bread Makers
The smell of freshly baked bread is one of the most satisfying kitchen aromas. And, if you love homemade bread, but don't enjoy all the effort that is required, a bread maker or bread machine from Bed Bath & Beyond could be your best helper. Electric bread makers simplify the ancient art of bread for even a novice, letting you make bread from scratch with minimal effort. Easily create everything from a loaf of basic white to fresh focaccia dough, without even having to roll up your sleeves to mix and knead--just add ingredients, select the cycle and press start. Bread has been at the center of family meals globally for centuries because even with its simple ingredients it has symbolized hearth and home. Store-bought bread may be convenient, but a batch of homemade bread simply cannot be beaten for freshness and the ability make your own healthy bread flavors or even gluten-free options. Some of our electric bread makers feature an EXPRESSBAKE cycle to bake a 2-pound loaf in less than an hour, or a delay timer for customized bake time. With programmed settings for a variety of breads and doughs, you just add ingredients, select the cycle and press start so you can cook with passion and serve with pleasure.
A bread machine or
https://www.bedbathandbeyond.com/store/category/kitchen/small-appliances/food-processors/12076/>automatic bread maker
turns raw ingredients into baked bread without you having to do all the manual work. Most bread makers have similar design and functionality where basic ingredients such as water, yeast, and flour are loaded into a bread pan in a certain order. You then place the pan in the bread maker and select the desired setting. The bread maker kneads the dough and bakes a perfect golden-brown loaf. With so many choices and prices, how do you choose the right bread cooker or bread maker for you? Bed Bath & Beyond carries the most popular and top-rated brands and we can provide you some tips to choosing the bread making machine that fits your needs. Do you want to bake a loaf or two every day or do you want to bake only on weekends or special occasions? If you want to bake frequently you may want to invest in a higher priced model with a good dependability rating that will last a long time. If you want to bake occasionally you may want to choose a lower priced bread maker with a good set of features. If you are short on space or don't want to eat too much bread at a time, you may want a smaller capacity bread maker. If you are making several loaves of bread or large quantities of bread rolls at a time, you may want to check our wide range of
mixers & attachments
.
Bake Bread Customized to Your Needs
Some of our bread baking machines offer three crust color selection options: light, medium, and dark. Some of our electric bread makers feature healthy settings for multigrain, whole wheat, gluten free, sugar free, vegan, pizza, and pasta dough. Without these settings you will have a difficult time baking a satisfactory gluten-free or 100% whole-wheat bread. For gluten-free, you must add the required ingredients and the bread machine offers a gluten-free setting that kneads the dough two or three times with multiple rises and bakes it appropriately. Some bread machines feature an auto add dispenser that automatically dispenses nuts and other ingredients at the proper time in the kneading and rising process, ensuring that your bread is neither under-baked with a doughy center or over-baked resulting in a dry loaf of bread. Store-bought bread generally includes a long list of ingredients that can sound so confusing. Making your own bread lets you control what ingredients go into your loaf making it a healthier choice. You may also want to check out our
kitchen blenders
for making nutritious drinks or healthy sauces. With delay timers you have the option of customizing when your baking cycle begins. Imagine having your bread deliciously warm and ready to eat when you get home! That tempting option is pretty hard to beat!
Related Searches