Slow Cookers & Multi Cookers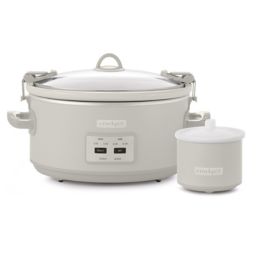 Crockpot
NON-MEMBER PRICE
BEYOND+ MEMBER PRICE
$47.59
Sale!
Free Shipping on Orders Over $39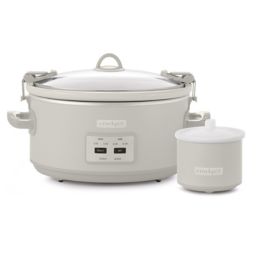 Beige Slow Cookers & Multi Cookers
Slow cookers are a great kitchen appliance solution that helps save time! Released in the early seventies as Crock-pot, it has now become ubiquitous for a slow cooker. Bed Bath & Beyond carries a wide range of slow cookers and crock pots. A slow cooker is a time and money-saving appliance for the busy person who can assemble a meal in the morning and come home several hours later to the inviting aroma of a ready-to-eat, delicious, nutritious meal wafting through the air! Slow cookers require less energy than standard ovens but still cook tender and tough cuts of meat without sacrificing taste. As a result, they are great for stews, soups, casseroles, roasts, and lots more. Slow cookers or electric cooking pots can be an economically smart choice because you can use cheaper cuts of meat. As the food cooks and lets off steam, condensation acts as a self-baster tenderizing traditionally tougher cuts of meat. Adding vegetables to slow cooker recipes allows them to absorb meat stocks and spices, giving them fuller flavors. In addition to the standard ceramic inserts, we also carry slow cookers featuring a non-stick cast-aluminum insert that moves effortlessly from the oven or stovetop to the electric base to your table.
From full-flavored veggies to fork-tender meat, slow cookers provide time-saving cooking convenience to easily prepare delicious meals including breakfast foods, soups, and stews to game-day appetizers, main courses, and desserts. A multi-purpose cooker is an all-in-one appliance that can replace so many different meal preparation appliances such as pressure cookers, rice cookers, steamers to name a few. A multi-purpose cooker can sometimes be called an instant pot. They are a great option for cooking meals quickly--up to 70% quicker than conventional cooking. Because a multi-cooker has preset timers, it's hard to ruin your food. As multipurpose cookers use less oil for cooking, it can reduce the calories in your food. Also, using multi-purpose cookers can be a healthier choice because food cooks more quickly helping to retain vitamins and minerals compared to traditional ways of cooking. Convenient one-touch settings for various pressure-cooked meals allows you choose to eat sooner, or you can use the slow cook setting to come back later to a delicious, hot meal. You can also steam, brown, sauté, simmer, and boil. Some models feature an upper steam tray that allows for healthy steaming of meats and vegetables, even as rice cooks below. Aside from its preset settings, you can also use it manually to cook your food. You can set your desired temperature and the time for it to complete.
Multi-Purpose Cookers Make Cooking Effortlessly Fun
Any of these electric cooking pots will help save a lot in electricity bills because it cooks fast. Microwave ovens have become an essential part of most kitchens. During hot times of the year,
Microwaves
are an excellent appliance to use because they won't heat up your kitchen like a regular oven.
Toaster ovens
are other versatile appliances from broiling fish to roasting vegetables to baking a quick cookie--you can easily prepare an entire meal in this useful and affordable device. Using a multipurpose cooker or instant pot means less food prep time allowing you to do other activities while cooking. It also means less cleaning because you will use one appliance for everything. Our slow cookers and multi-cookers range in sizes from 5 cups to 10 quarts. If you are making a recipe that calls for a lot of food prep such as shredding, chopping,
food processors
can make light work of this chore. Using a multi-purpose cooker means you will be able to make a myriad of different meals because practically anything that can be cooked can be made in this appliance. The portability of slow cookers and multipurpose cookers makes it ideal to use anywhere and are ideal for potlucks. Once you get used to your appliances you may enjoy nutritious hearty food prepared from fresh ingredients. In today's busy life, it's a huge consolation to know that you can prepare quick healthy food without spending hours in the kitchen.