Get up to $100 in My Funds Rewards!
Get up to $100 in My Funds Rewards!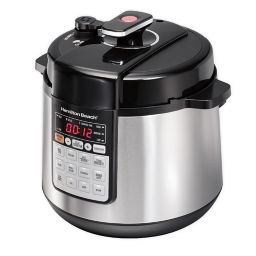 Slow Cookers & Multi Cookers
Slow cookers are a
great kitchen appliance solution
that helps save time! With a slow cooker, you can prepare delicious, nutritious meals even while you're away. Assemble meals in the morning, head to work and come back home for a dinner that's ready to eat. Cookers require less energy than standard ovens but still cook tender and tough cuts of meat without sacrificing taste. As a result, they are great for stews, soups, casseroles, roasts, and lots more. Choose from a number of styles made by top designers including
Crock-Pot®
,
Cuisinart®
, and
KitchenAid®
.
Multi-cookers are a great option for cooking meals quickly--up to 70% quicker than conventional cooking. That adds up to a lot of time saved in the kitchen! Bed Bath & Beyond carries different models to fit your needs. It is important to consider the capacity of each cooker. Most cookers can hold up to six quarts.
Take More Time to Eat, Not Cook
All of the models come with additional features. A favorite feature is the option to program your slow cooker or multi-cooker. This means you can prepare your meals the night before by adding all of the ingredients and having it set to start cooking at a later time. Most models also come with safety features to prevent overheating. There is nothing better than coming home from work and supper is already taken care of. Regardless of which cooker you choose, rest assured Bed Bath & Beyond is here to help. Buy one today!