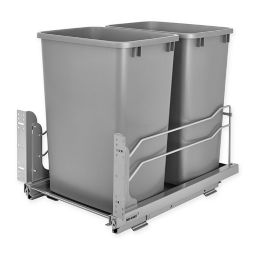 Rev-A-Shelf
Get up to $250 in rewards!
Rev-A-Shelf
NON-MEMBER PRICE
BEYOND+ MEMBER PRICE
$75.99
Get up to $250 in rewards!
Trash & Recycling - Mount Type: Door Mount
Are you an eco-conscious family? Recycling is an easy way for your family to dispose of used bottles, cans, and paper products. Bed Bath & Beyond has what you need to get started, including recycling trash cans. It will feel great to keep your house less cluttered and know that these items are not ending up in a landfill. A trash and recycling bin from Bed Bath & Beyond will help you stay neat and organized. Not sure what to purchase. No worries, we are here to help! So, what should you look for in a recycle garbage can? It must have a cover, strong material, and large enough to hold everything you need to dispose of. Are you moving into a new home? Make sure you have all of the required trash cans, recycling, and compost bins. Read on to learn more about Bed Bath & Beyond's inventory. Along with recycling and garbage bins, we also have
kitchen organizers
to make a messy kitchen neat.
A compost trash can that will fit perfectly in your kitchen is the Bed Bath & Beyond slim trash bin. Most slim trash bins have a capacity of 45-liter and can stand against the wall in any corner of the house. Also, consider buying a recycle trash bin with a liner rim that opens up easily by your foot. Made out of stainless steel, it is lightweight and easy to clean. The simple design will match most interiors, making it easy to hide your garbage. Customers can also buy a trash recycle combo set just like the 
Simplehuman® trash cans
. Keeping your trash and recycling tidy will help create a peaceful space at home. To clean up more of the area, consider also buying a kitchen and sink organizer. Don't feel like driving to the store? No problem! Bed Bath & Beyond makes it simple to place your order online safely from your home. So, skip the drive and get all your shopping done from the couch.
Kitchen Organizers
Now that your trash and recycling are organized, it is time to think about the rest of the kitchen space. 
Kitchen organizers
 are the best tools to keep the area neat, clean, and feel more spacious! Check out our selection of bamboo cutlery trays that are super durable and can be used to store cutlery and kitchen utensils in style. You can also use bamboo trays as a handy drawer organizer to stack flatware and kitchen gadgets. Since it is made of bamboo, it is easy to clean, and all you need to do is wipe the surface with a dry cloth. Equally important is keeping the kitchen sink area clean. Consider buying an under the sink slide-out 
sink organizers
. Just slide it out, take what you need, and push it back in! It is easy to maintain and organize your home with help from Bed Bath & Beyond. Find everything you need in one place, plus trust that we always carry top brands, including
SALT™
, Seville Classics®,
Eko®
, and more. Shop today!