Free Shipping on Orders Over $39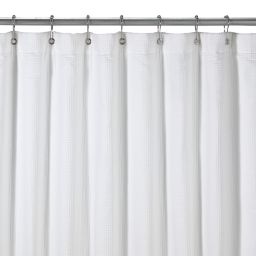 Luxury Shower Curtains
The quality of your shower curtain may not seem important, until you experience a less than refreshing shower. Perhaps you've stayed in a hotel where the shower curtain billowed out, allowing water to get all over the floor, or sucked in and wrapped around your body – yuck! The quality of your shower curtain and liner does make a difference, and the difference is in the details. A good quality shower curtain will hang and drape nicely, without pulling on the shower curtain rings or being difficult to open and close. This means the fabric and construction is important, which is why premium shower curtains are a good investment.
If you've ever stayed in a better hotel or luxury resort, you no doubt noticed the shower curtains and bath towels are usually white – hygienic and easy to launder, white is the obvious choice, but white also brightens and opens a room – since bathrooms tends to be on the smaller side, a white shower curtain makes the room feel larger. Clean, airy and open are attributes one seeks in a bathroom or spa, and one also enjoys a spa-like experience at home. Browse our selection of white bathroom shower curtains and discover gorgeous matelass?, jacquard, honeycomb waffle weave and elegant white on white cotton shower curtains designed to enhance any d?cor – from contemporary to traditional, clean, crisp and classic white is always in style.
Size Matters
Before selecting any shower curtain, know the size of your bath or shower opening – a stall shower will require a smaller shower curtain while a standard bath/shower runs 72" x 72"; if you have a custom shower or bath, you may require an extra-long or extra-wide shower curtain – our fine bath linens assortment offers a range of sizes. Update the look of your guest or master bathroom with a luxurious hotel-quality shower curtain and enjoy a spa-like experience at home every day.