Ships free
orders over $39
NON-MEMBER PRICE
BEYOND+ MEMBER PRICE
$381.59
Ships free
orders over $39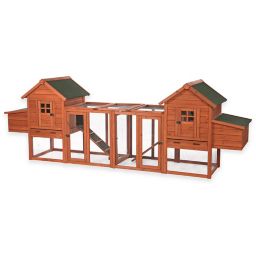 Bird Supplies
Make your yard a place that thrives with live and sweet tweets with option upon option of bird supplies and equipment from Bed Bath & Beyond! Choose from multiple varieties of bird houses, bird baths and bird feeders that fit your style while also creating the neighborhood hotspot for feathered friends. If you are already an avid birdwatcher, you know the simple joys that come with hanging a feeder or putting out a tiny home to watch nature up close; installations are a breeze and the reward is entrancingly peaceful. And if for some reason the birdies are away for the day, the décor elements of your bird bath, house or feeder are still yours to admire. Classic bowl-shaped bird feeders come in multiple finishes and colors that catch the eye and are usually delightfully paired with intricate etchings, bevels and even attached figurines for a piece that is just as much aesthetic as it is functional.
Another popular birdfeeder style includes a tiny roof for shade and a mini catch-base for scattered seeds that fall from an inner cylinder. These feeders are shaped to resemble tiny (and usually impeccably styled) homes made from durable materials with enticing finishes! They are also extremely simple to refill for anyone of any age, making them the perfect hobby for the entire family. Looking to add more bird stuff? Let's move on to another enticing bird equipment item that is found in gardens both big and small – bird baths! Bird baths, like bird houses and feeders, also fall into that perfect sweet spot of décor-meets-hobby-meets-functionality, as they make an attractive statement piece, are easy to maintain, and of course, they bring more nature right to your yard! Generally made of stone or marble, these durable beauties only need a quick hose down once and a while; and if/when you get a bit of rain, your bird bath is cleaned, filled and basically self-maintaining.
Pet Bird Supplies
Don't worry, we haven't forgotten the parakeets! We also offer a great variety of bird supplies for your indoor pets. The perfect birdcage is important for all the same reasons a bird house, feeder or bath are – style for you and comfort for your little buddies! Keep in mind, the larger the bird (or the larger the amount of birds being housed together) the larger you'll want the cage to be; and if its large, it should also look fabulous and function in ways that work best for your pet. Big bird? Make sure your bird cage has a large hinge door for easy in and out! Like to leave your bird out most of the day? Choose a birdcage complete with a rooftop perch so your bird can be part of the ins and outs of the day. On the other hand, maybe you only have one shy little guy that likes his own space; in this case, go for a smaller bird cage that allows him to feel snug and well suited. Bird cages both large and small generally come with easily-removeable roof slot and cage bottom for quick cleaning and reassembling -stylish, fresh and functional!