Google Nest
Excluded from coupons
Free Shipping on Orders Over $39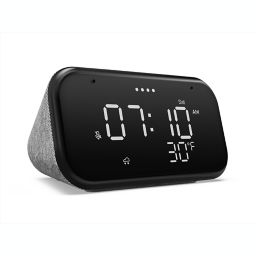 Lenovo
NON-MEMBER PRICE
BEYOND+ MEMBER PRICE
$39.99
Free Shipping on Orders Over $39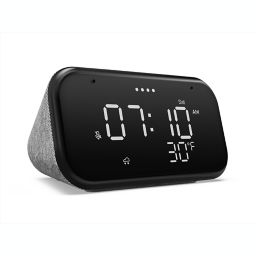 Grey Voice Assistants
When thinking of the word "technology" it's hard to imagine that it could help provide a comfier, happier home, but it can. With home assistants and smart speakers, your "smart home" will help you feel as cozy as ever. Thanks to voice activation technology, these voice assistants and smart speakers can control anything from the music you play to the temperature of your house, all from the sound of your voice. Imagine arriving home after a long day at work and turning the lights on with a simple voice command. Music no longer needs to be at the touch of your fingertips, but on the tip of your tongue as our smart speakers do the work for you. With a few simple voice commands, you will be able to control your lighting, temperature, security, and so much more. Truly, the home assistants found at Bed Bath & Beyond not only will make your life easier, but it will make your living smarter. Give your house a brain with this smart technology, and you will never look back.
At Bed Bath & Beyond, we're all about making life's daily tasks a little easier. More than just a system for automation, smart speakers and home assistants are also a great source of learning and fun. Use Alexa to jazz up your morning routine, or ask Siri to tell you a fun fact, and you'll wonder how you lived without it. Voice commands allow you to set alarms, check the traffic on your morning commute, and even find recipes. Plan out your workout routine or put together a playlist for your next party. These assistants might not be able to do everything, but they can certainly come close. Home assistants are also ideal for any sized home from a one-bedroom apartment to a three-story house. For larger homes, it may be necessary to purchase multiple units to be placed in multiple rooms. Your voice assistant or smart speaker will connect to different devices around your home through Wi-Fi.
Upgrade Your Home
As technology progresses, it's easy to upgrade your home with smart home products. To utilize a voice assistant, you'll want to make sure other smart home devices are connected to Wi-Fi. For example, if your thermostat is connected to Wi-Fi, you'll be able to change the temperature by speaking. Grab a set of smart speakers to sync with your voice assistant and create the perfect surround sound experience. Sick of having to stand up every time you need to turn on/off a light? We have smart bulbs that work with voice commands. If you're looking for a customer favorite, consider a Portal or Nest. The Portal and Nest will allow you to video chat with friends and family, and so much more!