Closet Storage
Showing 1 - 2 of 2 products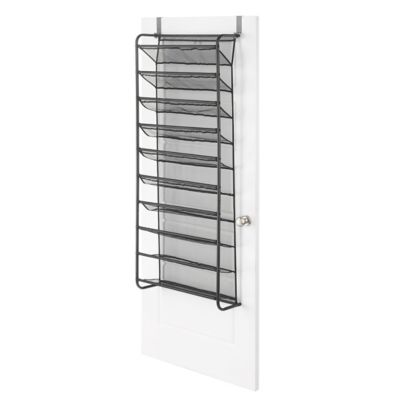 Simply Essential
Ready for Pickup when store opens at 11 AM
at
Dulles
In stock
for standard shipping
Closet Storage & Organizers
Do you dream of having a closet where everything has a dedicated space but instead have one that looks like a store's dressing room after a big sale? You might have clothing you rarely wear crammed next to the outfits you wear every week along with out-of-season outfits. That doesn't even include all of the accessories and shoes that you need to put away either. Shopping at Bed Bath & Beyond helps you find the closet organizers you need to have the organized space of your dreams.
It's easy to create a closet that would look right at home on the pages of a magazine with the right closet storage. Start with something you can use as a base for the rest of your design, such as a garment rack. Simply Essential ™ and other brands make racks that look similar to those used in department stores. They have shelving you can adjust to fit your things and wheels that let you roll the rack in and out of your closet as needed. Make sure you pick up some hangers to go along with the rack.
With a closet shelf organizer, you can finally make use of the space that you normally waste along your top shelf. These organizers come in different sizes to fit small and large closets. Some have multiple racks that allow you to store accessories in the boxes from Squared Away™ and similar brands. You may prefer boxes that have a label on the front, especially if you have high shelves. Those labels let you write down the contents of the box to easily find what you need later.
There are also closet storage and organization systems that come with shelving and other organizational tools. You can mix and match parts based on what you need to store and how much space you have. It's simply a matter of putting the pieces together. One of the nice things about these systems is that you can add multiple shoe racks if you need more space for your shoe collection or you can replace those racks with extra shelving for scarves, jewelry, and other accessories. Many of these systems also work with decorative bins that help you keep your favorite accessories out of sight but still within reach.
Thanks to these clothing storage options, you no longer need to worry about old clothing that you can't quite give away yet or clothes that you won't need for another few months. Find closet storage supplies from ORG® and other brands that are right for you. Think about what you need to store in your closet and what you want the space to look like before you shop for closet racks. With racks and other tools, you'll have no problem organizing your closet. You can then turn to Bed Bath & Beyond to find closet organization systems and supplies that make sure you have room for your clothing and much more.