Furniture Buying Guide: Beds & Headboards
A great-looking headboard acts as the finishing touch for any bedroom, but navigating the array of headboard sizes, materials, and styles might seem daunting. Rest easy: This guide gives you the lowdown on headboard lingo, materials, and more to help you build a better bed.
Shop All Beds
Shop All Headboards
Help Me Choose
Size is the very first (and most important) step in choosing a headboard. It has to fit your mattress and it has to fit in your room. Before you buy, check out this sizing cheat sheet.
| | |
| --- | --- |
| Your Mattress is a... | Choose a Headboard That is... |
| Twin (38 to 39 inches wide) | Twin-Sized |
| Full/Double (53 to 54 inches wide) | Full or full/queen-sized |
| Queen (60 inches wide) | Full/queen or queen-sized |
| California King (72 inches wide) | California king or California king/king-sized |
| King (76 to 78 inches wide) | King-sized |
How Much Space is Available in Your Bedroom?
The size of your mattress will generally dictate the size of your headboard but many headboards extend a bit wider than the mattress on each side. So it's a good idea to measure the wall space you have to accommodate a headboard before you make your pick.
How High Should Your Headboard Be?
Headboards come in a big range of heights (40 inches, 50 inches, and even taller, depending on the model), so this decision is a style consideration. Do you want a bold, impressive headboard that anchors the room? A tall headboard makes a strong statement but usually looks best when it's wide enough to balance smaller elements in the room. Do you want to highlight a different aspect of the room — an exquisite rug, perhaps — rather than drawing attention to the bed? Choose a shorter, softer-looking headboard in a neutral color if you want something less attention-grabbing.
The Details
Today's headboards come in a variety of styles and a wide range of materials. Love the classic upscale charm of solid hardwood? Or the luxe look of upholstery? Here, shopping advice on the three main materials.
Wood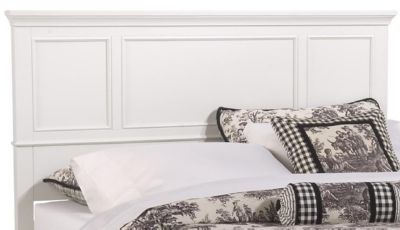 You can buy a solid wood headboard or choose one constructed from engineered wood (composites/laminates). Wood tones vary from light to dark, and all shades in between. Choose the tone that best matches your bedroom décor. If you prefer bursts of color rather than wood tones, consider a painted wood headboard.
Metal
Metal headboards add a touch of elegance. You can choose from a range of materials (wrought iron, brass, aluminum, steel) and an array of styles. Can't decide between wood and metal? Select a headboard that incorporates both in one design.
Upholstered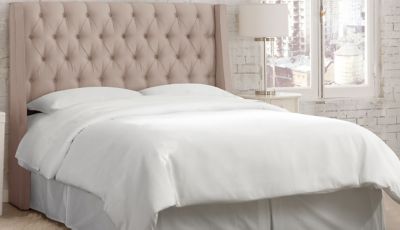 Upholstered headboards come in a variety of materials, including vinyl, fabric, leather, and faux leather. Style options vary too, from button-tufted and paneled to sleigh. Some upholstered headboards feature a nailhead trim. Some of these nailhead patterns simply follow the shape of the headboards, while others incorporate intricate patterns.
Material Considerations
Everyday wear and tear can be a factor in your choice. Is the headboard destined for a child's room with lots of rough-and-tumble play and little hands wielding crayons and markers? Look for a headboard that is durable and easy to wipe down like wood or metal. If you share your home with pets (and, inevitably, pet hair), you might want to steer clear of an upholstered headboard, which is harder to clean.
Your room's existing décor can influence your headboard decision. A bright and airy farmhouse-style bedroom might be the perfect place for a slatted white headboard while a rustic look lends itself to a dark, faux leather headboard.
If color is an integral part of your decorating scheme and you want the headboard to be a colorful addition, consider one made of painted wood, or a headboard upholstered in a colorful fabric.
Bookcase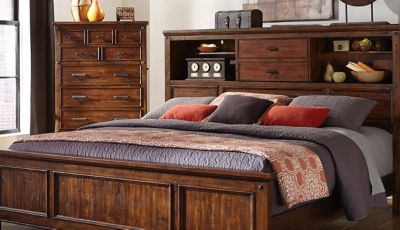 A bookcase headboard features attractive - and useful - shelving, cubbies, and/or drawers built directly into the furniture to provide you with a handy place to store decorative items, clocks, reading materials, remotes, and device chargers. Some bookcase headboards can be combined with entire systems that offer under-bed drawer storage.
Panel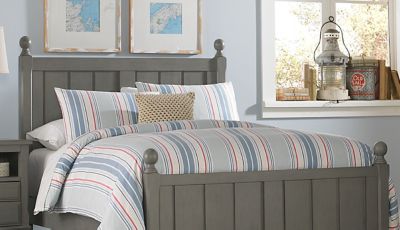 While commonly constructed from wood, paneled headboards also come in upholster, fabric, and leather versions. The hallmark of a paneled headboard is symmetrical "panels" — most often squares, but also rectangles, and occasionally one large panel. Some paneled headboards incorporate small squares arranged in a basket weave-inspired pattern.
Sleigh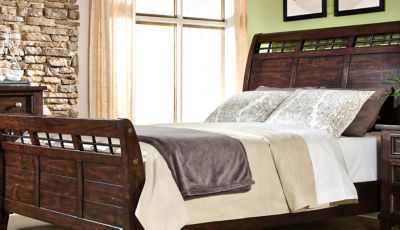 Reminiscent of an old-fashioned sleigh, a sleigh bed has sloping curves that give it a sense of movement. Most sleigh beds also include a footboard.
Button-Tufted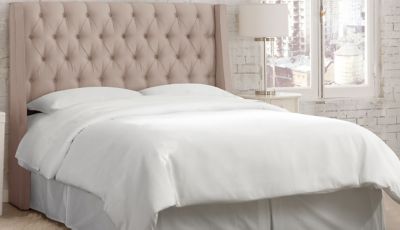 The highly popular button-tufted headboard combines the geometric look of a paneled headboard with the plush feel of upholstery.
Wall-Mounted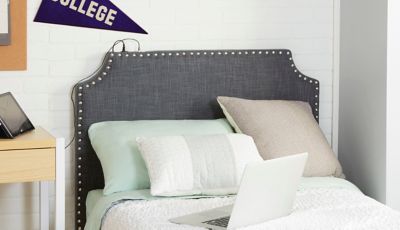 A wall-mounted headboard "stands alone" because it's attached to the wall rather than bed frame. Many wall-mounted headboards are upholstered.
Slatted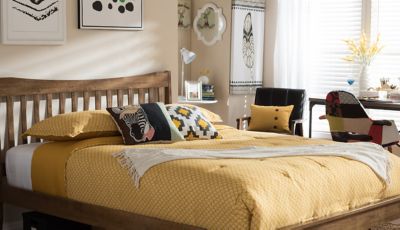 A slatted headboard combines the traditional look of wood with an airy twist that allows more of your wall color to show through.
Bunk bed
Typically used in kids' rooms, bunk beds feature two stacked beds with a ladder or steps to access the upper bunk. Twin-over-twin styles are the most common version of bunk beds, but you can also find combinations that incorporate larger bed sizes.
Folding Bed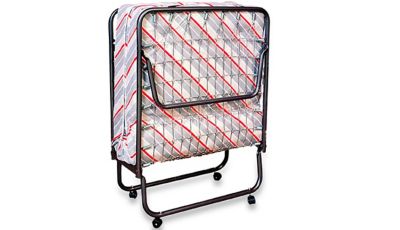 A folding bed is a go-to for visiting guests and other temporary sleeping. It's a great pick for small spaces, since it can be folded and stashed away when not in use.
Daybed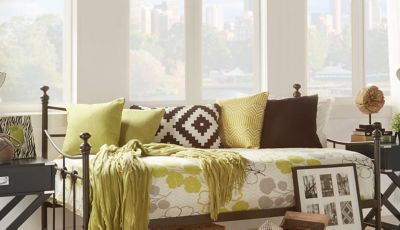 A daybed is a cross between a bed and a sofa. During the day, a daybed can be heaped with pillows and used for lounging. At night, a daybed can function as a regular bed.
Trundle Bed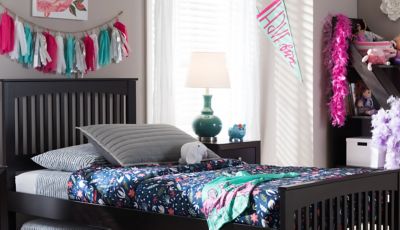 A trundle bed is a low bed, often on casters, that fits underneath a regular bed when not in use. Another good option for guest situations or small spaces, a trundle bed allows you to essentially fit two beds in the same space as one.
Platform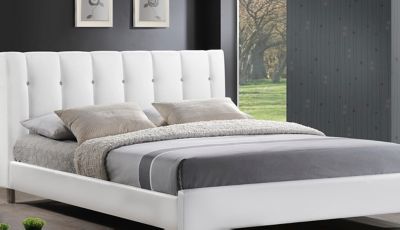 A platform bed is designed to eliminate the need for a box spring. In lieu of the box spring, a platform bed has either a raised platform or slats on which the mattress sits. Platform beds are common in midcentury-style homes thanks to their low, sleek silhouettes.
Loft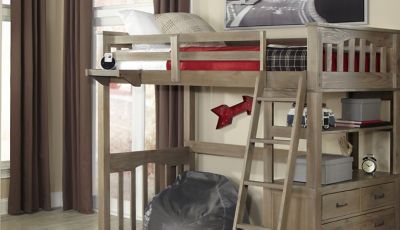 Similar to a bunk bed, a loft bed is raised high off of the floor to accommodate other furniture, like a desk, underneath. The bed up top is usually accessed by a ladder.