Furniture Buying Guide: Living Room
Looking to spruce up your living room or family room with new furniture (sofa, loveseat, accent chairs or tables)? Check out these smart tips to pick the perfect pieces.
Shop All Living Room
Help Me Choose
What's Your Design Style?
There's no single "best" way to furnish and decorate your living room or family room. Your choices in sofas, sectionals, loveseats, chairs, and table styles are virtually limitless. You might like a rustic room that welcomes you to curl up with a good book. Or you may prefer more of a traditional "den" feeling that invites the gang to put their feet up, munch on popcorn, and watch a football game or movie.
How Much Furniture Will You Need?
This depends on the size of your space. For an average-sized living room, you'll need the basics: one sofa, two accent chairs, one coffee table and two end tables. If space permits, consider adding a loveseat, a recliner, and an ottoman (some offer additional storage inside). For lighting, consider at least two table lamps (one on each end table) and a floor lamp for reading. An area rug can make the space cozy.
Some people like to buy all their living room furniture at once others buy one or two pieces at a time. Whichever way you prefer, keep in mind that it's fine to mix and match styles, colors and patterns this gives a room a cool, "curated" look, as if you had collected your pieces gradually over the years.
How Will You Use Your Room?
Think about whether this space will be a formal living room for "company only," or more of a welcoming space with comfy couches, extra-wide chairs, and oversized coffee tables that can hold books, magazines, and trays of snacks. To decide whether your vibe is formal or casual, ask yourself, "Will my living room invite feet on the furniture?"
INFORMAL ENTERTAINMENT SPACE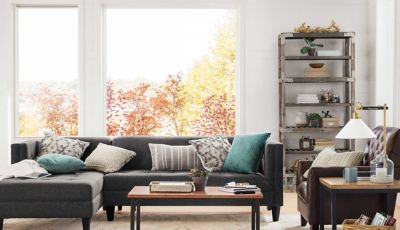 CHILD-FRIENDLY FAMILY SPACE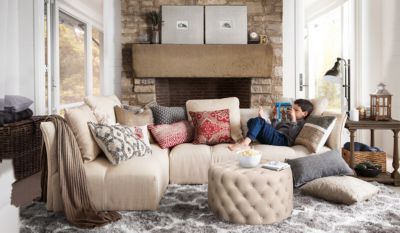 FORMAL GATHERING AREA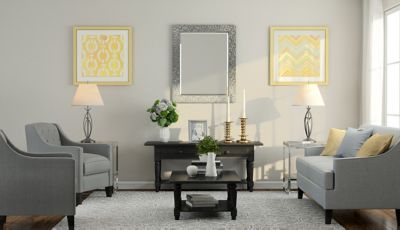 Decide On Your Style
It helps to have a sense of your decorating style before you buy new pieces. Check out this chart to familiarize yourself with the most common furniture styles.
Traditional
Traditional style is, as its name suggests, the foundation from which other styles have evolved. Old World craftsmanship (elaborate hand-carved details, delicate nail-head trim) is paired with hardwoods and luxe fabrics like velvet and silk. Queen Anne, Regency, and Rococo are examples of traditional style.
Key Elements and Materials:
Dark woods, often with carved detailing (spindles, medallions, barley twists)
Rich colors (red, brown, cream, blue, green)
Curved silhouettes
Linen, silk, and velvet upholstery
Skirted, tailored, and wingback styles
Contrast welts, piping, and tufting
Delicate nail-head trim
Floral prints and patterns
Coastal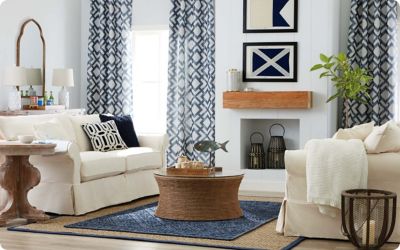 Coastal style is all about capturing the relaxed, nautical ambience of the beach. The palette takes inspiration from sand, sea, and sky, and some accessories have ocean tie-ins or motifs: (think ropes, seashells, starfish, anchors, and boats.) In furniture, silhouettes are simple and undressy. A whitewashed coffee table might complement side tables with a darker finish; upholstery might be solid or striped.
Key Elements and Materials:
Weathered and whitewashed woods
Blue, white, gray and cream tones
Linen slipcovers and upholstery
Rattan, wicker, raffia, jute and other richly textured natural materials
Colored translucent glass
Nautical motifs
Blue and white stripes
Industrial Modern
One of the more urban styles, industrial modern is inspired by the look of old factories, emphasizing architectural details and materials normally hidden from view. Exposed pipes, old brick and concrete floors. Furniture elements include steel, iron, weathered wood, and visible bolts and screwheads. Clean lines lend a utilitarian yet edgy feel. An industrial modern design approach is particularly well suited to an open concept or loft living.
Key Elements and Materials:
Chrome, steel, iron accents
Hardware details
Unfinished or weathered wood
Tailored silhouettes
Rustic nail-head trim
Open shelving
Contemporary/Modern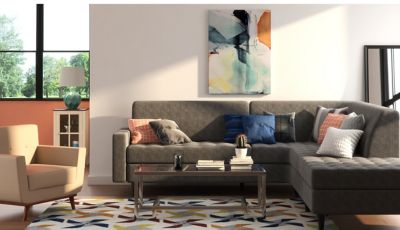 Shiny glass or metal pieces and geometric prints are some of the hallmarks of contemporary design. Contemporary and modern styles are similar (sleek, clean-lined, minimalistic), but contemporary furniture typically has more of a rounded silhouette and a generally more comfortable feel. Neutral color palettes are often paired with abstract art and bold accessories.
Key Elements and Materials:
Geometric prints
Acrylics/ lucite accents
Rustic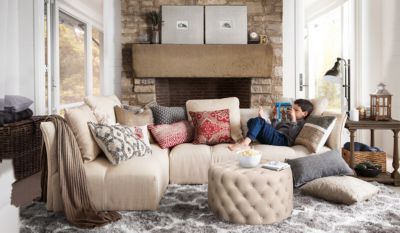 A rustic style combines the rugged, earthy feel of wood and stone with the warmth and comfort of fireplaces and upholstered furniture pieces. Rustic elements are warm and cozy (nubby fabrics and wool throws).
Key Elements and Materials:
Stone accents and details
Relaxed linen and leather
Color palette that's warm and earthy (reds, oranges, browns)
Unfinished iron details
Unfinished or weathered woods
Storage baskets
Farmhouse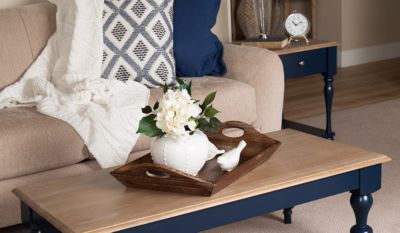 The Farmhouse style is light and bright and more open. Often viewed as "breezy" in style. (White shiplap, pale linen and cotton, gingham and faded floral prints).
Key Elements and Materials:
Raw, whitewashed, and painted woods
Relaxed linen and cotton
Simple, unadorned silhouettes
Natural materials
Pale, nature-inspired palette (white, cream, robin's-egg blue, pink, soft green)
Delicate florals, gingham, and ticking stripes
Transitional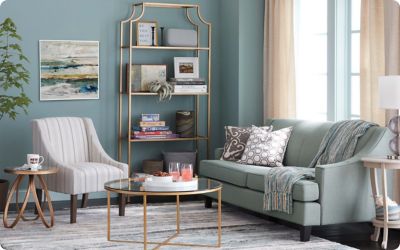 Can't decide between the elegant formality of a traditional style and the more casual vibe of contemporary design? Consider transitional style, which blends the two. The furniture features simple curves and straight lines; to give the room character, blend a variety of textures in a largely neutral color palette.
Key Elements and Materials:
Oversize patterns and medallions
Simple, streamlined silhouettes
Soft neutral palette (cream, beige, brown, gray)
Glam
Sometimes called Hollywood glamour or Hollywood Regency, this style incorporates luxe materials like velvet, marble, and gold. Jewel tones sit alongside animal prints; mirrored and metallic finishes aren't limited to details but can cover the surfaces of large chests and tables. More is more: bold colors, gleaming accents, ornate details.
Key Elements and Materials:
Rich, jewel-tone colors
Velvets, satins and other luxe materials
Brass, chrome, gold and other metallic accents
Animal prints and hides
Marble, malachite and other stone elements
Mirrored pieces
Lucite details
Mid-Century Modern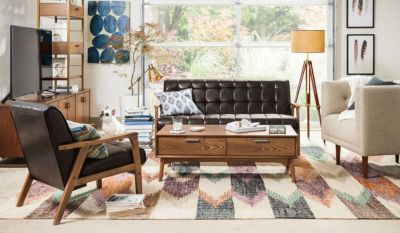 A mid-century modern look is defined by super-clean lines and overall minimalism. The style utilizes many materials that were not traditionally used for furniture, including metal and molded plastic, which results in a sleek, functional aesthetic that still feels current and relevant today. Many of the most iconic furniture pieces in the world are of mid-century design, including Eames chairs and Saarinen tables.
Key Elements and Materials:
Simplistic silhouettes, largely straight lines with minimal curves
Turned or straight "peg" leg
Metal, glass, vinyl, fiberglass, plexiglass, and Lucite
Muted earthy tones mixed with bold pops of primary color
Shallow tufting
Geometric patterns
Bohemian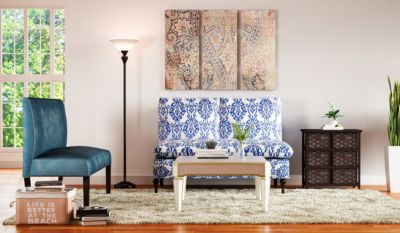 Bohemian style is about creating an eclectic, well-traveled look by mixing pieces with varying patterns, textures and styles. The color palette is bold and vibrant, with eye-catching prints. The textures are rich (sheepskin rugs, wool throws, leather and linen upholstery).
Key Elements and Materials:
Ikat, suzani and batik upholstery
Rattan, raffia and other organic materials
Bone-inlay furniture and accents
Leather, linen and wool elements
Sheepskin, hide and Moroccan-inspired rugs
Asian Influence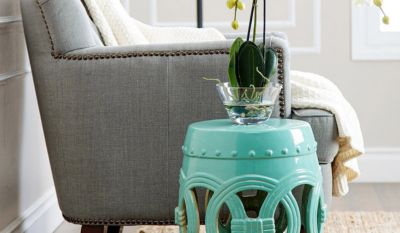 What most of us think of as Asian style is actually chinoiserie or japonaiserie - millennia of Eastern motifs and silhouettes filtered through a Western lens. Some of the most common elements are lacquered finishes, Ming-style legs resembling a Greek key and bamboo and silk accents. Blue and white porcelain, dark woods and flashes of red are also hallmarks of a classic East-meets-West palette.
Key Elements and Materials:
Ming-style furniture and pagoda-inspired silhouettes
Blue-and-white flora and fauna motifs, especially on porcelain
Bamboo accents
Garden stools
Ginger jars, foo dogs and dragons
Lacquered finishes
European Heritage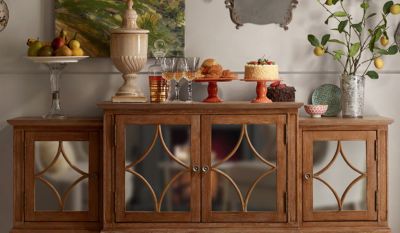 A subset of the Traditional style, European Heritage is feminine yet stately, elegant yet inviting. Louis-style chairs, sunburst mirrors and toile prints are some of the most common elements. Other accents: cabriole legs and exposed wood frames with carved details, whitewashed finishes, pale upholstery, woven rush seats and grain-sack pillows.
Key Elements and Materials:
Exposed carved-wood frames
Feminine silhouettes
Louis-style chairs, settees and sofas
Crystal and gilded accents
Antiqued mirrors
Pastel color palette
Linen, ticking, velvet and grain-sack fabrics
The Details
How Do You Arrange the Furniture?
First, decide on the focal point of your room. Is it a fireplace? A window with a view? A big-screen TV? Once you decide on that you can start arranging your furniture around it.
Placing your furniture close together will give the room an intimate feel that invites conversation. Arranging furniture spaciously will lend a more open feeling to the space. Generally you'll want to leave about 14 to 18 inches between a sofa and coffee table. Allow at least 3.5 feet between two accent chairs — or between a chair and couch that face each other. You'll also want to leave about 3 feet of space around the room's entrances so that it's easy to move in and out of the space.
Decorator tip: To plan your room, draw your space "to scale" on a pad of grid paper, representing each square foot of living space as one square
Measure Carefully Before Your Order
If you want to make sure your pieces will fit perfectly in your living room, it's a good idea to measure — twice.
You'll need to measure not only the room where your new pieces will reside, but also the doorways between your home's point of entry and the actual spot where the furniture will be set up. Then you'll want to compare those measurements with the dimensions of each piece of furniture you plan to order. You can find the height, width, and depth of each piece on manufacturer's labels or product detailed descriptions on bedbathbeyond.com.
If you're measuring a piece in person, remember that it's essential to find all three dimensions. Whether it's a sofa, sectional, chair, coffee table or end table, the basic measuring process is the same – just follow these guidelines.
To Find Height:
Measure from the floor to the highest point on the item; for a sofa or chair, this is the highest point on the furniture's back. For coffee and end tables, this is the table's surface. When measuring to see if a piece will fit through a door or hallway, keep in mind that any feet or legs can usually be disassembled.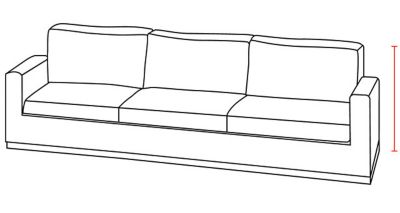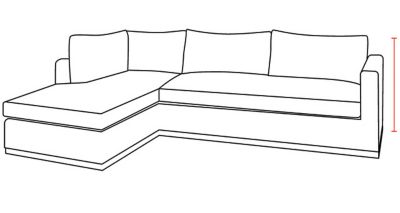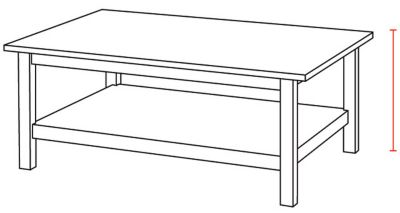 To Find Width:
Measure the distance between the widest points of the piece's sides. For sofas and chairs, this is the distance between the widest points of the arms. For coffee and end tables, this is either the width of the table's surface, or the distance between the legs. When working with multi-piece sectionals, calculate the combined width when the piece is in place and fully assembled.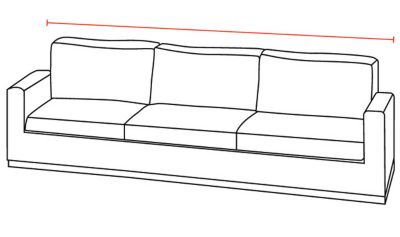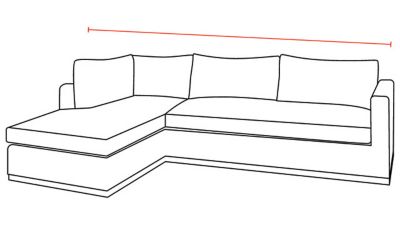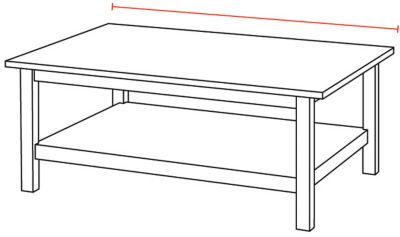 To Find Depth:
Measure the distance between the furthest-reaching point on the front of the piece and the deepest point on the back. This is easy to do with tables but it can be difficult to measure chairs or sofas since the deepest point is often at the top of the backrest, while the opposite point on the front is usually down near the seat. A little "guesstimation" may be required.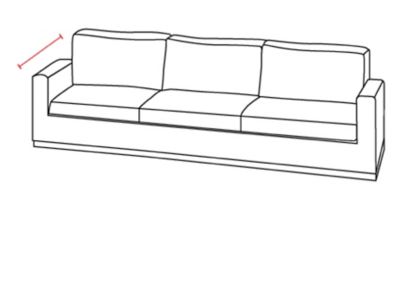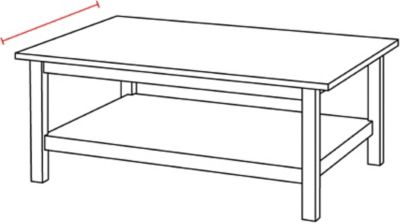 More Measuring Tips
First, check for any obstacles between the street and your front door.
Consider staircases, railings, elevators, and ceiling fans.
Then grab your yardstick.
Measure your doorframe's height, width, and diagonal dimension. (Find the diagonal dimension by running your tape measure from the right top corner of the doorframe to the bottom left corner). Always measure twice to make sure you get the correct dimensions.
Next, decide if your furniture will fit comfortably through your door and into your living room.
Carefully compare the dimensions of your doorframe to the height, width, and depth of the largest pieces of furniture you plan to order.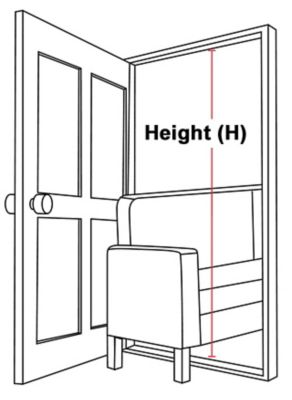 Measure from the floor to the top of the doorway.
Measure between the narrowest parts of the doorway's width.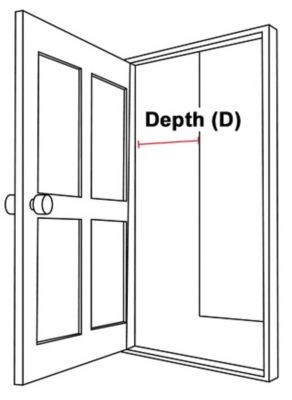 Measure the amount of room from the doorway to the nearest opposite wall.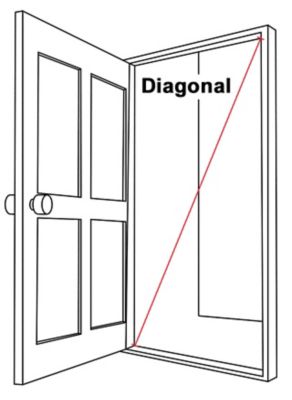 Measure from the right top corner of the doorframe to the bottom left corner.
Use and Care
Even if you're a neat freak, you can't avoid the inevitable spill or stain (a toppled drink, a smashed stray potato chip). Here are some fast fixes and maintenance guidelines to help keep your furniture in tip-top shape:
For upholstered pieces, regularly vacuum the cushions.
For spills, always consult the manufacturer's care label attached to your new furniture. The prevailing advice is to immediately blot (don't rub!) any spills with a color-fast sponge or a white cotton towel. But depending on the fabric type, some manufacturers recommend letting the stain dry first and then vacuuming the residue.
Consider slipcovers to protect your new sofa (or, later, to give your worn couch an updated look).
Be kind to upholstered and wooden furniture by positioning it out of direct sunlight.
Clean wooden furniture with products formulated specifically for wood. Do not use soap or harsh chemicals.
Dust wood pieces using only a soft cloth — even paper towels can scratch some wood finishes.