Furniture Buying Guide: Sofas and Sectionals
BUYING GUIDE
Sofas & Sectional
If you're like most people, you'll own your living room furniture for seven to 10 years—so you want to make choices you won't regret. These smart tips on sofas, sectionals, and loveseats will help you find the best pieces to fit your lifestyle and budget.
Furniture & Delivery Measuring Tips
Following these measuring tips will ensure everything arrives and fits exactly where you want it.
View Guide
Help Me Choose
A sofa, loveseat or sectional is usually the major focal point in a living room, and each offers a comfy spot for your family and guests. To pin down the right pick, think about which one will meet your entertaining needs and work best in the room. Here's a quick primer on each.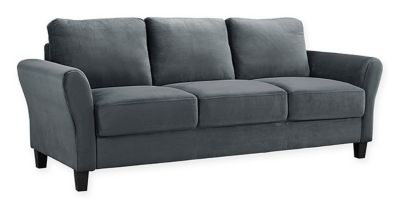 Standard Sofa
A standard sofa is typically six to eight feet long and comes with three seat cushions to accommodate three adults. Some sofas come with two large seat cushions instead, or one seat cushion that fits the length of the sofa. Certain models even have a section that functions like a recliner.
Sleeper Sofa
Sleeper sofas are equipped with a lightweight mattress that pulls out to make a sofa bed. If you are buying a sofa bed, know it will be heavier than a regular sofa, and make sure you test that the "bed" mechanism functions smoothly.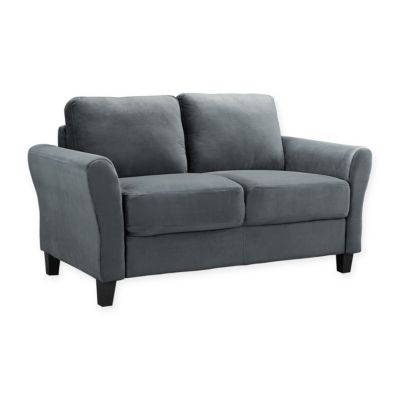 Loveseat
A loveseat is similar to a sofa but smaller (generally five to six feet long). It has two seat cushions, and can accommodate two adults. A loveseat can take the place of a sofa in a small living room, although an average-size adult would find it difficult to nap or recline on one.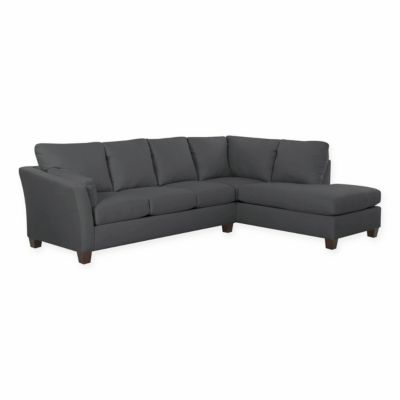 Sectional
Sectionals generally range from nine to fourteen feet long, and the larger sized ones can seat up to six adults. They come in a variety of seating components and can be arranged to fit any layout. The most common sectional includes three modular units: One three-cushion "sofa" module, one two-cushion "loveseat" module, and one small, "armless chair" corner module.
Additional Sectional Pieces
It's a myth that you need a large room to accommodate a sectional. Actually, sectionals can be a good pick for smaller rooms when you want to be able to seat more people within that limited space. Conversely, sectionals can also help round out more spacious rooms such as a family-sized entertainment area.
Before buying a sectional, it's important to have a detailed floor-plan sketch so that you know if you can set it up as one continuous unit or if you will use the pieces in different spots in your living room.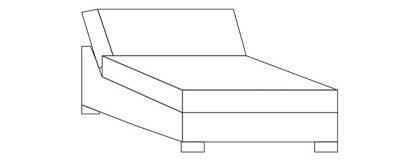 Armless Chaise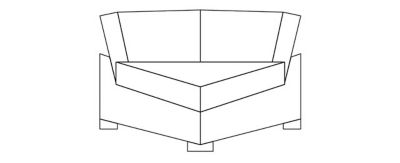 Corner Chaise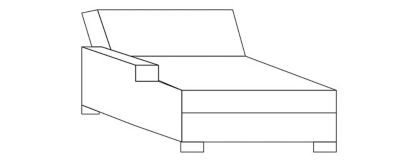 Armed Chaise*
Can be right or left armed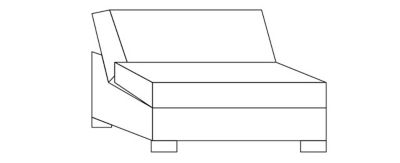 Armless Chair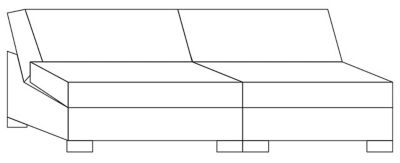 Armless Loveseat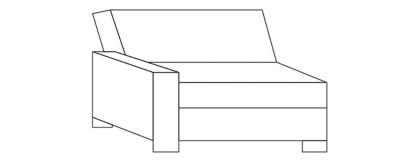 Armed Chair*
Can be right or left armed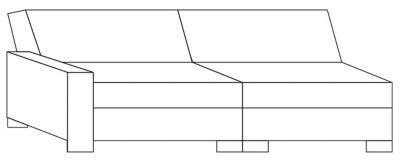 Armed Loveseat*
Can be right or left armed
Measure Carefully
When you're ready to order a new sofa, loveseat or sectional it's a good idea to measure twice to make sure you get the right dimensions. You can also use masking tape on the floor to help pre-visualize how much space the furniture will take up.
For sofas and loveseats, the measuring technique is identical: Find the furniture's maximum height, width, and depth to make sure it will fit within your space and the route to get it there.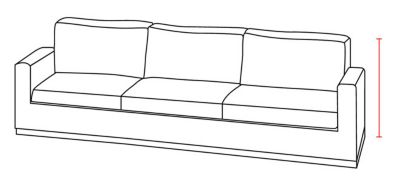 Height
To get a height measurement for a sofa or loveseat, measure from the floor up to the highest point on the sofa's back. (Keep in mind: If you need to get a sofa or loveseat through a narrow doorway, the feet can usually be removed).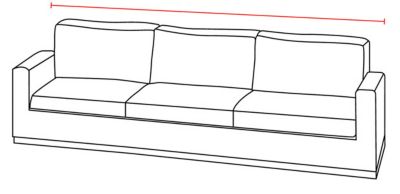 Width
To find the width, measure between the two widest points on the arms; for curvy sofas, it may be challenging to see exactly where the widest point is, so round up slightly to make sure the piece will fit in your space.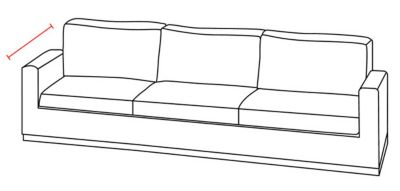 Depth
For the depth, measure between the furthest-forward point on the sofa or loveseat's front and the deepest point on the back.
For sectional sofas the process is similar, except that you don't have to consider the entire sectional as one piece when determining its route from the front door to the living room. The overall combined width and length of the sectional sofa matters only when measuring for final placement. For this, measure each individual piece, and then add up the widths and lengths for a total measurement.
Check for any obstacles between the street and your front door
Consider staircases railings, elevators, lightning fixtures, and ceiling fans
Grab your yardstick
You'll want to get dimensions not only for the room where your new pieces will reside, but also for the doorways between your home's point of entry and the actual spot where the furniture will be set up (including hallways, stairs, apartment elevators, and around corners). Measure the doorframe's height, width, and diagonal dimension. (Find the diagonal dimension by running your tape measure from the right top corner of the doorframe to the bottom left corner). Always measure twice for accuracy.
Decide if your sofa, loveseat, or individual sectional modules will fit comfortably through your door and into your living room
Carefully compare the dimensions of your doorframe to the height, width, and depth of each piece of furniture you plan to order
For more help, see our "Furniture Measuring Tips" guide.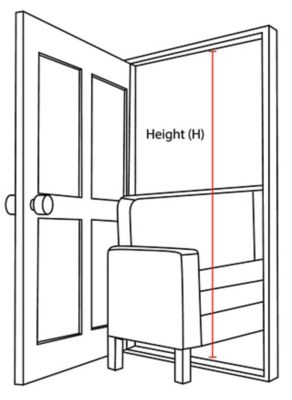 Height
Measure from the floor to the top of the doorway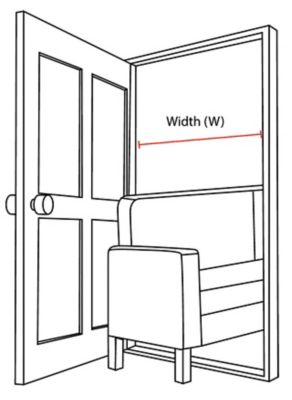 Width
Measure between the narrowest parts of the doorway's width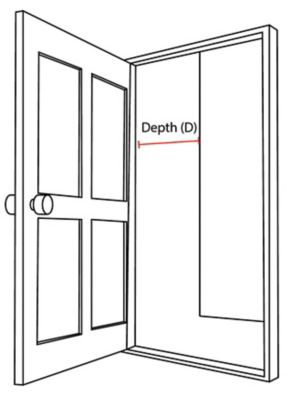 Depth
Measure the amount of room from the doorway to the nearest opposite wall.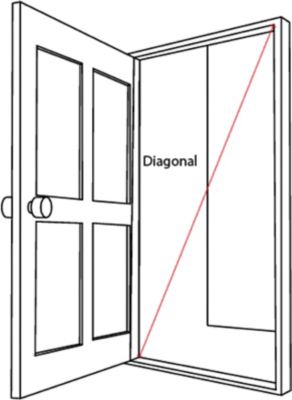 Diagonal
Measure from the right top corner of the doorframe to the bottom left corner
The Details
Sofa Construction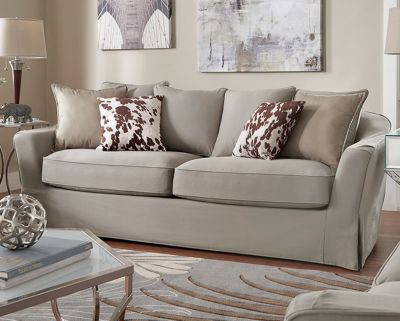 You might be tempted to buy a sofa based on a great color or pretty fabric pattern, but it's also important to consider the frame and suspension system.
Your best bet is usually a sturdy frame made of kiln-dried hardwood such as ash, poplar, maple, or oak, which will help your sofa keep its shape and resist cracking and warping. For long-term, dependable support, joints should be glued, and the corners should be double doweled before they are secured with screws.
Also find out about the suspension system. Eight-way, hand-coiled springs generally cost more than simple "S" springs. It's a good idea to buy the best quality sofa, loveseat, or sectional that you can afford. But you also need to take your lifestyle into consideration: If you're expecting your sofa to last for 10-plus years, you'll want finer craftsmanship than someone with a houseful of puppies who plans to replace a couch more regularly.
Cushion Fill
This is a personal preference: You might be looking for a squishy down/feather mix that you can sink into. Those tend to be luxurious but pricey. Or your taste may run more toward foam-filled (often polyurethane) cushions that provide firm support. Just like deciding on a mattress, you'll need to determine which type of sofa cushions you feel most comfortable sitting on.
Loose Back Cushions v.s One Piece Back Cushions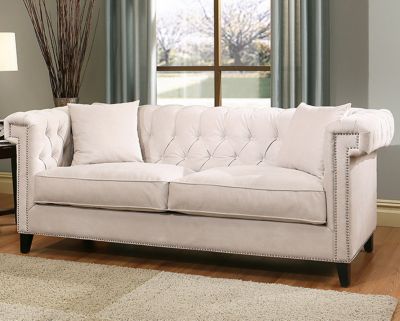 Here's one more decision that challenges furniture shoppers: whether to buy a sofa with loose back cushions or attached back cushions.
If you want the flexibility of being able to remove your back cushions to vacuum under them, fluff them up, and move them around, you'll want loose cushions. These are also practical because if one becomes damaged, you can just take it to an upholsterer for the repair. Conversely, some shoppers prefer the sleek, tidy look of an attached, one-piece cushion that stays in place even if the kids are jumping around. Button-back cushions keep the foam from shifting and have a more formal look. Loose-back cushions have a more casual vibe and can be more comfortable to rest against.
Modular Sofas
Your day-to-day schedule evolves and changes over time, and so can your living room furniture configuration—if you have a modular sofa. Modular sofas consist of several units that can be easily rearranged, and this allows you to fully customize the layout to fit your needs and space. If flexibility is a necessity in your living room, a modular sofa can be the key to comfort and convenience.
Reclining Sofas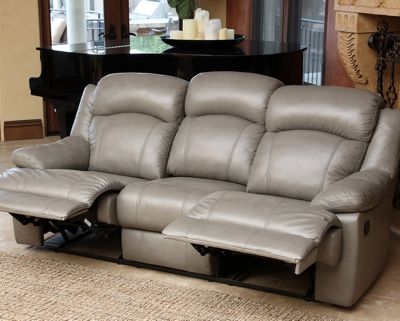 Reclining sofas combine the comfort of a reclining chair with the extra seating capacity of a sofa. Reclining sofas vary in the number of seats that recline; double reclining sofas offer two adjustable seats, and some of these sofas are also equipped with drop-down cup holders that nestle those seats. Reclining loveseats are another option (great for maximum comfort in a small space).
Sofa Feet
This feature is a personal style choice. Some sofas have carved wooden feet that lift the sofa off the floor. Others have hidden feet, which makes the sofa look like it is sitting on the floor.
Sofa Arms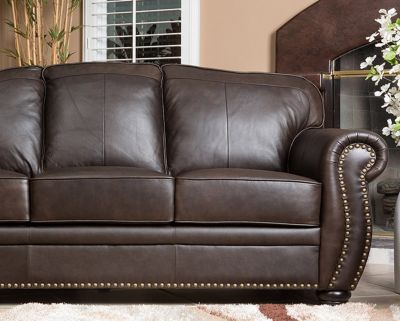 Curved, round, square, high or low, upholstered or bare wood—when you're deciding on sofa arms, consider which are more comfortable if you tend to lean on the arm or use it when stretching out on a sofa.
Upholstery
Upholstery fabrics run the gamut: leather, microfiber, chenille, wool, velvet. Tighter fabric weaves tend to last the longest. If your sofa will get a lot of use, microfiber and leather are typically more durable and easier to clean.
Use and Care
Even if you're the world's best housekeeper, you can't avoid the inevitable: Someone will probably spill a drink on your sofa or drop buttery popcorn in between the cushions. Try these tips to keep your upholstered furniture in nearly new shape:
To keep the color from fading, position upholstered furniture out of direct sunlight.
Consider slipcovers to protect your new sofa (or down the road, to give your worn couch an updated look).
Regularly vacuum the cushions and move them around so they don't show signs of wear.
Some fabrics come treated with stain-guard protection. Read the manufacturer's directions on how to care for stain-resistant fabrics.
For stains, always consult the manufacturer's care label. The prevailing advice is to immediately blot (don't rub!) any spills with a sponge or a white cotton towel. But some manufacturers recommend letting the stain dry first and then vacuuming the residue.