With today's well-designed bakeware, you can make tempting treats like cupcakes and cookies and tasty entrees like enchiladas every time you turn on the oven. Deciding which of the many products on the market to add to your collection requires understanding your baking needs and the various bakeware products and their capabilities.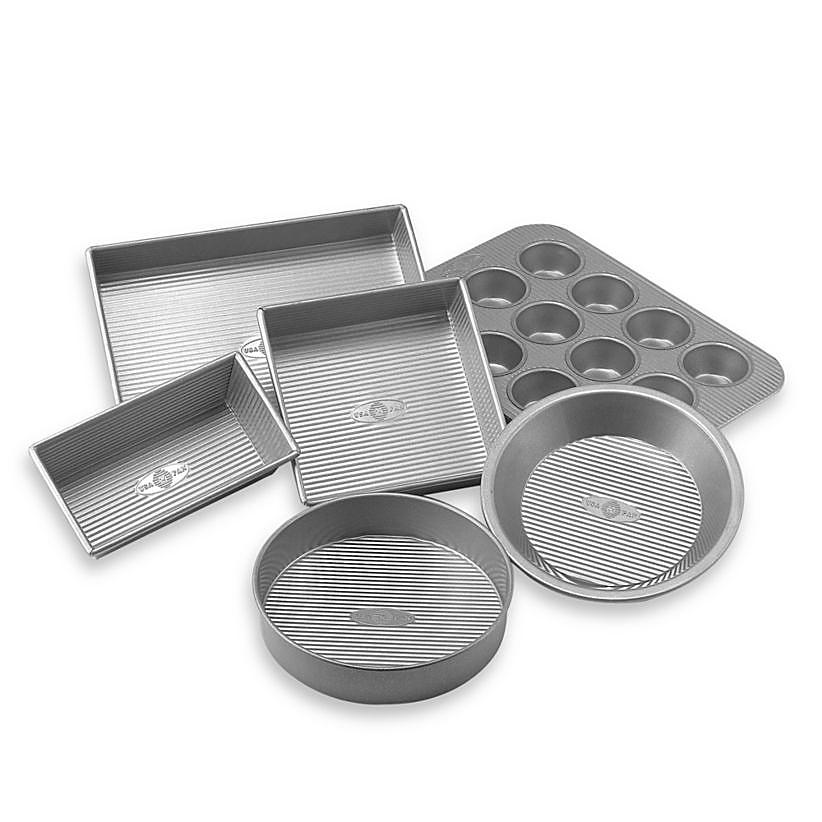 Do you really need several different types of bakeware?
Baking is precise and requires you to choose the right bakeware for the job. There is a good reason why cookie sheets are thin and have low sides. They are designed that way, because you don't want the bottom of the cookie to cook faster than the top. Bake brownies, on the other hand, and you want a thicker bottom and steeper sides, which facilitates slow, even baking from the inside out. And a large, lasagna requires a casserole baking dish with deep sides to keep the food moist.
How do you determine what bakeware pieces you need?
Taking a close look at your baking habits will help you determine what specific bakeware to add to your collection. Do you bake a lot of cakes? Then you'll want at least two or maybe three round or square cake pans so you can make layered cakes. Or are you more of a bread baker? Loaf pans are a necessity in order to oven bake bread. Like to make pies? Get two different sized pie pans.
Should you get a bakeware set?
A set ensures you have the right tool when the need arises – from family baking to picnics, office potluck and school events, to parties. Most bakeware sets come with standard baking pans for making cupcakes, cakes, cookies, loafs, brownies/bars, casseroles and side dishes.
If you tend to find yourself mostly baking cookies, you will want two cookie sheets, so that you can put a new batch in while the other is cooling.
What bakeware items should you include in an all-purpose set?
Consider any baked food and chances are there is a baking pan in which to make the item. If you have the following items in your cookware collection, you can successfully make just about any baked good:
8- or 9-inch round cake pan (two to make a layered cake)
8- or 9-inch square cake pan (two to make a layered cake)
9" x 13" cake pan
9" pie pan
9" x 5" loaf pan
12-cup muffin pan
11" x 17" cookie (baking) sheet
3-quart casserole dish
The following bakeware items aren't fundamentals, but they make a convenient kitchen addition if you bake certain foods:
Bundt cake pan
Mini muffin/cupcake pan
Springform pan (with removable bottom)
Angel food cake pan
Tart pan
Pizza pan/stone
Madeleine pan
Brownie pan
Chip maker (tortilla/potato)
Ramekins for soufflé and custard
Popover pan
Quiche pan
How do I choose from the various bakeware materials?
Bakeware comes in several materials, each with its advantages. Consider the following characteristics of the main types of bakeware materials in order to make the right choice for your culinary needs:
| Bakeware Material | Pros | Cons |
| --- | --- | --- |
| Aluminum | Aluminum is a good conductor of heat and browns foods evenly. It generally features a nonstick or anodized material. | Aluminum is a soft material and can bend and become misshapen with use. Buy the heaviest gauge aluminum bakeware possible to avoid this problem. |
| Aluminized Steel | Often used in professional bakeware lines, aluminized steel conducts heat well and has a durable and tough construction, allowing for years of use. It comes in traditional and non-stick surfaces. | Nonstick surfaces can scratch if proper care is not taken. |
| Cast Iron | Cast-iron retains heat and bakes foods evenly. Some models are coated with enamel, which makes for easy cleanup. | Cast-iron is heavy. Non-coated cast-iron requires extra care to prevent rust. |
| Ovenproof Glass | Glass is easy to clean and dishwasher safe. It keeps food from over-browning, and you are able to see the food as it cooks from all sides, including the bottom, which helps when checking for doneness. Glass bakeware is also versatile. You can use it to prepare and bake food and then serve from it and store in it. | Glass is breakable. It is not the best conductor of heat. |
| Ceramic | Generally made of stoneware or porcelain, ceramic is a good insulator of heat and is strong and durable. Ceramic also makes an attractive serving dish. | Ceramic is breakable. |
| Silicone | Silicone provides even heat distribution and baked items easily come free. It can withstand high temperatures and can be used in the oven, microwave and put in the freezer. It is also dishwasher safe and flexible, which makes for easy storage. | Silicone can be damaged by sharp utensils such as knives. (It also cannot be placed on or near an open flame.) |
| Carbon Steel | Carbon steel provides quick high heating and is very durable. | Does not conduct heat as well as other materials. Will rust easily if not seasoned. |
Other key features you will want:
*Insulated. Prevent foods from burning and promote even baking by looking for insulated metal bakeware, which is made of two bonded layers of metal with a layer of air in between.
*Heavy. Usually, the heavier the weight of a piece of metal bakeware, the higher the quality and the better the baking experience. Thick bakeware resists bending and warping and more evenly distributes heat.
*Warp resistance. Look for rolled edges and steel reinforced rims, which keep bakeware from losing its shape.
*Durable coating. Nonstick surfaces generally don't require greasing and release baked items easily, but they can scratch. Traditional surfaces, such as aluminum, generally require coating, but produce golden crusts and even browning.
Use and Care
*Always use silicone, nylon or wood utensils in nonstick, never metal, as it can scratch the coating.
*Use care when storing bakeware to prevent scratches, chips, dents and breakage.
The following additional cooking tools will enhance your baking experience:
Wire cooling racks
Nylon, silicone and wood utensils for nonstick bakeware
Mixing bowls
Measuring spoons/cups
Flour sifter
Whisk
Pastry blender
Rolling pin
Cookie cutters
Silicone liners – no greasing required, items slide off after baking
Cookie scoops
Parchment paper
Batter dispenser
Cheese cloth
Pastry brush