Comforters, duvet covers, pillows and sheets are the foundation of a well-dressed bed. But to really make your bedroom dream-worthy, you'll want to invest in a few fabulous bedding accessories—bed skirts, a throw blanket, shams, and decorative pillows—to make relaxing in bed even more inviting.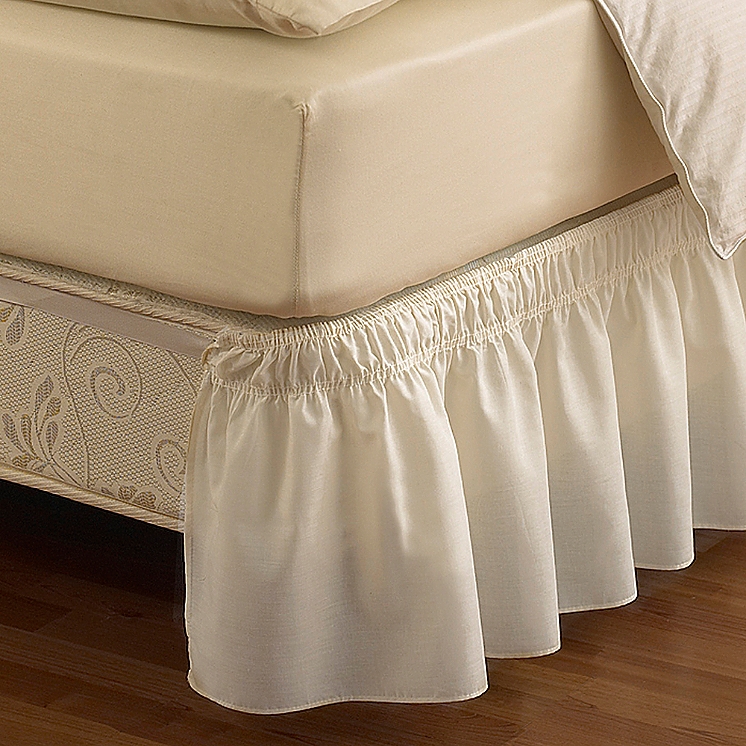 What is your decorating style?
Your preferred decorating style will help guide you when coordinating and refreshing bedding accessories. Look for bed skirts, pillow shams and decorative pillows that work with the colors, pattern or texture of your bedding cover. An array of pillows in different sizes and shapes makes a bed seem lusher, while the actual styles will be a reflection of your personality and tastes.
What size bed do you have?
This will help you determine how many accent pillows and shams you need.
| Bed Size | Pillows/Shams Needed |
| --- | --- |
| Twin or Twin XL | One Euro pillow sham, sleeping pillows, and at least one accent pillow. |
| Full or Queen | Two Euro pillow shams, two standard pillow shams, sleeping pillows, plus at least two additional accent pillows. |
| King or California King | Three Euro pillow shams, two king-sized pillow shams, sleeping pillows, and four to six toss pillows. |
What is a sham?
A sham is a cover that fits over the pillow that rests against the headboard. They come in different sizes.
| Pillow Sham Size | What It Does |
| --- | --- |
| European or Euro Sham | Covers a large square pillow usually 26" x 26". Frequently made to match a bedding pattern. |
| King Sham | An oversized rectangular pillow cover measuring 20" x 36" designed specifically for King or California King sized beds, Usually coordinates with a bedding pattern. |
| Standard Sham | A standard size pillow cover measuring 20" x 26" that coordinates with the Euro sham and comforter or comforter cover. |
Which accent pillows should you pick?
Accent or toss pillows come in a variety of shapes and sizes. While some accent pillows are purely decorative, others can be used for specific purposes, such as neckrolls that can give your neck and shoulders additional support and comfort.
| Accent Pillow Name | What It Is |
| --- | --- |
| Backrest | Large pillows with "arms" that extend out the sides, they make sitting up to read or eat in bed more comfortable. |
| Neckroll | Long, narrow cylindrical pillows that are placed at the front of the pillow arrangement. They can be placed under the neck and shoulders to support your neck when you're sleeping. |
| Breakfast/Boudoir Pillow | Small, rectangular pillows, measuring 12" x 18"that can be used to support your lower back when you're sitting up in bed. |
| Square Toss | The most familiar decorative pillow commonly measures 16" x 16" or 18" x 18" but can come in any square size. |
What to consider when choosing bedding accessories
Don't be afraid to mix and match textures and patterns. They add variety and interest to your bedding.
Keep the texture and patterns within the same color scheme. Choose a dominant color, and weave it throughout the accessories to give your bedding a cohesive look.
Want to make it easy? Many bedding sets now come with accent pillows and bed skirts, to give you everything you need for a beautiful bed.
What is a bed skirt or dust ruffle?
The two phrases are interchangeable for a curtain of fabric that covers the box spring and the gap between the bed and the floor. Bed skirts are usually built with a solid piece of fabric that's slid between the mattress and the box spring, anchoring it firmly in place (but making it difficult to remove to wash it).
Accent Pillows
Some accent pillows come with removable covers to allow easier cleaning, but many don't. Before you remove the tags from your accent pillows, take note of any cleaning information. Accent pillows that feature delicate fabrics or details like beading or embroidery may only allow spot cleaning.
If your accent pillows are machine washable, here's what you need to know:
Use a gentle cycle and a gentle laundry detergent to wash your pillow.
Add an additional rinse cycle to ensure that you've removed all the soap.
Dry the pillows thoroughly—you may need to run them through the dryer several times to get them fully dry.
Bed Skirts
Most bed skirts are machine washable, but follow the manufacturer's recommendations for laundering.