Blenders are a great kitchen tool—capable of doing everything from crushing ice to whipping up smoothies to pureeing comforting soups. It's also an appliance that tends to sit on the countertop, so you'll want to look for that perfect combination of beauty and strength.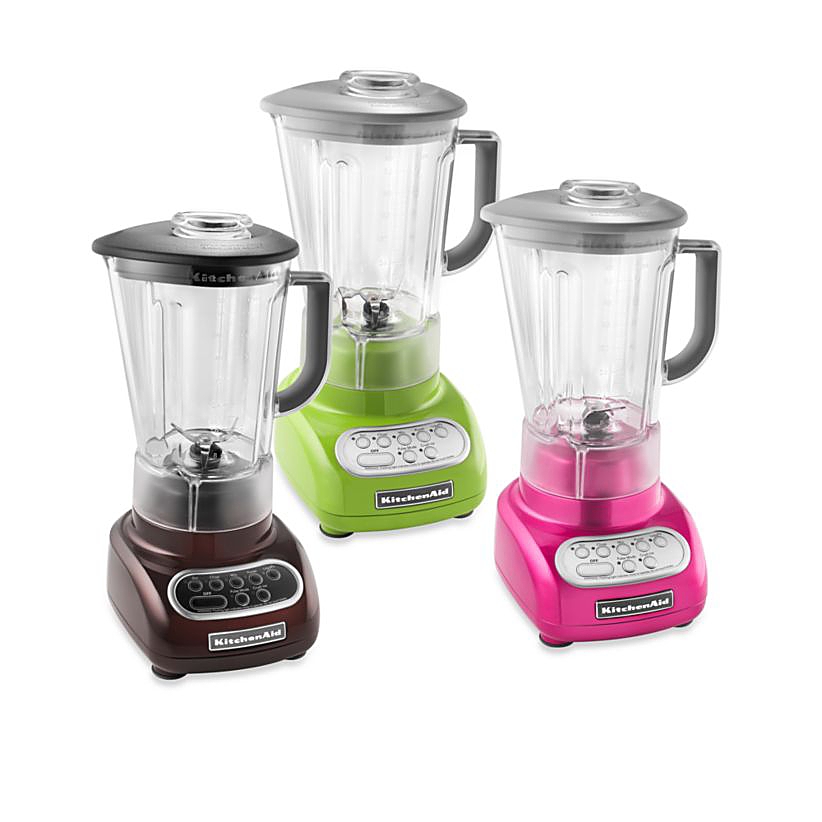 Knowing what you'll be doing most often with your blender will help you choose one that best suits your needs.
| I'll make | The best blender is |
| --- | --- |
| Smoothies and crushed ice cocktails | A countertop blender is powerful enough to crush ice and puree frozen fruits, and can still make pureed soups and other recipes. This type of blender comes with a jar or container. |
| Pureed soups and sauces | A stick or immersion blender can be submerged right into your pot and makes fast work of a big pot of soup, without requiring you to transfer boiling hot ingredients into your blender. This type is often referred to as a hand blender. |
| A variety of dishes | An all-in-one blender comes with special attachments to handle different jobs, and can sometimes take the place of a variety of kitchen appliances, including a food processor and a mixer. It might be a good choice for you if you're looking to conserve kitchen space. |
Here are some of the features you might want to consider in your blender:
| Feature | Why You May Want It |
| --- | --- |
| Motor size | A more powerful motor and can make chopping ice and milling grains much simpler. |
| Touchpad controls | A touchpad or other smooth surface controls can make keeping your blender clean easier, as bits of food or spilled liquids won't get stuck between the buttons. |
| Multiple speed settings | Some blenders have only two or three settings, while others go up to 16. Keep in mind that you may only really need a few good settings for most blending purposes. If you often make drinks, look for an ice crushing speed. |
| Pulse setting | A pulse setting gives you short bursts of blending—key if you're making something that requires more even blending without a full puree. |
| Container size | You'll find blenders that make personal-sized smoothies (14 ounces), up to a mammoth 90 ounces. For everyday use, a 40-ounce capacity container will work and should have easily readable measurements. |
| Blade material | Stainless steel blades are more durable, and more capable of handling heavy-duty tasks like crushing ice than aluminum blades. |
| Safety | The container should have a lid with a secure seal, have an opening to add ingredients when in use, and can open at the top and bottom to remove the contents and clean the blades. |
| Additional accessories | Some blenders come with two sizes of containers; immersion and all-in-one blenders often feature additional accessories, such as a whisk attachment or a chopping container. |
Finding the right blender for you may be more than a functional decision—you'll want to choose something that's perfect for your lifestyle. Here are some other things to consider:
Blender Containers
Blender containers can come in a variety of materials, including glass, plastic and stainless steel. Here's what to consider when you're choosing the material
| Material | Benefits | Points to Consider |
| --- | --- | --- |
| Plastic | Virtually indestructible and lightweight. | May not be dishwasher safe. More prone to staining and retaining odors of foods. |
| Glass | Clear, resistant to stains or odors. | More prone to breakage and heavier to carry than other options. |
| Stainless Steel | Virtually indestructible and sleek looking. Resistant to stains and odors. | You'll need to take off the lid to see the food you're blending. |
Blender Construction
Look for a heavyweight base with rubber feet, to help keep the blender stable when it's in use. A good blender container should be wide at the mouth, to make it easier to put ingredients in and pour the finished product out. The lid should fit tightly onto the container to prevent catastrophic kitchen spills.
If your blender won't be kept on the counter, you may want to find a weight that still feels substantial, but won't be too heavy to take in and out of a cabinet.
Design Considerations
Many people keep their blenders on the countertop, so consider how the blender you select will fit into your kitchen decor. Blenders come in many different styles, from vintage looks that would fit beautifully into a classic kitchen, to sleek and modern styles for a more contemporary home. You'll also find blenders in a range of colors to suit any color scheme.
Extra Features
Some blenders come with additional attachments or accessories that could enable them to take on more kitchen tasks than simply blending. If you're short on space, they may be worth considering. Some of the most common add-ons include:
A whisk attachment is often featured with immersion blenders.
A juicer attachment, to turn your blender into a juicer.
A food processing/chopping bowl, to allow you to chop ingredients.
A mixing bowl, to help you knead dough.
Use and Care
The motor and base of a blender should be cleaned with a damp cloth. Do not immerse these parts in water.
Most blender containers, lids and blades can be washed in the dishwasher, but check the manufacturer's instructions first.