A car seat is one of the most important items you will purchase for your baby. In fact, hospitals will not let you leave without one. So keep your little one protected by ensuring you select the safest style for your child.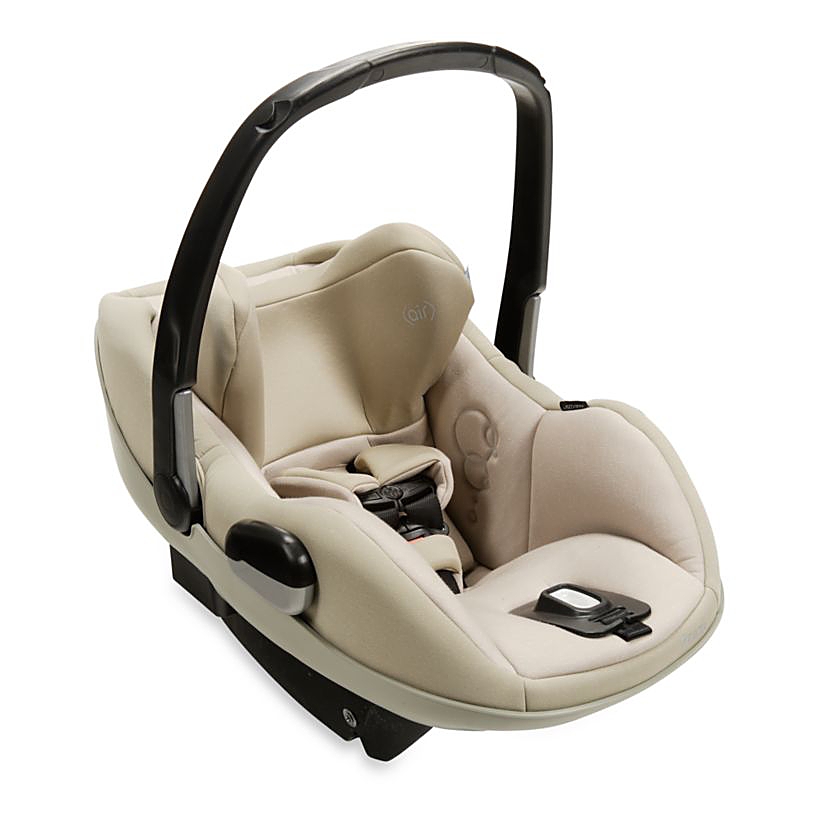 There are four basic kinds of car seats:
Infant Car Seat
Convertible Car Seat
Toddler Booster Seat
Booster Seat
Which one should you choose? Answer the following questions to help narrow the size and style that's best for your bundle of joy.
How big is your child?
One size does not fit all when it comes to car seats. A newborn needs a specific kind of seat, a three-year-old another. Fortunately, the National Highway Traffic Safety Administration (www.NHTSA.gov) has established car seat guidelines to help you choose the right seat. The NHTSA generally recommends the following:
| Age/Weight | Seat Type/Seat Position |
| --- | --- |
| Birth to 12 months. | Infant only seat in rear facing position or convertible seat used rear facing. |
| 1-3 years old. | Keep your child rear facing until he or she exceeds the top height or weight capacity of the car seat. Then move them to a convertible seat in forward facing position or a forward facing (Toddler Booster Seat) using harness. |
| 4-7 years old. | Keep your child in a car seat with a harness until he or she exceeds the top height or weight capacity for the car seat. Then move to a belt-positioning booster with no back or high back belt-positioning booster. |
| 8-12 years old. | Keep your child in a booster seat until he or she exceeds the top height or weight capacity for the booster seat. Then transition to a seat belt. The seat belt should lie across the upper thigh and be snug across the shoulder and chest. |
What are your state's car seat laws?
While the NHTSA has general guidelines for car seats, the laws can differ state-by-state. Check out the Governor's Highway Safety Association (ghsa.org) for a detailed list of requirements in your state.
Could you use a whole travel system?
If you aren't interested in a whole travel system but you still want something that's stroller-convertible, you can purchase the infant seat and the stroller separately. Just make sure the stroller you choose is designed to accept an infant seat.
City dwellers and travelers with a brand new infant may want to consider investing in a travel system. This versatile set generally comes with an infant seat, a base for your car and a stroller base. Simply lift the seat by the handle to transfer your little one from car to the stroller. The first time you transfer a sleeping baby effortlessly from car to stroller will prove the worth of this system.
How much weight can you lift?
If you anticipate using your infant car seat as a carrier, make sure you can lift it. Try a few out and don't forget that with the baby inside it'll be 5-15 pounds heavier.
Is your car LATCH equipped?
The LATCH ("Lower Anchors and Tethers for Children") is a car seat system designed to make car seat installation easier. LATCH is required on child car seats and most vehicles built after September 1, 2002. LATCH is not required on booster seats.
A LATCH car seat has attachments that fit directly into the seat anchors. Forward facing seats will also have a tether that fits through the top tether anchor.
When is the right time to switch out your infant seat for a toddler booster? Do all car seats recline? The chart below answers these and other important car seat questions. Please remember to review the manufacturer's user's manual and instructions and review state law prior to switching car seats.
|   | Description. | Is it stroller compatible? | Does it recline? | LATCH system? |
| --- | --- | --- | --- | --- |
| Infant Car Seat | A rear-facing, bucket shaped carrier. | Yes. | Yes. | Yes. |
| Rear Facing Car Seat (up to 2 years) | Converts from a bucket shaped rear-facing seat to an upright front-facing seat. | No. | Yes. | Yes. |
| Toddler Booster | A forward-facing seat with a high back. | No. | No. | Yes, but once your child reaches a certain weight you can remove the latch system and strap them in with the car's seat belt. Some come with a safety harness. |
| Booster Seat | Forward facing seat that's either high-backed or backless. | No. | No. | No, the child is strapped in using the car's seat belt. |
Special Features Checklist
Do you want a 5 Point Harness? Are you looking for a car seat that's easy to clean? Below are some common features that you may want to consider.
5 Point Harness:

A harness with straps that go over the shoulders, the hips and between the legs. Most car seats have this feature, although you still may encounter a few options that have a 3 Point Harness.

Level Indicator:

Post-reclining, this feature lets you know if the seat is properly in place.

Washable, Removable Cover:

Makes it easier to remove crumbs and stains from the car seat.

Front Adjustable Harness:

This nifty feature allows you to adjust the harness from the front -- a much easier alternative than trying to maneuver adjusting the straps from the back of the seat.
Safety Tips
Remember these important tips when installing and using a car seat.
Always follow the manufacturer's instructions when installing your car seat. Improper installation can lead to injury.
Car seats should always be installed in the back seat.
Infants under one year of age must ride in a rear-facing seat.
Each time you use the car seat, check to make sure that it's level and secure.
Never use a car seat that has been in an accident.
Send in your car seat registration card! That way the manufacturer can alert you about any recalls.
Babies in infant seats must recline at a 45 degree angle so their head doesn't tilt forward and potentially obstruct their airway.
Accessories
These extras may make traveling a little more convenient.
Extra Infant Car Seat Base:

Great for parents who have more than one car.

Seat Savers/Protectors:

This slips under the car seat, protecting your vehicle's interior from food and beverage spills.

Car Seat Covers:

Provides extra padding, extra protection for your car, and even extra pockets to store bottles, pacifiers and toys.

Sunshade:

This add-on attaches to the window and keeps the sun out of your little one's eyes.
This guide is provided for informational purposes only. Please thoroughly review manufacturer's user's manual and instructions when assembling and using any product. State laws vary with respect to car seats for children. Customers should review the particular requirements in their state.