Your favorite shirt on the floor, a shoe over here, a belt over there, that's no way to start a day. Pick the right storage and organizational pieces for your clothes closet and you'll start the day off on the right foot and look great doing it.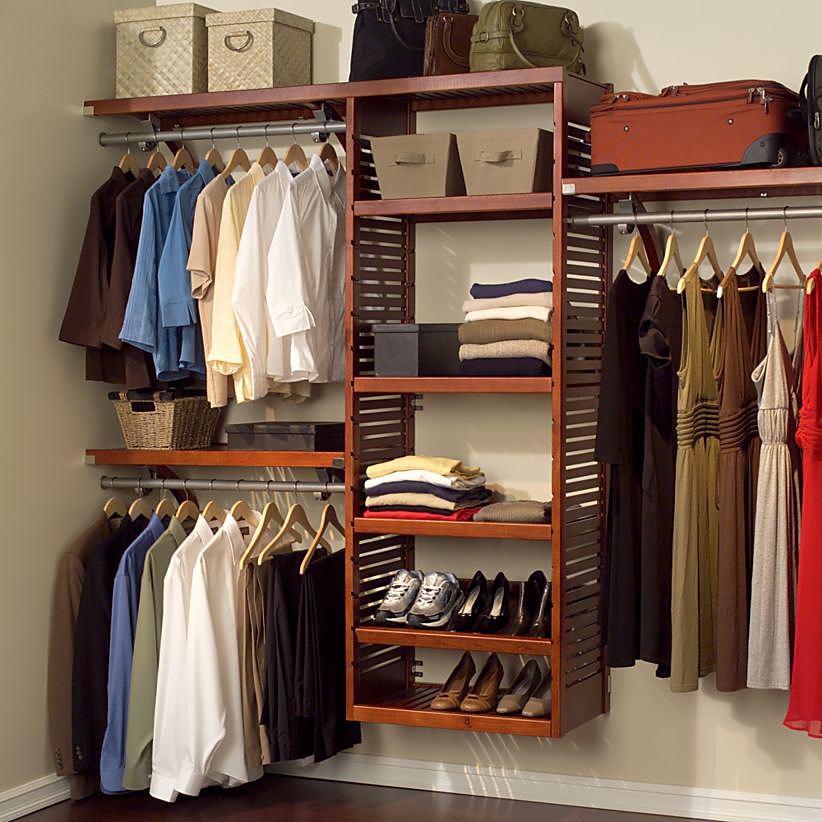 Before you start purchasing closet storage accessories, take a look at the actual size of the closet space you have to work with.
What are the measurements of your closet? When shopping around for closet storage pieces, make sure you come armed with the width (side to side), height (floor to ceiling) and depth (front to back) of your closet. You want to make sure you get enough pieces for your clothing and accessories, but you don't want to go overboard either.
Is there existing hardware?
Before shopping for storage items you may also want to remove the rod or rods in your closet. This will allow you to get a better idea of what you can add to your closet and allows for more storage options if you decide to reconfigure the rods at different heights.
What is in your closet?
Take stock of what you have. Do you have tons of shirts, sweaters, dresses, suits, slacks or a shoe fetish? Doing a quick visual inventory will help you decide the storage accessories you need and how many you will need to organize your closet.
Closet Size
The size of your closet will help you determine which closet storage makes sense. For instance, with a smaller closet you will want multi-tiered hangers to get more clothes on one hanger. If you are lucky enough to and have a closet that is bigger than most second bedrooms, you will have a much wider array of options to choose from.
My Closet Size Is
Storage Accessories That Will Work
Small

Double rods
Multi-tiered hangers
Hanging shoe bags
Hanging multi-pocket organizers
Hanging scarf/belt/tie organizer
Vacuum sealed storage bags
Under the bed storage containers
Totes and bins
Stand-alone garment rack or extra storage closet

Medium

Any of the above
Hanging shelf sweater organizers
Shoe racks (single or multi-tiered)
Hangers with clips
Swing arm hangers

Large

Modular system closet kits will allow you to customize your space exactly how you want it with extra rods, shelves, drawers, bins, racks, and wall hooks.
Quick Tip
If you have really limited closet space and tend to store your clothes based on the seasons, storing off-season clothes in under the bed storage bags, vacuum sealed bags, covered bins on top shelves of closets, a garment rack on wheels or an extra portable storage closet for the basement or attic will come in handy.
What are and why are there different hanger materials?
| Material | Functionality |
| --- | --- |
| Wood | Attractive looking, durable, long-lasting, maintains garment shape, perfect for coats |
| Plastic | Lightweight, perfect for children's rooms |
| Flocked | Prevent garments from falling off the hanger, often are slim taking up less closet space |
| Satin | Usually with padding to protect delicate clothes |
| Cedar | Absorbs moisture and odors to maintain the garment |
What Are the Different Types of Hangers?
Hangers with a bar and clips hold skirts, slacks and suits.
Blouse/shirt hangers that help keep garments in shape.
Swing arm or multi-tiered hangers that hold multiple items, saving space.
Belt or scarf rings to help you find that perfect accessory quickly.
Hangers for ties – if you have a large collection, look for a revolving one.
Other Practical Storage Accessories:
Type
Use for
Over the Door Organizers

Shoe organizers (shelf type or pocket type)
Shelf type for neatly folded sweaters

Over the Door Hooks

Provides quick access to frequently worn items

Garment Bag

Protects special occasion clothes

Valet Stand

Has hanger and rod to hold next day's clothes, a shelf or drawer for keys, wallet, grooming items, and a bottom shelf for Shoes

Hanger Clips

Add on to existing hangers to hold skirts and pants

Specialty Organizers

Available for purses, belts, scarves, caps

Hanging Closet Dividers

Help section clothes by type or color
Live in a humid climate?
Living in a humid climate can be tough on your clothes. Cedar blocks, rings or sachets will help absorb moisture to keep your closet fresh-smelling and protect your garments from moths and insects. Some hanging closet fresheners may also absorb moisture to prevent mold and mildew.