Buying Guide to Craft Beer Glassware
Much like wine and cocktails, different styles of beer call for different types of glassware. That's because certain glasses can accentuate a beer's taste, aroma, and aesthetics — and enhance your drinking experience.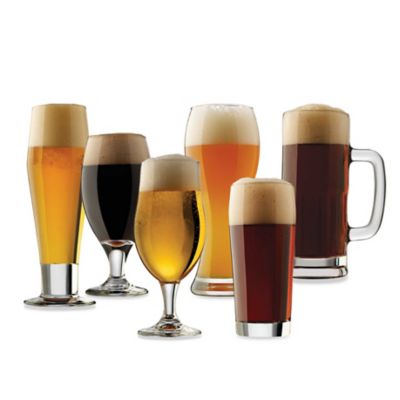 Which styles of beer do you like to drink?
The type of craft beer glassware you purchase should largely depend on the styles of beer you (or your guests) prefer. That's because each style of beer has its own unique characteristics, and certain types of glassware will accentuate them better than others.
Not sure which beer to choose?
With hundreds of thirst-quenching craft brews available, it's nearly impossible to settle on just one. So consider adding a beer flight set to your glassware repertoire. It comes with a wooden carrier that artfully holds each tasting glass in place, allowing you to experience several different beers at once.
Are you looking for glasses for everyday use, or for special occassions?
Craft beer glasses range from the standard beer stein to the more elegant chalice.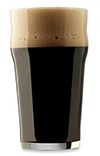 If you're looking for a glass that's easy to store, use, and stack, try the English pub glass (also called a nonic pint glass). Its bulging top adds grip and helps to prevent chipping when stacked, plus it's a suitable vessel for everything from an American IPA to an English porter.
For something with extra panache, consider the tulip beer glass. The design of this stemmed, bulbous glass serves to concentrate and channel the beer's aroma while supporting a robust, foamy head. It's known to complement the flavor nuances of Belgian strong ales, saisons, and Scotch ales, to name a few. Some beer experts claim it's the best glass for any style of beer.
How many beer glasses do you need?
Depending on your beer-drinking preferences, you may opt to purchase craft beer glasses a la carte or as a set. Buying glasses on their own lets you create a custom beer-glass setup that best suits your tastes. But if you relish drinking or serving a variety of beers, a craft-beer glassware set is often an excellent choice. Most sets include five to six different glasses, giving you the ability to fully experience everything from a crisp pilsner to a hearty stout. Craft-beer glassware sets also make great gifts for beer enthusiasts.
This guide will help you become familiar with different types of craft beer glassware.
It may be helpful to first scan the "Ideal For" column to find your favorite style of beer.
| Glassware Type | Description | Ideal For | Food Pairing Ideas |
| --- | --- | --- | --- |
| English pub beer glass (a.k.a. nonic pint glass) | This versatile, easy-to-keep glass has a slight bulge at its top. | American IPAs, English ales, porters, stouts | Dry stouts are perfect alongside a rich, meaty burger. |
| Irish imperial pint glass | Outwardly curved top is set on a smaller base. | Irish ales | Go for pizza, tangy cheeses, or barbecue. |
| American pint glass | Standard glassware in most bars. Conical with a thick base. | American lagers, wheat beers, and ales | Sip a pale lager with your favorite mild cheeses, light chicken or pork dishes, or fresh salads. |
| Slender cylinder | Tall and slender with thin glass walls. Similar to a Tom Collins glass. | Delicate, light beers, such as Kölsch | A Kölsch pairs well with German dishes, salads, and grilled foods. |
| Wheat beer glass | Thin, tall walls curve inward toward a narrow base. Designed to leave ample room for a beer's head. | German weiss beers, Belgian Witbiers, wheat ales | Wheat ales complement light salads, as well as cured meats and sausages. |
| French jelly beer glass | Wide-mouthed top with slightly angled side panels. | Belgian Witbiers | Also a great partner for shellfish, fruit salads, and savory egg dishes. It's the perfect brunch brew! |
| Tulip beer glass | Stemmed and tulip-shaped. Some beer experts prefer it for all styles of beer. | Belgian strong ales, IPAs, pilsners, saisons, aged stouts | Belgian strong ales stand up to the rich flavors of steaks, pungent cheeses, and balsamic vinegar. |
| Pilsner flute | Tall, tapered with a pedestal-like stem. Captures a pilsner's golden color while supporting its stable head. | Pilsners, light or amber lagers, steam beers, Schwarzbiers | A clean, elegant pilsner balances complex, spicy dishes. They're perfect with lighter chicken and fish dishes, too. |
| Flute glass | Long and slender, stemmed. | Lambics, wine-like beers | Sweeter lambics complement tart, fruity desserts such as berry pie. |
| Beer mug (a.k.a. glass stein) | Wide-mouthed, thick glass with a sturdy handle. Traditional German steins have lids. | Lagers, ales, Oktoberfest-style beers | Sausage is a given for Oktoberfest-style beers, but they also pair exceptionally well with Mexican cuisine. |
| Willi Becher pub glass | Tall, flared glass with a thick base. Common throughout Germany. | German lagers | A malty, toasty lager is fantastic with mild pork dishes. |
| Stemmed pokal glass | Similar to the pilsner flute, but features a stem. | Styles listed for the pilsner flute, as well as German bock-style beers | Try a German doppelebock with wild game such as venison, mushrooms, or buttery cheeses. |
| Snifter beer glass | Wide, stemmed bowl with a tapered mouth. Also used for brandy and cognac. | Imperial stouts, strong ales, barley wines | Imperial stouts + dark chocolate = total indulgence. |
| Thistle beer glass | Shaped like the thistle plant's flower (Scotland's national floral emblem). Like a tulip glass, but with a flared top. | Scotch ales | Enjoy with aged and smoked cheeses, grilled meats, or deli sandwiches. |
| Chalice (a.k.a. schooner) | Often the branded glassware of choice for monasteries that brew Belgian ales. Wide-mouthed with a large bowl. | Belgian ales and IPAs | Pale ales are a match made in heaven for salty, fried foods, Mexican dishes, and savory meats. |
At home, it's up to you!
There's no hard-and-fast science that says a certain style of beer must be served in a certain type of glassware. In fact, many beer experts disagree on the subject. What's more, some styles of beer pair well with several different types of glasses. So when you're at home, why not reach for the glass you like best?
How to Pour a Beer
Tilt your glass at a slight angle and slowly pour your beer against its downward wall. As your glass becomes two-thirds full, tip it upright and pour the beer directly into its center. This should produce a nice, foamy head, which helps to amplify the beer's aroma and create an aesthetically pleasing presentation.
How to Care for Your Glasses
Wash carefully and follow specific care instructions.
Rinse glasses thoroughly to remove any dishwasher, food or lipstick residue—all of which can negatively affect a beer's head (i.e., foam).
Do not chill. Serving beer in a chilled glass may cause it to dip below its optimal serving temperature (between 40 and 50 degrees Fahrenheit for most beers), muting its flavors.