Dinnerware is an industry term for what most people simply call dishes, china, or plates. Whatever you call it dinnerware is a focal point for the table. You'll use it often so choosing dinnerware that reflects your style is really important.
Ready to dish? Here's what you need to know.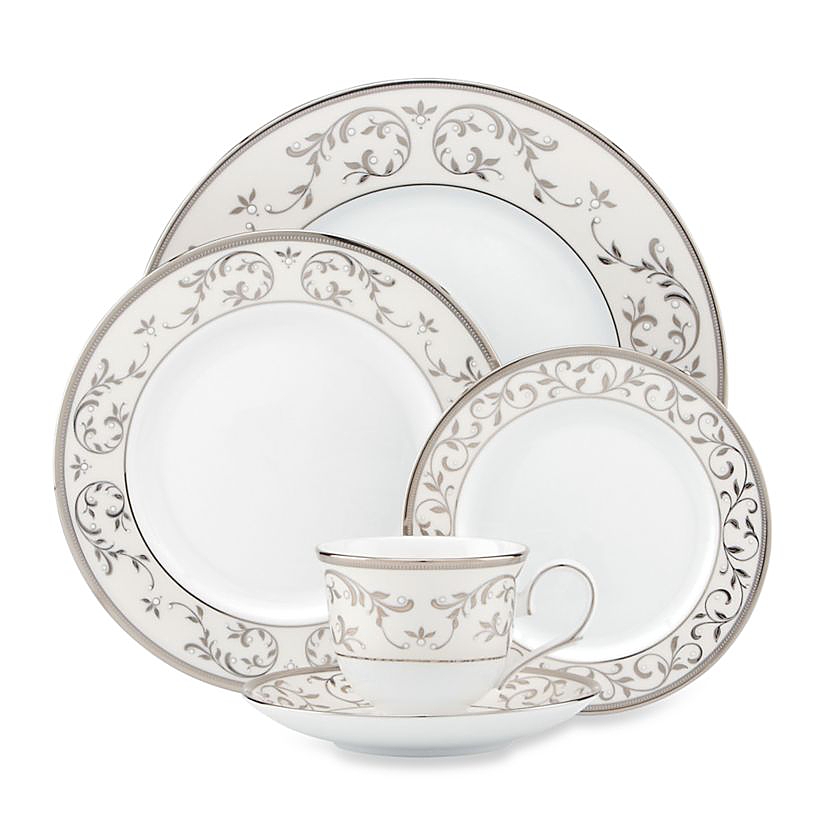 How to get started?
Most people begin by choosing a pattern. Does your preference lean towards gold band or platinum band patterns -- a look that tends to be timeless and may be passed down over generations? Or is your style traditional solid colors or whites? Does your taste favor casual patterns?
Another factor to consider -- are you looking for durability? If so did you know that Earthenware and Stoneware are more likely to chip and/or break than Porcelain or Bone China? You may think Porcelain and Bone China are fragile, but they are not. It is their durability and quality that makes them perfect for everyday use. (See "The Details" for an explanation of the four different material types.)
How is dinnerware sold?
Dinnerware is sold one of three ways:
Place Setting
Porcelain and bone china are often sold in individual place settings—all the pieces you'd need for a single person's seat at the table. (We recommend starting with 12 place settings, but your needs may be different.)
What's in them? The most common is a 5-piece place setting that has a dinner plate, salad plate (or dessert plate), bread and butter plate, teacup and saucer. (Don't forget to also get soup bowls.)
Great for engaged couples or anyone building their dinnerware collection from scratch.
Open Stock
Dinnerware that's sold by the individual piece.
Sometimes it's sold as a mix-and-match collection; you can choose from coordinating designs and colors within the same pattern.
An ideal option for people who want to add variety to what they already have, or who want to register for china that offers guests a wide range of options for gifts.
Boxed Sets
A single set of dinnerware made up of multiple place settings: Most common are 16- and 20-piece sets, which offer service for four.
What's in them? A 20-piece set will usually include four each of the dinner plate, salad plate, soup bowl, teacup and saucer. A 16-piece set will have a mug instead of the teacup and saucer.
A perfect choice for someone who is looking for value.
All dinnerware starts as clay, but the way it's manufactured determines its classification. Dinnerware falls into one of four categories:
| | |
| --- | --- |
| Earthenware: | The oldest form of dinnerware, Earthenware is made of unrefined clay, which is fired at low temperatures (950° centigrade), to create a non-porous, glass like surface. |
| Stoneware: | More durable than Earthenware, Stoneware is made of more refined clay with fewer impurities. Fired at 1100° centigrade, it's chip-resistant. |
| Porcelain: | More durable than Earthenware and Stoneware, Porcelain dinnerware is fired at higher temperatures (1200° centigrade), to create a non-porous glass-like surface. |
| Bone China: | Bone china is in the same family as porcelain yet is more translucent. It's fired twice, and at a higher temperature than porcelain (1250° centigrade), and is considered the strongest and most durable type of dinnerware - despite its delicate appearance. Some bone china is even dishwasher and/or microwave safe. |
Features to Look For
Care Requirements:

Care requirements can vary significantly between different dinnerware options. Make sure the dishes you're selecting are a match for the way you want care for them: Are they safe for the oven or microwave (a big deal if you will be reheating lots of leftovers)? Are they dishwasher safe or hand-wash only? Are they unusually fragile, or resistant to chips? If you have stone countertops, you might want to consider a more durable dinnerware pattern made of porcelain or bone china.

Style:

The dinnerware you select should have a look that you will love and make sense for the way you'll use it (for causal dinners, formal dinner parties, etc.), so seek a pattern with the looks and level of formality that suits your lifestyle.

Durability and Replace-ability:

If your countertops are stone or you're concerned about breakage, think about how chip- and break-resistant the dinnerware you are considering is. Porcelain and bone china are your most durable choices. You might also want to opt for a pattern that's sure to be available for years to come, so you can replace items when the need arises.
Hate hand-washing your plates? Love to use the microwave? Consider whether the pattern you select is dishwasher- or microwave-safe.
Storing dinnerware
If you use it often:

Cleaned and dry, dinnerware can be stored, in stacks, on the shelf. You can make your dishes' storage spot even better by shelves with cushioned shelf paper.

If you use it infrequently:

A great way to protect your dinnerware is by storing it in china protector storage containers. This will keep them from getting dusty or damaged between uses.
Completer Sets:

Usually available with fine or casual china patterns, a completer set has some of the "extras" that make the table look complete for entertaining, such as serving platters, serving bowls, creamer and sugar bowl. Additional pieces to consider include: soup cup and saucer, cereal bowl/fruit bowl, rimmed soup bowl, accent salad plate, luncheon plate, covered vegetable dish, salt and pepper shakers, butter dish, teapot, coffeepot, pitcher, gravy boat, and covered soup tureen.