Your baby is sitting upright unassisted and is curious about everything and anything. During this new and exciting phase where your little one wants to be entertained and stimulated more than ever, an entertainer can be a very wise choice. Not only can these play units provide some fun time, they also help your baby to achieve developmental milestones such as hand-eye coordination and fine tune motor skills and tactile development.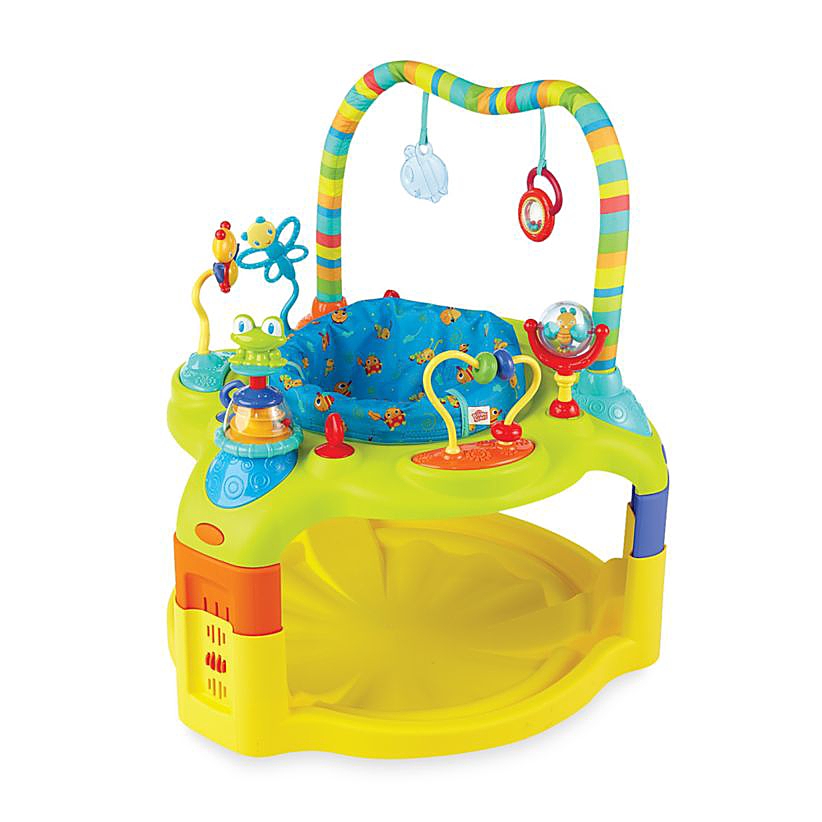 What are the different types of entertainers?
Before buying an entertainer you should know there are activity centers, traditional walkers and jumpers. Consider what will interest your child as well as the pros and cons for each. For example, some entertainers are large in size, so make sure you have enough room before buying one. Also, if your baby hasn't used an entertainer before at a friend's house or at daycare, bring him/her to the store with you to see how he/she reacts to an activity center, walker or jumper. While most little ones love them, some aren't too happy about being confined.
| Entertainer | Features | Pros | Cons |
| --- | --- | --- | --- |
| Activity Center (also called ExerSaucer, Learning Center) | In circular or fun shapes, activity centers have a surrounding tray with toys attached to keep your baby busy, and a 360-degree swivel seat in the center so everything is in easy reach. | Activity centers may resemble traditional walkers, but without wheels they are a safer alternative. Since your baby stays entertained in one spot, it frees you up to get some household chores done. But while baby may not be constantly vying for your attention, it's still important to keep your little one in plain sight. | These entertainers offer a lot so they take up a bit of space. Before buying, look around the room you'll be using it in to make sure it will fit. |
| Traditional Walkers | With a suspended center seat and wheels attached to the base, walkers are made of molded plastic or have a metal frame. | Your baby will love being able to get around. | A walker may keep baby entertained, but it will also keep parents on their toes. With baby having better mobility, they will be on the go, so they need to be supervised. For added safety look for a walker with a wide base that can't fit through a doorway. |
| | If you travel, look for models that fold flat. This is also a great feature for easy storage. | Brake pads activate on contact with an edge or uneven surface to significantly reduce further motion. | Walkers like activity centers hold a child's hip extended, which is not recommended for long periods of time. A general rule of thumb is to limit your child's time in an entertainer to 30 minutes and consult with your pediatrician. |
| | | Walkers have improved safety standards to protect against stairway falls. Look for bottom friction strips made of rubberized material. These strips help to stop the walker if the wheels drop away at the edge of the step. | Walkers should not be used on carpeted areas. Watch when older children are playing with a baby in a walker. If a bigger child climbs on a walker, it can turn over. While a baby can simulate walking in a walker, it does not help your child acquire walking skills. |
| Doorway Jumpers | These jumpers are attached to a bar or frame and hung from the top of a door frame. It consists of a seat suspended from two or more straps. | Your baby will love to move, spin and jump in this jumper, and the action helps to enhance motor skills. | This style can only be used in doorways with molding. |
| | | This portable entertainer will come in handy when traveling or storing. | When not in use, a doorway jumper should be removed from the door frame. |
| | | Look for models with a spring-loaded clamp that won't mark door moldings. | |
| | | Also, take into consideration jumpers with a plastic dome that keep straps apart to simplify getting the baby in and out of the jumper. | |
| Free-standing Jumpers | These jumpers consist of a fabric 360-degree swivel seat attached to a lightweight, circular frame that rests on the floor. | A free-standing is more stable than a doorway jumper. | Make sure you have room. A free-standing jumper takes up a lot of space. |
| | Babies can push up with their feet due to a seat supported with springs and positioned so baby's feet touches the floor while seated. | Rubber pads or non-skid feet prevents the unit from moving when baby jumps. | These jumpers can be heavy so even when folded they can be a bit difficult to carry. Try to pick one up in the store to see if it's light enough for you. |
| | | Most units fold so you can bring it from room to room. | |
Nothing is more frustrating than thinking your baby will be happy surrounded by toys to only find they're uncomfortable or not stimulated enough. To ensure your babies amusement and comfort there are a few more things to consider when buying an entertainer.
| Feature | Look for this... |
| --- | --- |
| Convertibility | To be able to use the entertainer for years, some can be converted from a play mat to an activity center to a play table. This is great for use from birth to the toddler years. |
| | If you want variety right now while baby is in the entertainer stage, you'll find all-in-one units that offer the walker, jumper and activity center features. Or, how about an activity center walker or walk behind combo. |
| Adjustable Height | When it comes to buying for your baby, adjustability should be considered. Most entertainers have adjustable height positions so they can grow with your child. Keep in mind the maximum height for most models is 30" to 32" while the maximum weight is 25 to 30 pounds. |
| | Look for the height adjustment feature at the seat of the activity center, walker or free-standing jumper. |
| | Doorway-style jumpers are easy to adjust at the straps. |
| Seat | Look for a 360-degree swivel seat on activity centers and free-standing jumpers so your child can easily access the tray and toys. |
| | Also look for removable seat pads that can be machine washed or one that can be spot cleaned to keep things nice and tidy for baby. |
While safety and comfort are important to you, your baby is concerned with all the toys included with the entertainer. Most of the colorful playthings you'll find are more than a distraction-they play a part in your child's development. One of the best things about an entertainer is that your baby's actions make things happen, which in turn helps your baby to understand cause and effect. Plus, something as simple as reaching and grasping onto the entertainer's toys fosters eye-hand coordination.
| Features | Benefits |
| --- | --- |
| Colorful toys in contrasting shapes featuring fun sounds, lights and or music | Not only for entertaining, these toys stimulate baby's visual and auditory senses which tempt your child to reach out and touch them. This in turn helps to develop eye-hand coordination and fine motor skills. |
| Removable toys | Take your little one's favorite toy when you're on-the-go. |
| Mirrors | Mirrored toys can help to stimulate your baby's visual perception as well as encourage your child's sense of self-recognition. |
| Textures | Toys with various textures encourage tactile development. |
Remember an entertainers electronic toys require batteries. The advantage of a battery-operated toy is if a sound or light feature overwhelms or annoys your child, you can easily remove the batteries.
Never leave a child unattended while in an entertainer.
Always use the entertainer on level ground.
Never adjust the height of an entertainer while your baby is in it.
Never carry a walker, entertainer or jumper with your child in it.
Always follow the manufacturer's weight and height requirements. While height and weight requirements vary, most entertainers are recommended for children between 4 to 6 months who range in height from 30" to 32" and 25 to 30 pounds.
Most entertainers need to be assembled with a screwdriver. After assembling check to make sure there are no sharp edges or exposed hardware.
Also any seat should swivel smoothly. Check to see if there are gaps at the rim that may pinch your little one's fingers.
Remember to check the activity center on a regular basis for loose fasteners or toys. Also look out for worn parts or torn material. If you can't repair an entertainment center, stop using it.
Remember to buckle your baby in with the included safety belts.
Use a walker only in a room that doesn't have access to stairs and block access to the outside while the walker is in use.
If your baby is using a walker, scan the room to make sure there are no pieces of furniture or other items that may fall over if your little one runs into them. Also install safety gates to limit access to certain areas.