From juice tumblers to champagne flutes, we give you the lowdown on how to select the perfect set of glassware.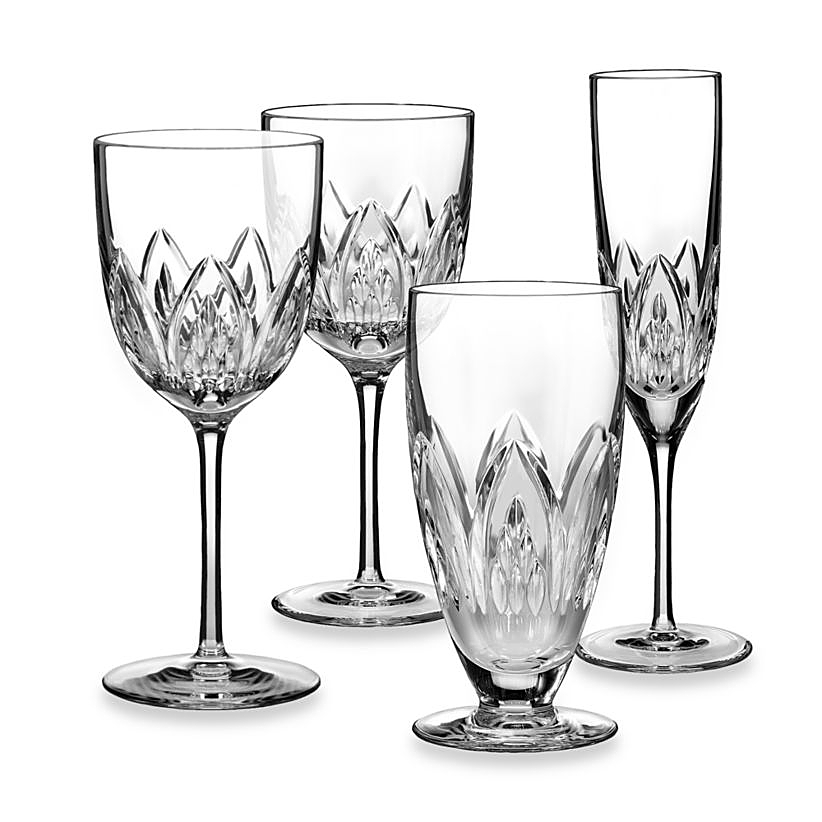 What type of glassware are you looking for?
Styles
Consists of
Everyday

Juice glasses
Cold beverage tumblers

Stemware

Wine glasses
Flutes
Martini glasses

Barware

High balls
Double old-fashioned
Beer mugs
What kind of craftsmanship and price range are you looking for?
The sheer volume of glassware available can leave even the savviest shopper feeling overwhelmed. Use this chart to determine whether glass or crystal is right for you.
Available in
Made from
Type of dinnerware it goes with...
Type of care required
Glassware

Everyday
Stemware
Barware

Sand, ash and limestone.
Everyday should only be used with earthenware or stoneware. Barware and stemware can also be used with porcelain or bone china.
Most glassware is dishwasher-safe, but check the manufacturer's instructions. Prevent damage by always placing glassware on the top rack.
Crystal

Stemware
Barware

Sand, ash, limestone and lead oxide. The addition of lead oxide gives the crystal weight and sparkle. Typically crystal is 24% lead oxide, but half crystal (which is clearer and lighter in weight) is only 18%.
Porcelain and bone china.
Hand wash with ammonia or lemon juice and store upright for safekeeping.
Crystal is a high-end option that sparkles and shines and is usually brought out for special occasions.
Although there are many styles on the market, it's craftsmanship that's typically going to determine price. Not surprisingly, mouth blown glassware is more expensive than hand-pressed or hand-molded pieces, both of which cost more than factory-made options.
What kind of dishes do you own?
There are bound to be several glassware designs that catch your eye. Avoid getting overwhelmed: narrow down your choices by looking for glasses that complement your dishes. Casual dinnerware should be paired with casual glassware, and high-end china deserves something special. That said, don't be afraid to mix and match design aesthetic.
How many glasses do you need?
You can buy glasses solo, or in sets. Sets typically come with 4-16 glasses. Some feature a specific style (e.g. white wine glasses), but you can also purchase variety packs (e.g. a beginner's barware set). Depending on what beverages you drink and how often you entertain, you may want glassware to cover all the bases (water, juice, wine, beer). At a minimum, have a glass for each place setting (five place settings require five glasses). However, when it comes to everyday glassware, you probably want several extra sets on-hand so you don't end up spending the day washing glasses. And if you have children, you will always need an extra few glasses. You can probably guess why.
Not sure how to tell the difference between a red wine glass and a white wine glass? This guide will help you sort out their differences.
| | | | |
| --- | --- | --- | --- |
| | Description | Beverage | Size |
| Everyday | | | |
| Cooler glasses | A tall, thin body. | Water, ice tea, soda | 14oz |
| Juice glasses | Tiny tumblers. | Juice | 5 to 7oz |
| Stemware | | | |
| Balloon wine glass | A balloon-shaped bowl. | Red or white wine. | 8 to 28oz |
| Flute | A tall, slim bowl. | Champagne, prosecco | 5 to 7oz |
| Goblet | A wide mouth. | Red wine, water | 8 to 18oz |
| Red wine glass | A wide, round bowl. | Cabernet, pinot noir, merlot | 8 to 22oz |
| Special varietal glass | The shape is catered to enhance the flavor of a specific wine. | Chardonnay, burgundy, bordeaux | varies |
| White wine glass | Slimmer bowl. | Chardonnay, pinot grigio | 8 to 12oz |
| Barware | | | |
| Highball | A tall, thin tumbler. | Classic drinks like the Bloody Mary or the Gin Fizz | 8 to 12oz |
| Margarita | A thin stem, wide base and a v-shaped bowl with a wide rim. | Frozen drinks like margaritas and daiquiris | 12oz |
| Martini | A thin stem, wide base and v-shaped bowl. | Any cocktail that's been shaken and stirred like martinis and Manhattans | 5 to 6oz |
| Old fashioned | A short, squat tumbler. | Drinks that are served "on the rocks" | 6 to 10oz |
| Pint | An inverted cone. | Beer, cider | 20oz |
| Snifter | Short-stemmed with a bowl that has a wide bottom and a narrow top. | Brandy, cognac | 6 to 8oz |
Common Glass Designs
If you're not sure which design is best for you, peruse this list on the most common designs out there.
Banded:

Is glassware that features either a gold or silver band around the rim.

Colored:

Includes solid colored glasses that have the color blended into them as well as glasses that have patterns applied to the outside.

Cut:

These glasses sparkle and shine thanks to intricate designs that have been cut into the crystal either by hand or machine.

Etched/Frosted:

Are glasses that have a semi-opaque, textured surface created by sandblasting, an acid bath or firing powdered glass onto the surface of the glass.