When your baby's ready to switch over to solid foods, you'll want a high chair where they can savor their first meals of rice cereal and strained peas. With so many different options out there, we can help you narrow it down to a few top contenders.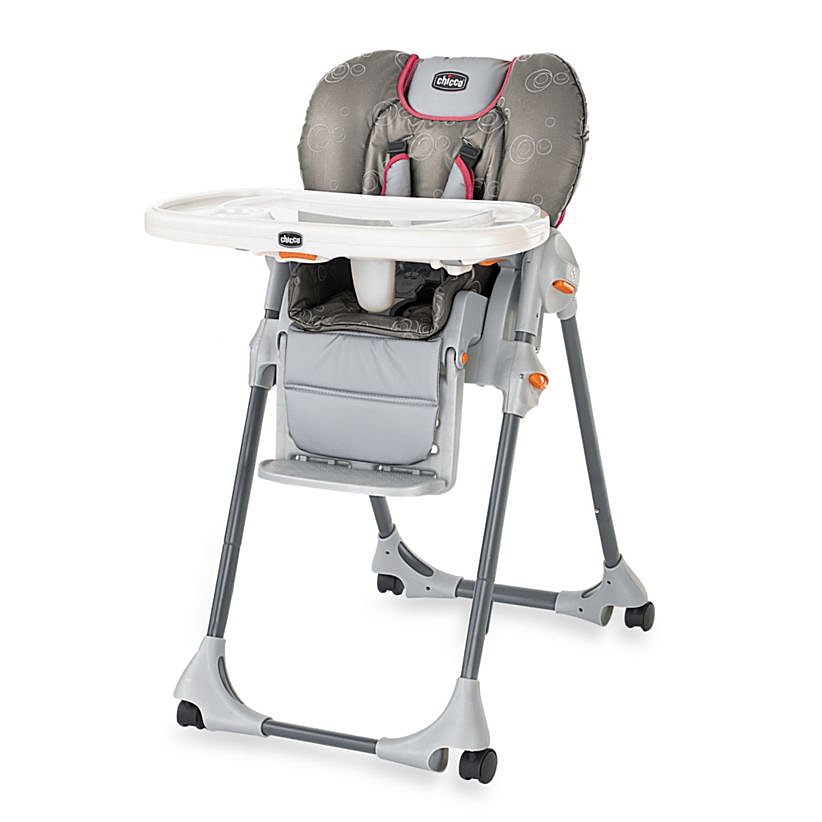 High chairs range from deluxe, full-sized models that can take your baby through the preschool years, to sleek travel models that are perfect for meals on the go. So first consider how you plan to use it-and how much space you'll have to accommodate a high chair.
| You have | You can use |
| --- | --- |
| A relatively spacious kitchen | A full-sized high chair features a wide, sturdy base and a nice-sized feeding tray for your baby. Many models can be moved to different heights to allow you to comfortably feed your baby sitting or standing, or put her right up to the table as she gets older. |
| A teeny-tiny kitchen | A basic or foldable high chair takes up less real estate by folding up when unneeded, or by being of smaller stature. These may come with fewer bells and whistles than a full-sized model, but still provide all of the safety features. |
| What kitchen? | A travel/portable high chair can simply be strapped on to any dining chair, making it perfect for ultra-small kitchens, or on-the-go dining. |
High chairs can come in everything from bare-bones models to deluxe, every-bell-and-whistle options. Here are some of the most common features that you may want your high chair to have.
| Feature | What It Does & Why You Want It |
| --- | --- |
| Dishwasher-safe tray | Plastic trays that can be easily removed and thrown right in the dishwasher make post-meal cleanup a breeze. |
| Wheels | If you'll regularly need to move the high chair from room to room-or simply off to a corner after feeding time, wheels can make it easy to get it where it needs to go. |
| Reclinable | A seat that reclines can make it easier to bottle feed in a high chair. |
| Adjustable height | Some models allow you to change the height of the high chair to make feeding comfortable for you and your baby, from a standing to a seated level-or even sit right up to the table, by removing the tray. |
| Safety straps and crotch post | The crotch post keeps baby from slipping and sliding out beneath the bottom of the tray. Many models include that along with a three-point harness; safest yet is the five-point harness, which won't let kids climb out over the top of the harness. |
| Foldable | If you're short on space or just want to be able to move the high chair out of sight, a foldable one will be a real boon. |
| Soft seating | For your child's comfort, most high chairs feature cushioned seating. Look for seats with easy-wipe vinyl covering or which are easily removed for washing, to make cleanup a breeze. |
High Chair Construction
High chairs are generally made out of wood, metal or plastic. The seats are often molded plastic or wood, with a cushion.
| Material | Benefits | Points to Consider |
| --- | --- | --- |
| Wood | Classic look and styling that can match your table and chairs. Wood is easy to wipe down. | A wooden tray won't be dishwasher safe (though some have a plastic insert to make cleanup easier). |
| Plastic | Easy to clean; can come in different styles and colors. | Can be less sturdy than the wooden models. |
| Metal | Sturdy, with a sleek, contemporary look. Usually accompanied by a molded plastic seat. | Commonly found on the more basic models. |
Life Span of a High Chair
Consider how long you'd like to use the high chair. A simple high chair is generally only used for about a year or so before a child graduates to a booster, but an adjustable seat that can be pulled up to the table without the tray may be used for a few more years.
Some chairs convert even further, to stepstools, or even a child table and chair. Consider how you might use the high chair in the future.
Safety Considerations
Safety and sturdiness are important in high chairs. Here are some things that you should consider:
Five-point harness.

A five point harness keeps your child from slipping out the bottom of the seat, or climbing out of the harness.

Wide base.

A wide base and a bottom-heavy design can help keep the seat from toppling when your baby's seated.

Foldable Safety.

The seat should lock securely when set up, to prevent an accidental folding while your child is seated. Make sure that the seat won't pinch your child's fingers (or yours) when you're folding it.

Locking wheels.

The wheels should lock when you're feeding your child.

Crotch post.

A permanent, solid crotch post will help ensure your child won't slip out the bottom, and is more secure than a fabric strap.

A secure tray.

The tray should snap in securely, so your child can't slip it off, but should be easy for you to remove when feeding's done.
Be sure that your child is always properly strapped in and supervised when placed in the high chair, to minimize the chances of injury.
In most cases, your child's high chair and seat can be cleaned with a mild cleanser and a damp cloth. Some high chairs have food trays that are dishwasher safe, making cleanup a breeze.