Buying Guide to Jewelry Metals
The jewelry you wear or give should be an expression of you. Knowing about jewelry metal types can help you choose a piece that will be as individual as you are and pay tribute to your loved one's unique personality and style.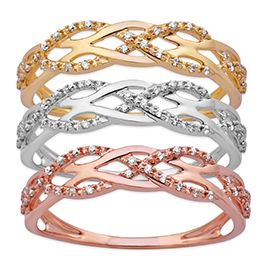 The type of care your jewelry requires depends largely on the properties of the metals it includes. If you're in doubt, it's a good idea to talk to a reputable jeweler. Here are some basic jewelry-care guidelines that apply to metals of all types.
Remove jewelry before:
Playing contact sports
Using machinery
Entering a swimming pool or hot tub
Applying hair products or makeup
Cooking or working in the kitchen
Cleaning with chemicals or soaps
Bathing or showering
General care:
Inspect jewelry regularly for signs of wear, and check the condition of metal prongs holding gemstones for wear and replacement. Use a cloth designed specifically for jewelry polishing to wipe jewelry clean. Do not polish your metal jewelry with tissue or toilet paper, as the fibers could cause scratches and get lodged beneath the metal work, prongs and gemstones.
Gold and platinum jewelry can be cleaned with a jewelry cleaner designed for that metal. You can also take a bowl of warm soapy water and mix it with a few drops of ammonia. Place the jewelry in the bowl and gently brush it with a soft bristle brush or old toothbrush. Rinse the jewelry in lukewarm water and let dry. Platinum jewelry should have a professional cleaning every six months to keep it in tip-top shape.
An ultrasonic cleaning machine may also be appropriate for cleaning gold jewelry, particularly if the piece does not contain gemstones. An ultrasonic cleaner bombards the jewelry with sound waves, and the vibration caused by those waves shakes off the dirt. Be cautious when using ultrasonic cleaners and follow the manufacturer's instructions.
Clean sterling silver with a mild soap and water solution. Allow the water to bead up on the jewelry then pat it dry with a soft cloth. If the dirt doesn't come off with soap and water, you can also use a jewelry cleaner designed for sterling silver to remove tough spots.
Store your metal jewelry in a fabric-lined jewelry box, case or drawer. Take extra care with sterling silver to not expose it to air and light during storage, as that can tarnish the silver. Protect jewelry during travel by securing it in a jewelry-specific travel case.