Necklaces range in traditional lengths from short chokers to long, rope length strands. Your fashion sense and personal style will dictate the design that's right for you.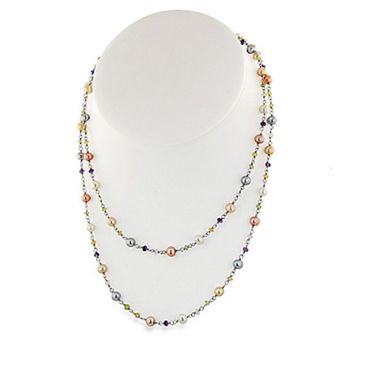 14 to 16 Inches
This is the average choker length, fitting closely around the neck and falling just above the collarbone. It is a becoming length for most necklines and is often very popular with younger women, as it lends a sweet look to any outfit. Chokers with a little more length—closer to 16 inches—could possibly work when coupled with a pendant or pin for an additional accent.

18 Inches
This length is often referred to as the princess length and is a very popular choice. It falls directly at or a little below the collarbone, allowing a little more drape than the choker lengths. Pendants are quite becoming when added to chains of this length, which is one of the reasons this is one of the most common necklace lengths.
20 to 24 Inches
At this length, sometimes referred to as the matinee length, a necklace falls further past the collarbone and begins to make a statement that is slightly bolder than the choker or princess lengths. This is the preferred length for either low necklines or to accompany a turtleneck. It is also often used for layering with other lengths. The 24-inch matinee is an intermediate length between the shorter matinee and longer opera lengths. It's a common choice for eveningwear or for styles and pendant necklaces or strands that need to make a statement or splash. It's also an acceptable business-style length. Falling below the neckline, the 24-inch length begins to remove emphasis away from the neck area.

30 to 36 Inches
The bold, attention-getting opera length is surprisingly versatile for an array of body shapes. Typically saved for formal occasions, the opera length can work equally well in a single- or double-strand style.

36+ Inches
Longer (36+ inches) styles are known as rope necklaces. Like the opera length, they can work In single or double-strand styles, and are usually reserved for formal events or business. They can also be knotted for a different look.