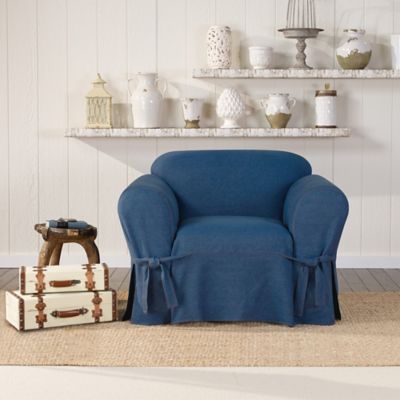 Size and Fit Q&A
Sure Fit has many products, styles and colors that will fit your home decor. Here are answers to some frequently asked questions:
Will furniture covers fit sofa beds?
Sure Fit offers a Sleeper Sofa Slipcover Collection to accommodate sofa beds.

Will furniture covers fit Camel Back furniture?
Sure Fit furniture covers will fit camel back furniture that falls within standard measurements. See the Measuring Guide tab. We recommend using Sure Fit Stretch products.

Will furniture covers fit furniture with no arms?
We recommend using Sure Fit Furniture Throws for furniture with no arms.

Will furniture covers fit furniture with thin/wooden arms?
With a little bit of creativity, Sure Fit furniture covers can fit over most thin-armed furniture. Wrap inexpensive polyester batting from a craft store on the arms to pad them. Secure with string or Velcro. They will be completely hidden under your furniture cover. For more furniture cover tips, see our Styling Tips section.
Furniture Cover Fabrics
All Sure Fit fabrics undergo rigorous quality tests in its in-house testing laboratory before being added to the product selection. Sure Fit follows industry standards ASTM and AATCC in the following areas:
Shrinkage (dimensional stability) - Sure Fit allows only 5% shrinkage in order to keep the best fit wash after wash

Appearance after washing - After washing several times, products are compared to the standard color to ensure the color remains true

Crocking - Tests for colorfastness so the color does not rub off on your furniture or clothing

Seam strength - Tensile equipment is used to pull on the seams to be sure they will hold strong

Stretch test - Sure Fit tests the stretch and recovery of the fabric for fit consistency for all stretch fabrics

Sure Fit is making new strides in keeping colors consistent with its state of the art color matching system
How do you care for your furniture cover?
Sure Fit furniture covers are easy to care for. All covers are machine washable with a few exceptions. Each furniture cover comes with its own care instructions and special product features.
Visit our Styling Tips tab to learn how to remove wrinkles from your furniture cover. The best way is to put the cover in the dryer with a damp cloth and tumble for ten minutes. Sure Fit also tests for ironing in its in-house lab - refer to the care label to see if a warm iron can be used on your cover.