Inspired By The Stars
Inspired By The Stars
Celebrity weddings are usually full of glam. What is it about those ceremonies that make them the star-studded events they are? Brides don't need to spend millions on their wedding like these stars did, but they can use them as sources for inspiration and ideas.
---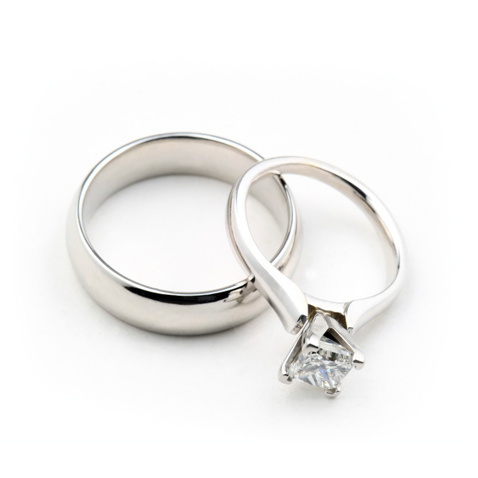 Ever think about how much time and money you put into planning your wedding? Well, here's a collection of wedding tidbits sure to make you feel better. Okay, some of this may be useless knowledge, but we think it's fun, and hey, maybe someday it may win you a piece of the pie in Trivial Pursuit.
Wedding Ceremonies
Prince Charles & Diana Spencer. The total cost of the wedding of Prince Charles to Diana Spencer on July 29, 1981 held a $52 million price tag and was televised to more than 750 million viewers worldwide. This is good news for the two of you when you think you might have spent too much money on your wedding!
Elvis Presley & Priscilla Beaulieu. Elvis Presley married Priscilla Beaulieu on May 1, 1967. Their eight minute civil ceremony took place at the Aladdin Hotel in Las Vegas, NV in front of 20 family members and friends. Who would have thought that the King would have such a short and small ceremony?
Keely Shaye Smith & Pierce Brosnan. Keely Shaye Smith said "I do" to Pierce Brosnan on August 4, 2001 at Ballintubber Abbey, a 13th century church in County Mayo, Ireland. Afterward, the 120 invited guests joined the newlyweds at the luxe reception at Ireland's landmark 84-room Ashford Castle. Keely, wore not just one, but two wedding dresses, both created by designer Richard Tyler. For the wedding, Keely wore a French lace coat covered in thousands of hand sewn freshwater pearls over a simple silk gown. At the reception, she wore a strapless satin gown adorned with handmade silk roses
Madonna Louise Ciccone & Guy Ritchie. Madonna Louise Ciccone and Guy Ritchie spared no expense for their $2.1 million wedding and reception on December 22, 2000. They rented out the 47 room Skibo Castle in Dornoch, Sutherland, Scotland which cost $219,000, family and friends were flown in at an estimated cost of $58,000 and the newlyweds were toasted with champagne costing an estimated $293,000. Security was extremely tight and not one wedding photograph of the newlyweds was released to the public.
Catherine Zeta-Jones & Michael Douglas. The Welsh born actress Catherine Zeta-Jones married Michael Douglas on November 18, 2000 at New York's Plaza Hotel. In planning her wedding, Catherine had told reporters that she had wanted "a simple, down-home" affair. The result was a $1.5 million dollar wedding which had a 40-member Welsh choir, 20,000 cream-colored roses and included many family and friends from her hometown Mumbles, Wales.
Beautiful Wedding Dresses
Jacqueline Bouvier & John F. Kennedy. Jacqueline Bouvier commissioned Ann Lowe to design her dress for her wedding to John F. Kennedy on September 12, 1953. The dress, which was made of 50 yards of ivory silk taffeta, took more than two months to design and finish. Little wax flowers were sewn on the skirt. However, a week before the wedding, a flood in Lowe's New York workshop ruined the fabric on the dress, so the dress worn by Jacqueline was actually made in five days. And for that "something old and borrowed", Jackie wore her grandmother's rose-point veil
Grace Kelly & Prince Ranier III. When Grace Kelly and Prince Ranier III of Monaco married on April 19, 1956, it was a fairy tale wedding right out of Hollywood. Grace's breathtaking wedding dress was fashioned by MGM movie costumer Helen Rose. The dress was made of 98 yards of tulle, 25 yards of ivory silk taffeta, peau de soie and 125 year old lace. Grace's veil was covered in a web of thousands of pearls with a motif of lovebirds appliquéd in lace.
Sting & Trudie Styler. Sting led his bride Trudie Styler on horseback to their wedding reception which was held at an 11th century church in Wiltshire, England on August 22, 1992. The bride wore a $40,000 embroidered white satin Versace wedding dress that took four seamstresses 45 days to create. It was later auctioned off, along with Sting's custom Versace black suit to benefit the Rainforest Foundation.
Tasty Cakes
Prince Andrew & Sarah Ferguson. After their 45 minute wedding ceremony at Westminster Abbey on July 23, 1986, Prince Andrew and Sarah Ferguson had their reception at Buckingham Palace with a 240 pound, five-tier frosted fruitcake.
Liza Minnelli & David Gest. Liza Minnelli and David Gest's 12-tier wedding cake was a chocolate-cream-filled cake that took 16 people to construct.
Toni Braxton & Keri Lewis. Toni Braxton and Keri Lewis' wedding cake was designed by Atlanta's Mark Lotti and was a four-tier creation which looked like a perfect stack of four robin's-egg-blue Tiffany boxes. This theme carried throughout the wedding which took place on April 21, 2001 at Dean Gardens in Atlanta, GA in which the carpeting, chair covers, and tablecloths were all custom-dyed to resemble Tiffany's trademark blue color.
Flower Power
Debra Messing & Daniel Zelman. Debra Messing, who is allergic to most flowers, chose to carry calla lilies which are easy on the nose (who knew!) when she married Daniel Zelman on September 3, 2000.
Melissa Rivers & John Endicott. And who can forget the winter wonderland at the Plaza Hotel in New York for the marriage of Melissa Rivers and John Endicott on December 12, 1998? To recreate winter at the Hermitage in St. Petersburg (the icy Russian Palace in Doctor Zhivago), a dramatic birch-tree forest was created using 100 birch trees, twinkling lights, lily of the valley and 20,000 white roses.