Braun® Thermoscan 5 Ear Thermometer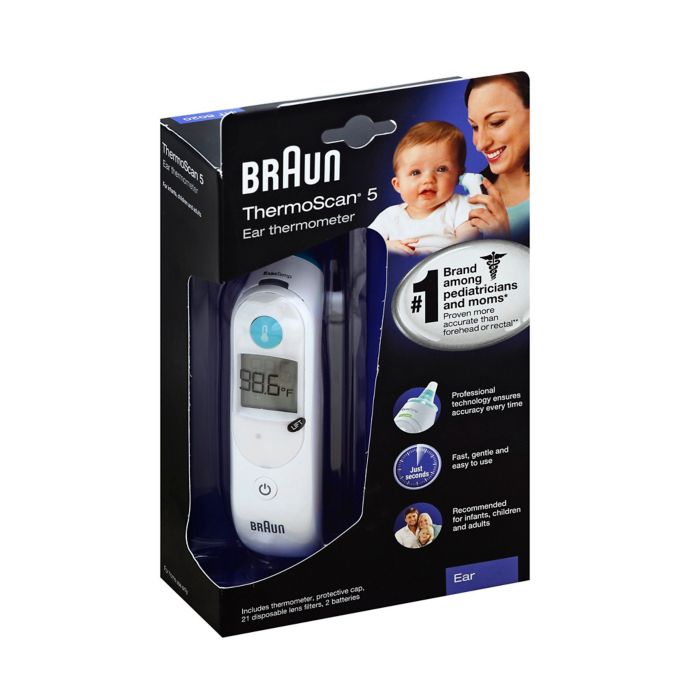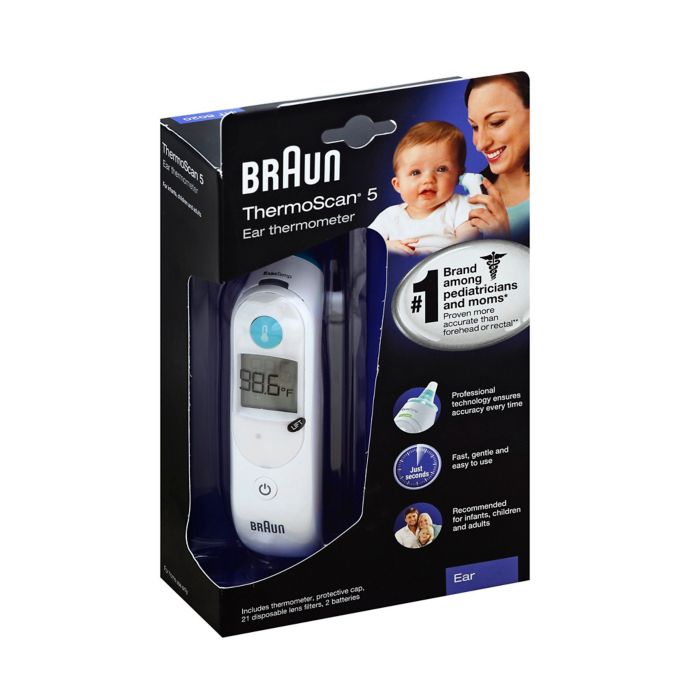 Braun
Braun® Thermoscan 5 Ear Thermometer
Details
Braun Thermoscan 5 Ear Thermometer is a easy way to get an accurate reading of an infant's temperature. With a pre-warmed tip for gentle insertion into baby's outer ear, in seconds the gauge lights up, beeps, temperature is displayed.
Recommended for infants, children and adults
Professional technology ensures accuracy every time
Fast, gentle and easy to use
Proven more accurate than forehead or rectal (Measurements in detecting temperature changes. Nimah, Marianne M., et al. Infrared tympanic thermometry in comparison with other temperature measurement techniques in febrile children
The ear canal is the best site to measure a fever because of its close proximity to the eardrum, which shares the blood supply of the brain's temperature control center
Exclusive pre-warmed tip technology is designed to minimize the cooling effect of the tip inside the ear canal, providing accurate measurements time after time
Unique positioning system uses a light and beep to confirm proper positioning
Memory function recalls the last temperature reading
Always replace disposable lens filters to maintain accuracy and hygiene
Replacement Lens Filters: Model LF 40. For infants, children and adults
Uses 2 alkaline batteries (included)
Meets the American Society for Testing and Materials (ASTM) accuracy requirement specified in ASTM standard E1965-98, as it pertains to infrared thermometers

Includes:
Thermometer
Protective cap
21 disposable lens filters
2 batteries

3 year limited warranty
Imported

Manufacturer
Kaz
Marlborough, MA 01752
Directions
Store between -13 degrees F and + 131 degrees F.
Related Categories
Related Searches