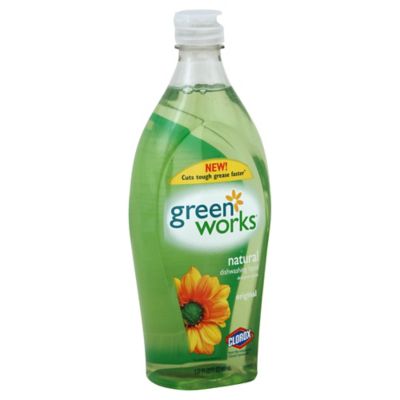 Clorox® Green Works 22 oz. Natural Dishwashing Liquid
Clorox Green Works Dishwashing Liquid Cuts tough grease
Naturally cleans with the power you expect from Clorox
Plant-based, cleaning ingredients; clean without harsh chemical fumes or residue
Extraordinary cleaning power without chemical residue left on your dishes
Contains no phosphorus or bleach
Never tested on animals
99% natural
22 oz.
Made in USA
Manufacturer
Clorox
1221 Broadway Oakland, CA 94612
800-3M-HELPS
SKU # 16653098
Directions
Squeeze bottle once to dispense product. Add water. Do not use in automatic dishwashers. Please dose the cap after each use.
Ingredients
Filtered Water, Coconut-Based Cleaning Agents (Anionic and Nonionic Surfactants: Alkyl Polyglucoside, Sodium Lauryl Sulfate and Cocodimethyl Amine Oxide), Glycerin, Corn-Based Ethanol, Fragrance with Essential Oils, Biodegradable Preservative, Citric Add, Blue and Yellow Colorant.
Warnings
As with all soap products, avoid contact with eyes. In case of eye contact, rinse thoroughly with water. If swallowed, drink a glass of water to dilute. Keep out of reach of children. Do not mix with bleach.