Core Values™ Reusable Hot & Cold Back Pad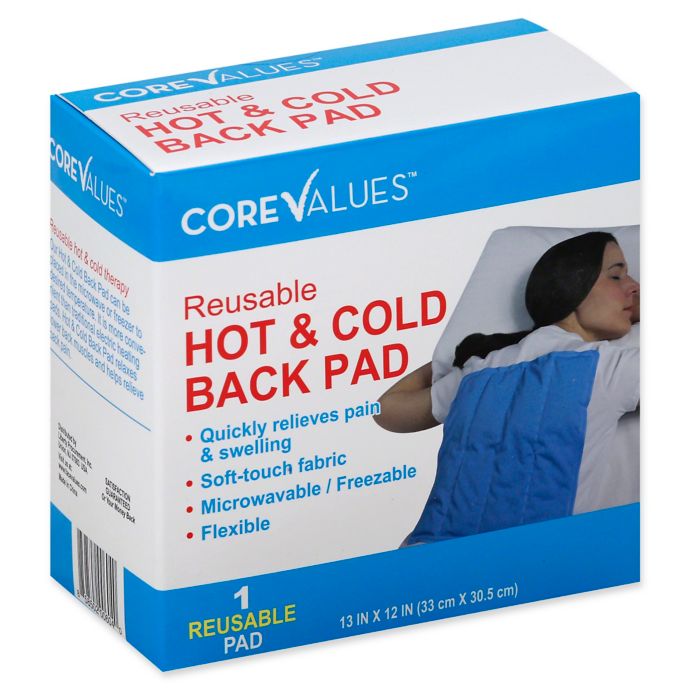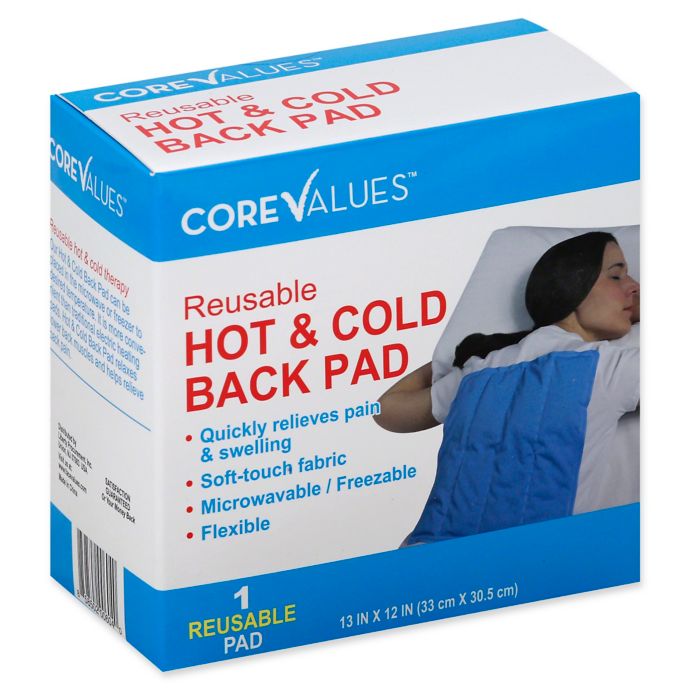 Details
Soothe back pain and swelling at home or on the go with Core Values' Reusable Hot & Cold Back Pad.
Core Values' Reusable Hot & Cold Back Pad offers fast relief from back pain and swelling without a mess or hassle
Reusable pad
Quickly relieves pain and swelling
Soft-touch fabric
Microwavable and freezable
Flexible
More convenient than traditional electric heating pads
13" x 12" (33 cm x 30.5 cm)
Imported

Manufacturer
Liberty Procurement
650 Liberty Ave Union, NJ 07083
Directions
For Heat Therapy: Microwave pad 45 seconds. Let pad sit in microwave for 30 seconds before applying to skin. Apply to back and test product for 2 minutes. If hotter pad is desired, microwave in 15 second increments until optimum temperature is reached. Do not exceed 75 seconds total as overheating may cause product to rupture. For Cold Therapy: Place pad in a freezer bag in the freezer for at least 2 hours. To Use: Apply to affected area for up to 20 minutes. Wait at least 20 minutes before reapplying. Storage & Care: Keep Hot & Cold Back Pad in a freezer storage bag when stored in the freezer when not in use. To clean, gently blot with warm water and air dry.
Warnings
Do not overheat. Overheating can damage or destroy the pad, or cause injury to the user. If you observe any swelling of the pad while it's being heated, turn off the microwave oven immediately and wait for the swelling to subside before handling the pad. Do not sit, lie or lean on the pad since breakage and/or leaks may result. If the pad is uncomfortable during use, remove the product immediately. Do not use hot therapy on any part of the body where there is swelling or redness, or immediately after an injury. Cold therapy is best for these conditions. The pad should not be used by individuals who are insensitive to temperature extremes, such as those with circulatory problems, diabetes, nerve damage, paralysis or sensitive skin. Adult supervision is required when treating infants and children. Do not use the pad with sports creams, balms, liniments or lotions. Consult your doctor before using the pad to treat a serious injury, or if pain persists. Discard the pad if it is punctured. This gel contains only nontoxic materials. However, if its contents come in contact with skin, clothing or other fabrics, wash them with water and a mild soap.