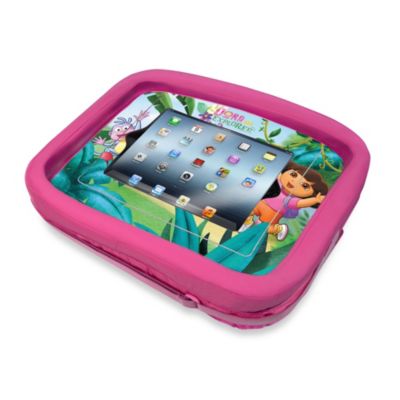 Alternate image 1 for CTA Digital Dora the Explorer™ Universal Activity Tray for iPad® with App
Alternate image 2 for CTA Digital Dora the Explorer™ Universal Activity Tray for iPad® with App
Alternate image 3 for CTA Digital Dora the Explorer™ Universal Activity Tray for iPad® with App
Alternate image 4 for CTA Digital Dora the Explorer™ Universal Activity Tray for iPad® with App
Once inserted into the zippered case, the tablet is surrounded by fun, playful images of Dora's adventures that is sure to make your child smile.
Ideal for resting on the lap, the tray protects the tablet from any drops, bumps or damage and has a clear, plastic touch-screen cover to prevent smudges and scratches.
Tray features raised edges to make clean up easy and a water-resistant top layer that makes it spill proof. Includes an easy to attach, foldable stand that is perfect for watching videos or playing with games and/or apps.
Measures 12" H x 15" W x 2.5" D.
A gift card to download Dora Dress Up Adventures App (HD for iPad) is included.
Officially licensed Dora the Explorer design.
One-year manufacturer's warranty.
Imported.
Model# NIC-DIT.
SKU # 41270769