Earth Mama 16-Count Organic Milkmaid Tea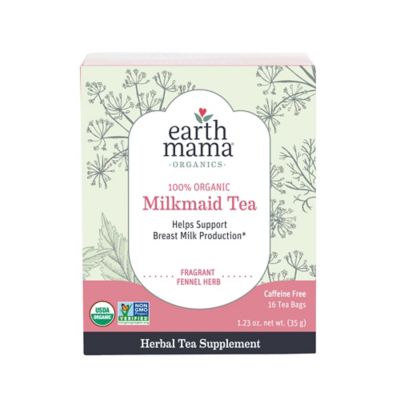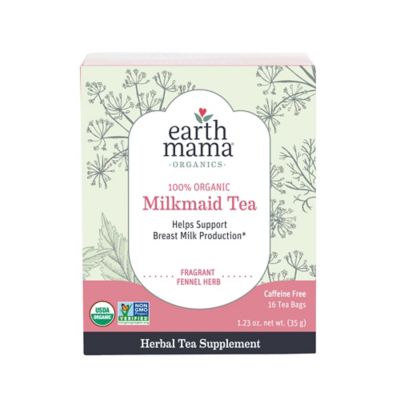 Earth Mama
Earth Mama 16-Count Organic Milkmaid Tea
BEYOND+ MEMBER PRICE
$5.03
You could save up to $1.26 (20% off) Sign Up
Out of stock
Get notified when this item is back in stock
Details
Earth Mama's Milkmaid Tea is a fragrant, comforting blend of organic herbs traditionally used to help support healthy breast milk production and promote lactation — that have been used by nursing mothers for generations.
Each teabag comes wrapped in individual packaging — so you can take a single bag on the go
Herbal tea to help support breastmilk production
Not for use during pregnancy
Formulated with fenugreek, fennel, milk thistle and other galactagogues — plus the power of nettle and raspberry leaf
USDA Certified 100% Organic by Oregon Tilth
Non-GMO Project Verified and Certified Kosher by EarthKosher
16-count
Manufacturer:
Earth Mama Angel Baby, LLC
Clackamas, OR 97015
503-607-0607
Directions: Pour boiling water over one tea bag. Steep 5-10 minutes. Sip 1-3 cups per day, or as recommended by your healthcare provider.
Ingredients: Organic Fenugreek (Trigonella Foenum-graecum) Seed, Organic Fennel (Foeniculum Vulgare) Seed, Organic Red Raspberry (Rubus Idaeus) Leaf, Organic Stinging Nettle (Urtica Dioica) Leaf, Organic Milk Thistle (Silybum Marianum) Seed, Organic Orange (Citrus Sinensis) Peel, Organic Anise (Pimpinella Anisum) Seed, Organic Caraway (Carum Carvi) Seed, Organic Alfalfa (Medicago Sativa) Leaf
Directions
Suggested serving 1-3 cups daily. Consult your healthcare provider to find out what's best for you. Boil water. Steep 5-10 min.
Ingredients
Read My Ingredients! Trigonella Foenum-Graecum (Organic Fenugreek) Seed, Foeniculum Vulgare (Organic Fennel) Seed, Rubus Idaeus (Organic Red Raspberry) Leaf, Urtica Dioica (Organic Stinging Nettle) Leaf, Silybum Marianum (Organic Milk Thistle) Seed, Citrus Sinensis (Organic Orange) Peel, Pempinella Anisum (Organic Anise) Seed, Carum Carvi (Organic Caraway) Seed, Medicago Sativa (Organic Alfalfa) Leaf.
Warnings
Not for use during pregnancy. Please note that many of these herbs are not recommended during pregnancy in greater than culinary amounts. Consult your healthcare provider about the use of herbs during pregnancy or when nursing a baby. May cause maple syrup odor in urine. Large amounts may lower blood sugar.