EcoSmart 6 oz. Organic Insect Repellant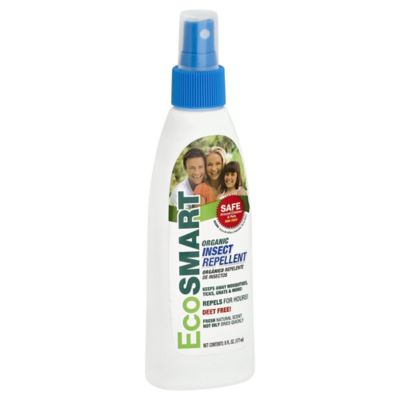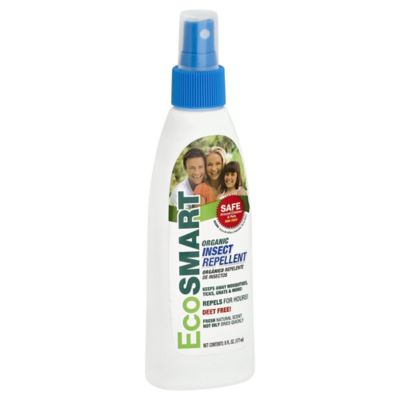 EcoSmart
EcoSmart 6 oz. Organic Insect Repellant
BEYOND+ MEMBER PRICE
$4.79
You could save up to $1.20 (20% off) Sign Up
Details
The EcoSmart Organic Insect Repellant keeps away mosquitoes, ticks, gnats & more. Featuring a fresh natural scent that doesn't smell like chemicals.
Organic bug repellant keeps away mosquitoes, ticks, gnats, and more
Safe around children and pets
Powerful, all-natural formula made from organic plant oils
Repels for hours
Includes one 6 oz. spray bottle
Made in USA

Manufacturer
EcoSmart Technologies
20 Mansell Court Suite 375 Roswell, GA 30076
Directions: Shake well before using. Directions for Use: Hold container 6-8 inches from skin and spray with a slow sweeping motion. EcoSmart can be applied directly to skin. Use just enough repellent to cover exposed skin and/or clothing. To apply to face, spray palm of hand and rub on. Apply every 2-3 hours or as needed as effectiveness varies with excessive perspiration. Do not spray eyes and mouth directly. Do not apply over cuts, wounds or irritated/sunburned skin. Storage & Disposal: Do not reuse. Discard in trash.
Ingredients: Geraniol (1.0%), Rosemary Oil (0.5%), Cinnamon Oil (0.5%), Lemongrass Oil (0.5%). Other Ingredients: (2-Propanol, Isopropyl Myristate, Wintergreen Oil) (97.5%).
Warnings: Caution - EcoSmart recommends good safety practices when using any repellent such as keeping out of the reach of children and pets. Provide adult supervision when applying to children. Avoid contact with eyes. If product gets in eyes, flush eyes with water. Consult a physician if irritation persists. Do not apply to hands of children. This product is made from plant oils and some individuals may be sensitive. If skin irritation occurs, wash treated area with soap and water. Consult a physician if irritation persists. Combustible: Do not use or store near excessive heat or open flame. Limitation of Liability: To the extent consistent with applicable law, EcoSmart makes no warranties of merchantability or of fitness for a particular purpose, nor any other express or implied warranty except as stated above. Buyer assumes all responsibility for safety and use not in accordance with label, directions and precautionary statements.