Flonase 0.38 oz. Allergy Relief Nasal Spray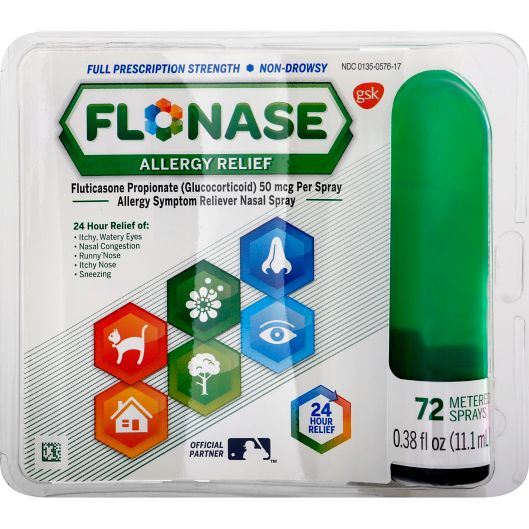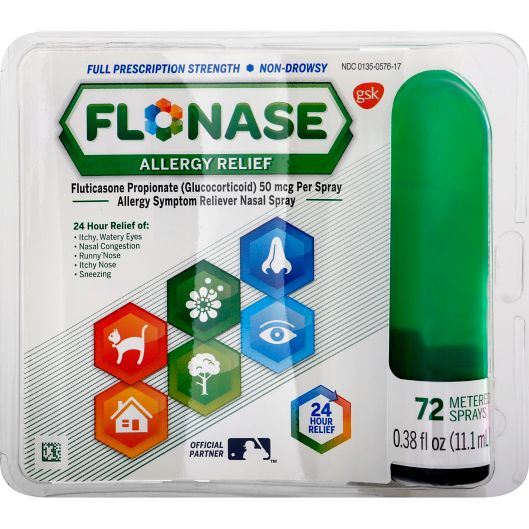 Flonase
Flonase 0.38 oz. Allergy Relief Nasal Spray
BEYOND+ MEMBER PRICE
$14.39
You could save up to $3.60 (20% off) Sign Up
Details
Flonase Allergy Relief Nasal Spray relieves sneezing, itchy, watery eyes and runny nose, plus nasal congestion. This non drowsy allergy medicine delivers powerful multi-symptom indoor and outdoor relief during allergy season and year-round.
Provides 24-hour relief of itchy, water eyes, nasal congestion, runny nose, itchy nose and sneezing
Non-drowsy formula
Full strength
Active Ingredients: In Each Spray Fluticasone Propionate (Glucocorticoid) (50 mcg). Purpose: Allergy Symptom Reliever. Inactive Ingredients: Benzalkonium Chloride, Dextrose, Microcrystalline Cellulose, Phenylethyl Alcohol, Polysorbate 80, Purified Water, Sodium Carboxymethylcellulose.
0.38 oz. which provides 72 metered sprays
Imported
Manufacturer
Gsk Consumer Healthcare
Warren, NJ 07059
Indications Temporarily relieves the symptoms of hay fever or other upper respiratory allergies nasal congestion; runny nose; sneezing; itchy nose; itchy, watery eyes.
Directions Read the quick start guide for how to: prime the bottle; use the spray; clean the spray nozzle. Shake gently before each use. Use this product once a day. Do not use more than directed. Be sure to read quick start guide and questions & answer book inside package. Age group directions: Adults and Children 12 Years of Age and Older:: Week 1- use 2 sprays in each nostril once daily. Week 2 through 6 months - use 1 or 2 sprays in each nostril once daily, as needed to treat your symptoms. After 6 months of daily use - ask your doctor if you can keep using. Children 4 to 11 Years of Age:: The growth rate of some children may be slower while using this product. Children should use for the shortest amount of time necessary to achieve symptom relief. Talk to your child's doctor if your child needs to use the spray for longer than two months a year. An adult should supervise use. Use 1 spray in each nostril once daily. Children Under 4 Years of Age:Do not use.
Warnings Only for use in the nose. Do not spray into your eyes or mouth. Do not use in children under 4 years of age, to treat asthma, if you have an injury or surgery to your nose that is not fully healed, if you have ever had an allergic reaction to this product or any of the ingredients..