Lovery Bath And Body Gift 14pc Set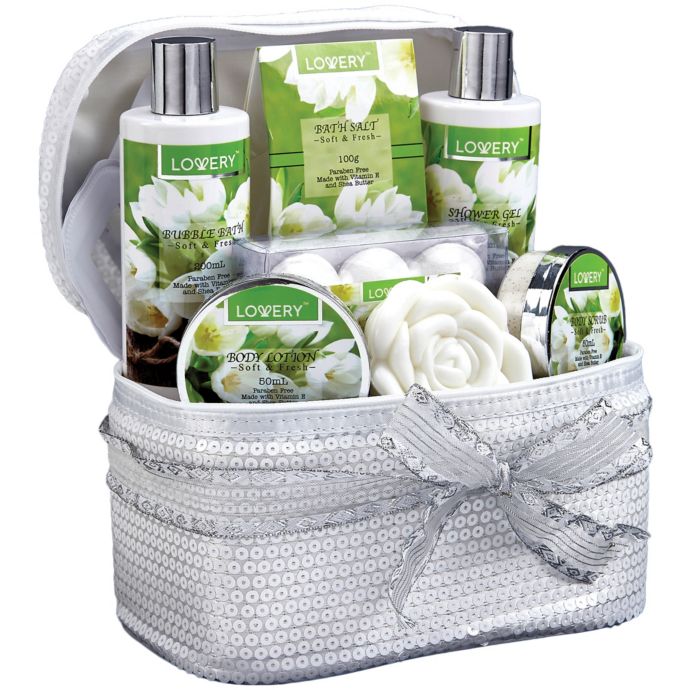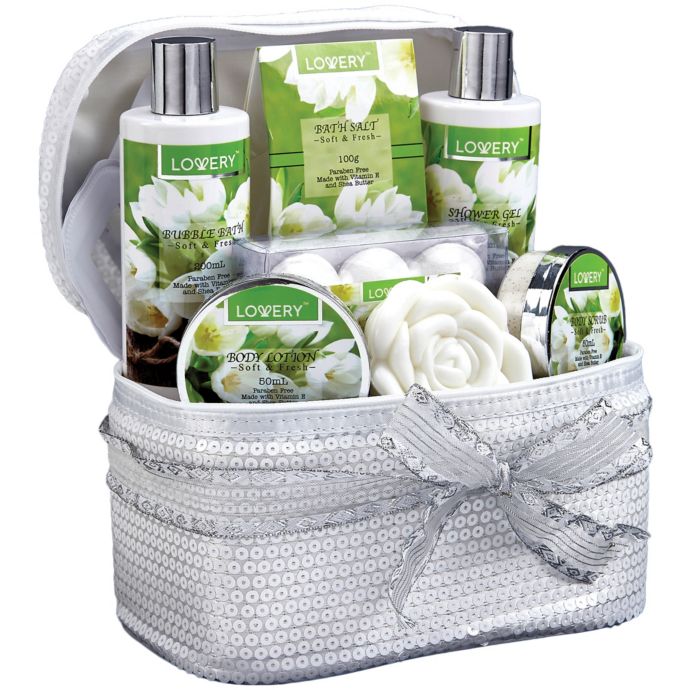 Lovery Bath And Body Gift 14pc Set
Online Only
84 people have this in their cart
Details
Lovery Bath And Body Gift 14pc Set
Give yourself a spa treatment without leaving the comfort of your own home.
The Lovery White Jasmine Bath and Spa Set
includes everything you need to pamper yourself. This all-inclusive set features everything you need to look and feel beautiful. With everything from shower gel to bath bombs, you can indulge in the soothing floral scent of fresh white jasmine. Our products are made with moisturizing shea butter and nutrient-rich vitamin E oil.
SET INCLUDES
200ml Shower Gel
200ml Bubble Bath
50ml Body Lotion
50ml Body Scrub
100g Bath Salt
85g Bath Soap
6 x 15g Bath Bombs
Mirror
Reusable White Cosmetics Travel Bag With Hand Sewn Sequins
BENEFITS & FEATURES
White Jasmine is an elegant, floral scent
Full 14 piece set contains an assortment of lush bath accessories
Beautifully wrapped & packaged for the ultimate presentation with a ribbon & tag
Blank lined gift note attached to write heartfelt message
Formulated with Shea Butter & Vit E to moisturize and protect
Purely sourced ingredients, clearly displayed on packaging
Lovery's items are PARABEN FREE & NEVER TESTED ON ANIMALS
LUXURIOUS BATH SET!
Step up your beauty routine with this deluxe spa basket. It includes everything you need to spoil yourself from head to toe. Looking and feeling great is effortless when you have everything you need to fortify your skin with moisture. Take a relaxing bath using our relaxing bubble bath, bath salt and bath bombs. Envelop yourself in the enriching scent of jasmine with the body lotion and bath soap. Our bath set will leave you feeling beautiful from your head to your feet!
THE PERFECT GIFT FOR HER
Make her feel like a pampered princess. The refreshing scent will invigorate her senses and make her feel like she's getting the full spa treatment right at home. Soothing aromas are perfect for rest and relaxation. It's exactly what she needs and it's perfect for any occasion.