NeilMed® Sinus Rinse™ Saline Nasal Irrigation 100-Count Premixed Packets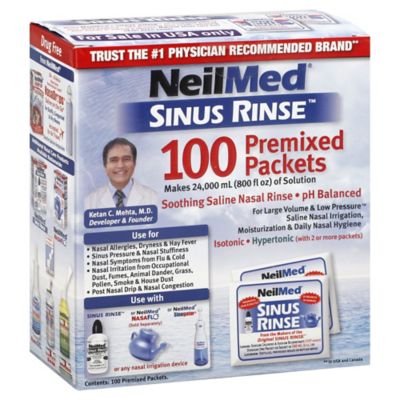 Top Rated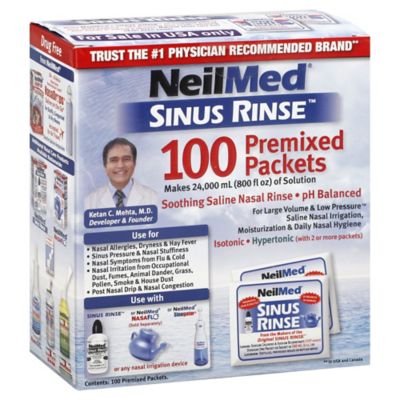 NeilMed
NeilMed® Sinus Rinse™ Saline Nasal Irrigation 100-Count Premixed Packets
Regular
$13.49
($0.13 per count)
BEYOND+ MEMBER PRICE
You could save up to $2.70 (20% off) Sign Up
Details
NeilMed Sinus Rinse Premixed Saline Packets are great for large volume and low pressure saline nasal irrigation, moisturization, and daily nasal hygiene. Use for allergies, nasal dryness, sinus pressure, stuffiness, or post nasal drip.
For nasal allergies dryness & hay fever
Soothing saline nasal rinse PH balanced
For large volume & low pressure saline nasal irrigation moisturization & daily nasal hygiene
Isotonic
Hypertonic (with 2 or more packets)
Sinus pressure & nasal stuffiness nasal symptoms from flu & cold
Nasal irritation from occupational dust fumes animal dander grass pollen smoke & house dust
Post nasal drip & nasal congestion
Use with Sinus Rinse or NeilMed NasaFlo (sold separately) or NeilMed Sinugator or any nasal irrigation device
Dissolve one packet or sachet in 8 oz of lukewarm distilled previously boiled or bottled water
NeilMed Sinus Rinse is an easy-squeeze bottle system that allows you to deliver the saline solution with positive pressure to clean the nasal passages thoroughly while maintaining your head in a comfortable position
You have complete control of the pressure and volume of solution ensuring a gentle and soothing experience
Daily rinsing is safe and will keep your nasal passages clean healthy and open
Always use distilled micro-filtered (through 02 micron) commercially bottled or previously boiled & cooled down water at lukewarm or body temperature
Contents: 100 premixed packets of USP grade (purity level 99% or higher) sodium chloride and sodium bicarbonate mixture (pH balanced isotonic preservative & iodine free)
Brochure with instructions for use
INeilMed's mixture packets should be used with NeilMed's 8 fl oz Nasal Irrigation Bottle NasaFlo or Sinugator device to achieve the best results
You may use NeilMed's packets with other irrigation devices as long as you mix with the correct volume of water

Manufacturer
NeilMed Pharmaceuticals
601 Aviation Blvd Santa Rosa CA 95403
Directions
Store in a cool & dry place. This box does not contain a nasal irrigation device.
Warnings
Rinsing your nasal passages with only plain water will result in a severe burning sensation. Always use distilled, micro-filtered (through 0.2 micron), commercially bottled or previously boiled & cooled down water at lukewarm or body temperature, properly mixed with NeilMed Sinus Rinse packets. Do not use tap or faucet water for dissolving the mixture unless it has been previously boiled and cooled down. Do not rinse if nasal passages are completely blocked or if you have an ear infection or blocked ears. If you have had recent ear or sinus surgery, contact your physician prior to irrigation. If you experience any pressure in the ears, stop irrigation and get further directions from your physician. Keep out of reach of children. Read and retain the enclosed brochure, if provided, for instructions and other important information. Inside components of this unit are not for individual sale. Do not discard this printed box and any enclosed printed material. The inside final product may not have all the details you require for the ongoing use of the product.