Neutrogena® Healthy Skin® 1.4 oz. Anti-Wrinkle Cream Night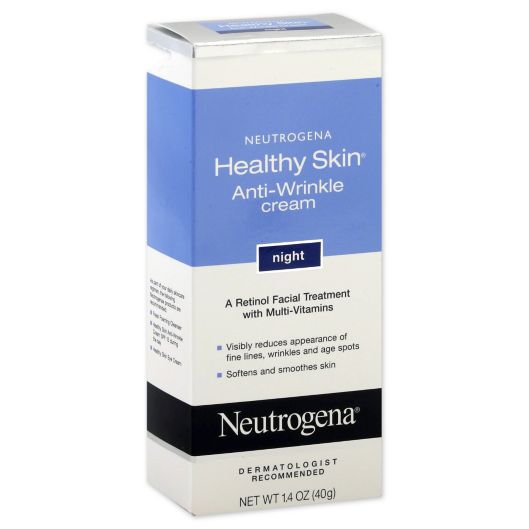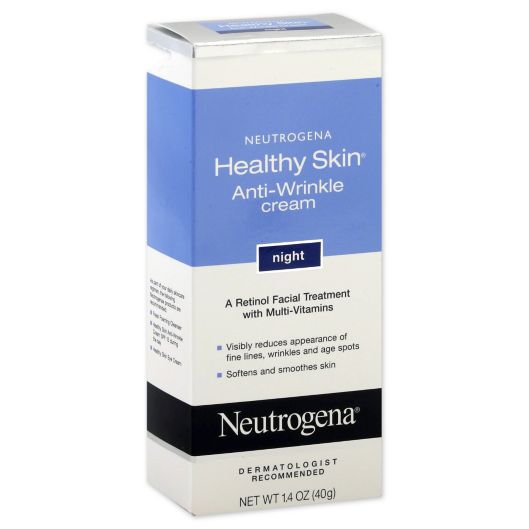 Neutrogena
Neutrogena® Healthy Skin® 1.4 oz. Anti-Wrinkle Cream Night
BEYOND+ MEMBER PRICE
$9.43
You could save up to $2.36 (20% off) Sign Up
Details
Neutrogena Healthy Skin Anti-Wrinkle Cream Night is a rich anti-wrinkle face moisturizing cream infused with Retinol, to treat and help prevent fine lines, wrinkles, and other signs of aging. Lightweight and non-greasy, it absorbs quickly into skin.
Neutrogena Healthy Skin Anti-Wrinkle Cream Night is a retinol facial treatment with multivitamins
Night moisturizing cream visibly reduces the appearance of fine lines and wrinkles
Retinol, the purest form of vitamin A, works deep within the skin's surface where wrinkles develop
Pro-vitamin B5, vitamin E, and special moisturizers boost moisture levels for softer, smoother skin
Oil-free formula absorbs quickly and won't clog pores, which can cause breakouts
Hypo-allergenic, fragrance-free and alcohol-free
1.4 oz.
Made in USA of domestic and foreign components
Manufacturer
Neutrogena
Los Angeles, CA 90045
800-582-4048
Directions
Use a pearl-sized amount nightly, after cleansing, in place of your regular moisturizer. You may experience some irritation. This is normal and temporary. If irritation persists, or is too strong, use every other night, until your skin adjusts; then revert to nightly use. For first use, puncture seal with end of cap.
Ingredients
Water, C12-15 Alkyl Benzoate, Glycerin, Cetyl Alcohol, Cetearyl Alcohol, Ethylhexyl Hydroxystearate, Dimethicone, Camellia Oleifera Leaf Extract, Retinol, Panthenol, Disodium EDTA, Tocopherol, Cetearyl Glucoside, Tocopheryl Acetate, Polysorbate 20, Triethanolamine, Methylparaben, Propylparaben, Butylene Glycol, Diazolidinyl Urea, BHT, Carbomer.
Warning: For external use only. Avoid contact with eyes. If product gets into eyes, rinse thoroughly with water.