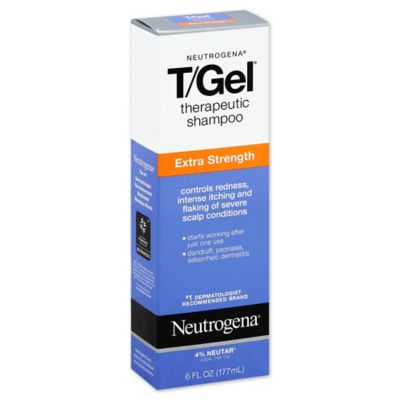 Alternate image 1 for Neutrogena® T/Gel® 6 oz. Therapeutic Shampoo Extra Strength
Alternate image 2 for Neutrogena® T/Gel® 6 oz. Therapeutic Shampoo Extra Strength
Alternate image 3 for Neutrogena® T/Gel® 6 oz. Therapeutic Shampoo Extra Strength
Alternate image 4 for Neutrogena® T/Gel® 6 oz. Therapeutic Shampoo Extra Strength
Extra strength shampoo
Helps relieve the most persistent itching and flaking
Controls symptoms of dandruff, seborrheic dermatitis, psoriasis
Formulated for daily use
Scientifically proven to work for hours
Dermatologist-recommended brand
6 oz.
Manufacturer
Neutrogena
Los Angeles, CA 90045
800-582-4048
SKU # 12522690
Directions
For best results, use at least twice a week or as directed by a doctor.
Wet hair thoroughly.
Massage shampoo into your scalp.
Lather, leaving on your hair and scalp for a few minutes.
Rinse and repeat.