Olay® Professional Pro-X Advanced Facial Cleansing System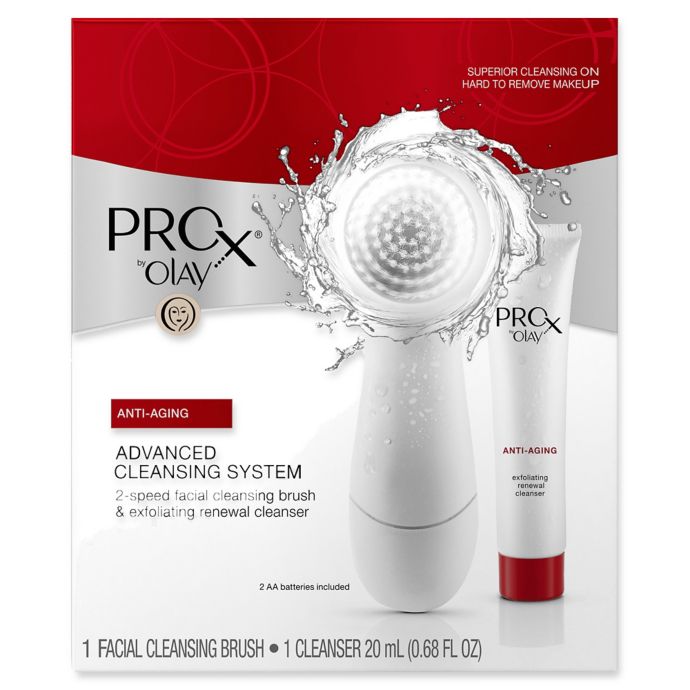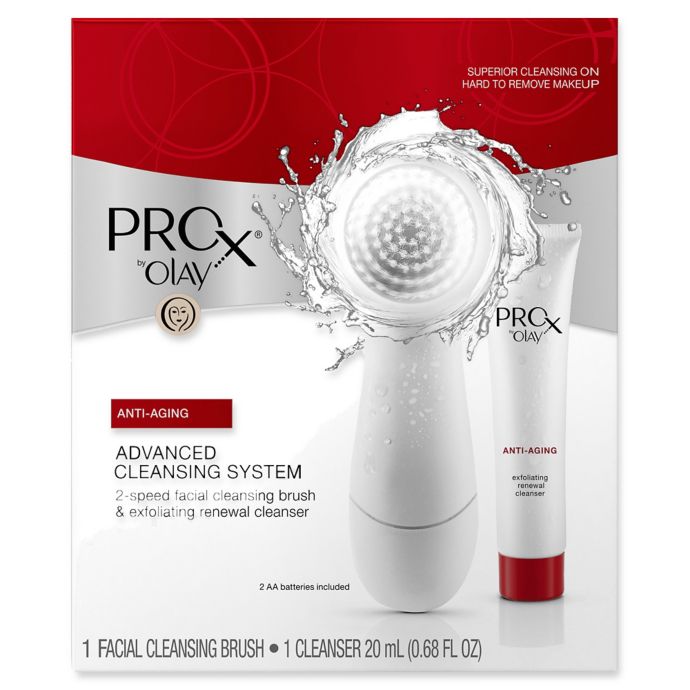 Olay
Olay® Professional Pro-X Advanced Facial Cleansing System
19 people have this in their cart
Details
Olay Professional Pro-X Advanced Facial Cleansing System is designed for all skin types to provide a deep pore cleaning. This gentle two-speed rotating system removes dead skin cells, washes away dirt and impurities, and leaves skin squeaky clean.
Olay® Professional Pro-X Advanced Facial Cleansing System delivers daily deep cleansing and gentle exfoliation
3-piece kit includes:

.68 oz. exfoliating renewal cleanser
2-speed facial cleansing brush + exfoliating renewal cleanser
Advanced cleansing foam head

2 AA batteries included
Water resistant for use in the shower
Replaceable soft bristle brush head (included)
Pro-X Exfoliating Renewal Cleanser (sample included) recommended for daily exfoliation
Cleansing brush can also be used with a broad range of Olay cleansers for daily deep cleansing
On/off
Brush head refills sold separately
Imported
Manufacturer
P & G
Cincinnati, OH 45202
866-710-PROX
Directions
Dampen facial skin and brush head lightly with water. Dispense Pro-X Exfoliating Renewal Cleanser in your hand and massage over face. Turn on cleansing brush and gently move around the face for approximately 60 seconds. Avoid the eye area. Rinse face and brush head with water. Preparing the Advanced Cleansing System for Use: Installing Brush Head: Press the brush head onto the connection pin until it locks into position with a click. For best results, replace brush head every 3 months or sooner if bristles become deformed. Installing Batteries: Gently rock the battery compartment side to side while pulling to release battery cover. Insert 2 AA batteries aligning +/- symbols. Replace battery cover. Replace batteries as needed. Do not mix old and new batteries as unit may be damaged.
Ingredients
Water/Eau, Glycerin, Lauramidopropyl Betaine, Sodium Cocoyl Isethionate, Polyethylene, Sorbitol, Acrylates Copolymer, PEG-200 Hydrogenated Glyceryl Palmate, Citric Acid, Potassium Hydroxide, Polyquaternium-10, PEG-7 Glyceryl Cocoate,PEG-100, Disodium EDTA, Sodium Chloride, Methylchloroisothiazolinone, Methylisothiazolinone.
Warnings: Avoid direct contact with eyes and hairline/hair. If skin irritation or redness occurs, discontinue use. As this product increases exfoliation of facial cleansers, it may also increase your skin's sensitivity to the sun. Keep out of reach of children.