Ozeri® Touch Digital Kitchen Scale in Black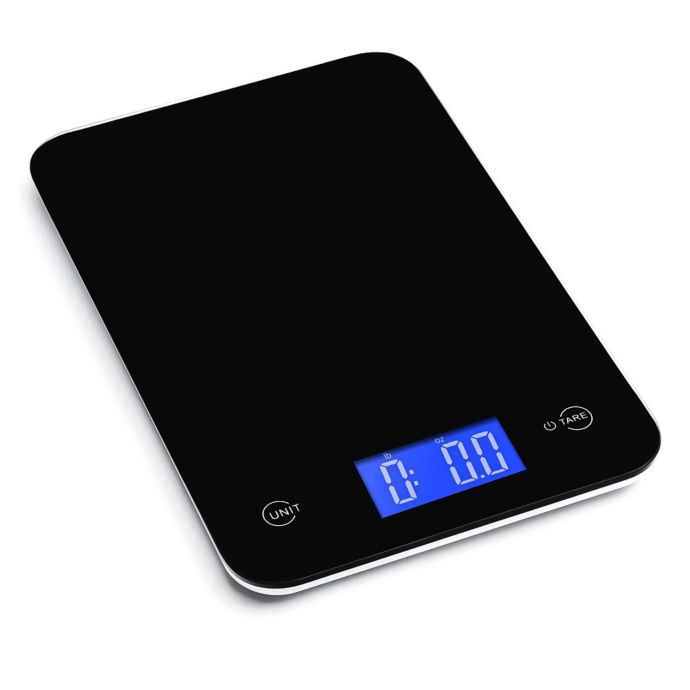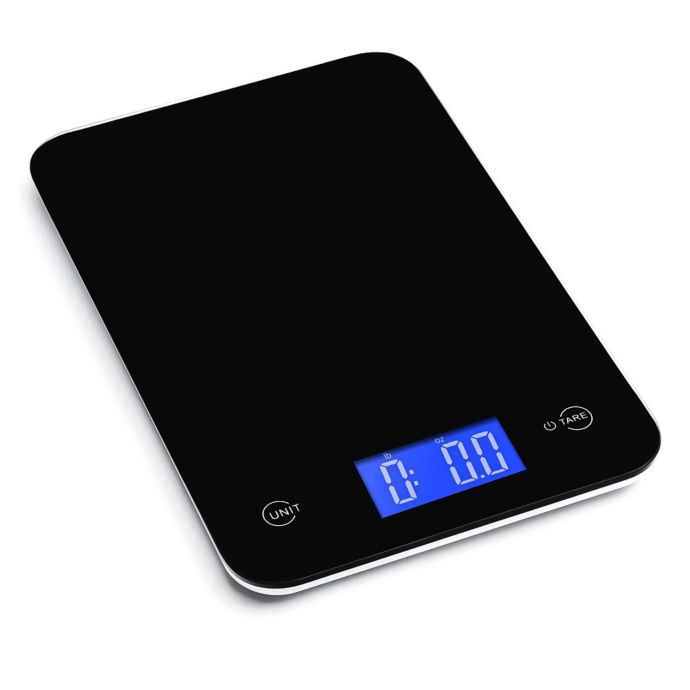 Ozeri
Ozeri® Touch Digital Kitchen Scale in Black
highlights

Batteries required and included
Details
Ozeri's Touch Digital Kitchen Scale combines new advanced touch sensitive buttons, a tempered glass surface and new GFX sensors in a sleek scale that provides unsurpassed accuracy. Features an updated blue backlit LCD screen.
Innovative and advanced digital kitchen scale that will be a valued addition to any cook
Features an elegant reflective black surface made out of high quality tempered glass that is 4 times stronger than normal glass
4 high precision GFX latest generation sensors deliver superior accuracy and the fastest response times for the quick paced chef
Capacity range from a mere 0.1 oz. to 18 lb. or 8.2 kg, and provides measurements in graduations of 1 g. or 0.1 oz.
Updated blue backlit LCD screen with improved viewing angle
Touch sensitive buttons
Automatic Tare button quickly calculates the net weight of your ingredients by subtracting the container weight
Displays results in both the US and international metric systems (grams, ounces, pounds, kilograms)
Provides Low Battery and Overload indicators
Operates using 2 Lithium batteries (included)
Automatically turns off after 2 minutes of inactivity
BPA free
50% glass/50% ABS
Wipe clean
18 lb. weight capacity
Measures 9.1" L x 5.9" W x 0.6" H
1-year manufacturer's warranty
Imported
Model ZK13-8
The Ozeri Touch 18 lb Edition
The Ozeri Touch Digital Kitchen Scale 18 lb Edition has a on its
It includes all this technology into a contemporary thin design and stands out as a show piece for the modern kitchen
Designed for the culinary perfectionist who desires superior accuracy and a showpiece design, the Ozeri Touch 18 lb Edition is one of the lightest kitchen scales on the market and offers easy portability
The Ozeri Touch 18 lb Edition also features an automatic whether the container is a bowl, tray, plate or anything else
The scale also
The large screen features a new even brighter Blue backlight LCD with an improved viewing angle for the on-the-move chef, and
The Ozeri Touch Digital Kitchen Scale 18 lb Edition comes equipped with
Features
Control Type

Touch Operation

Measurement Type

Imperial/Metric

Battery Required Included

Batteries required and included

Battery use

2 CR 2032 battery incl.
Specifications
Weight Capacity
18 lbs weight capacity
Product Type
Food Scale (Digital)