Plus White 2 oz. 5 Minute Whitening Gel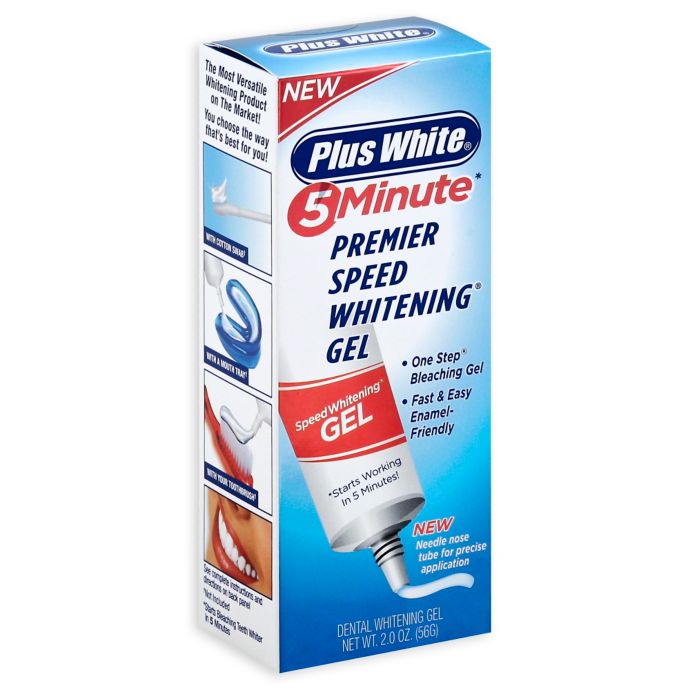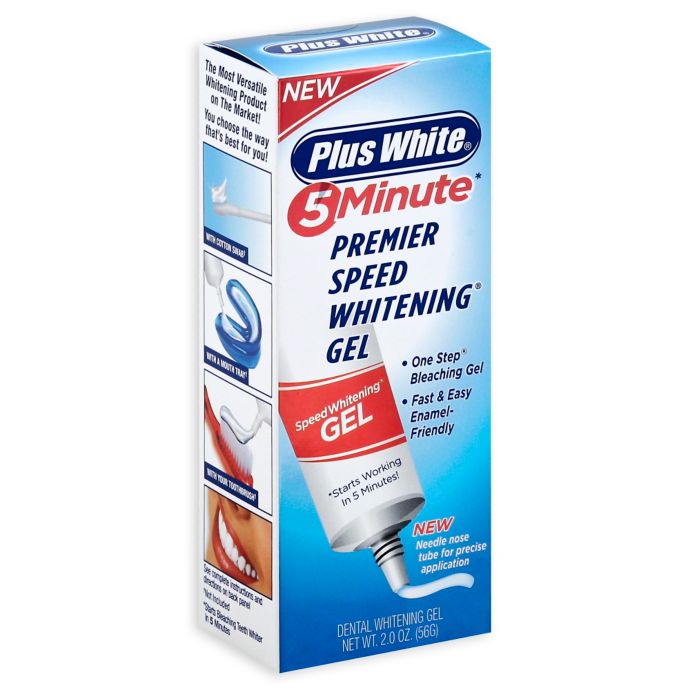 12 people have this in their cart
Easy Returns
Items can be returned to any store or bbby.com
You have up to 90 days after the in-store purchase, order pickup, or ship date to exchange or return, unless noted in the exceptions in our policy.
See return policy for details
Details
Brush your way to a brighter smile with the Plus White 5 Minute Whitening Gel.
The Plus White 5 Minute Whitening Gel offers quick teeth brightening without burning your gums
One step bleaching gel
Fast and easy enamel-friendly
It contains the same active ingredient used professionally by dentists (the bleaching action of peroxide) to whiten and brighten teeth, gently lift away stains and reduce yellowing in a strength developed for at-home use
2 oz.
Made in USA
Manufacturer
CCA Industries
200 Murray Hill Pkwy E Rutherford, NJ 07073
800-595-6230
Directions
Choose the bleaching application method that's best for you! With Cotton Swab: Apply the bleaching gel onto a cotton swab and dab onto the entire surface of each tooth you wish to whiten. With a Mouth Tray: Fill mouth tray as shown in side panel illustration. Gently place tray over teeth and close mouth. Follow directions included with your preferred mouth tray. With Your Toothbrush: Apply the bleaching gel on your toothbrush and with the toothbrush gently dab the gel onto the surface of your teeth. Wait 5 minutes for the bleaching action to begin. Then, brush for thorough teeth whitening and cleaning. Basic: Choose one of the above bleaching application methods to apply Plus White 5 Minute Premier Speed Whitening Gel to the surfaces of the teeth you wish to whiten. Important: Wipe off excess gel from your gums or any other area other than your teeth. Leave on for 5 minutes for regular whitening. For badly stained or yellow teeth, allow 15-20 minutes. Do not use consecutively for more than 14 days. Immediately after the desired time is reached, rinse the gel from mouth with cool water. Wash hands with soap and water after whitening process. For Best Results: Use twice daily for two weeks. The whitening process begins with the very first application. After the second week, use once or twice a week, or as needed to maintain the white shade you have achieved. Attention: Store Plus White Whitening Gel in a cool, dry place and keep away from sunlight and excessive heat.
Ingredients
Water (Aqua), Glycerin, Hydrogen Peroxide, Carbomer, PEG-60 Hydrogenated Castor Oil, Flavor, Sodium Saccharin, Potassium Stannate, Disodium Pyrophosphate, Etidronic Acid, Ammonium Hydroxide.
Warnings
Please read before use. Do not swallow the Plus White Whitening Gel. In case of accidental ingestion seek professional assistance or contact a poison center immediately. If the gel comes in contact with your eyes, rinse immediately. Not recommended for use by children under the age of 12 without the approval of their dentist. Do not use while sleeping. Do not use if you have gum disease, wear braces, have receding gums or sore gums, have cavities or if allergic to any of the ingredients. If in doubt, check with your dentist. Stop use and consult your dentist if you experience any serious burning sensations, sensitivity to gums, mouth, or tissue damage. Will not whiten caps, crowns or veneers. Important: If the gel is of a liquid or watery consistency, it is possible that the product was affected by excessive heat and will not perform properly. Do not use if the product is in this condition and contact us immediately for a complete money back refund using the contact information.